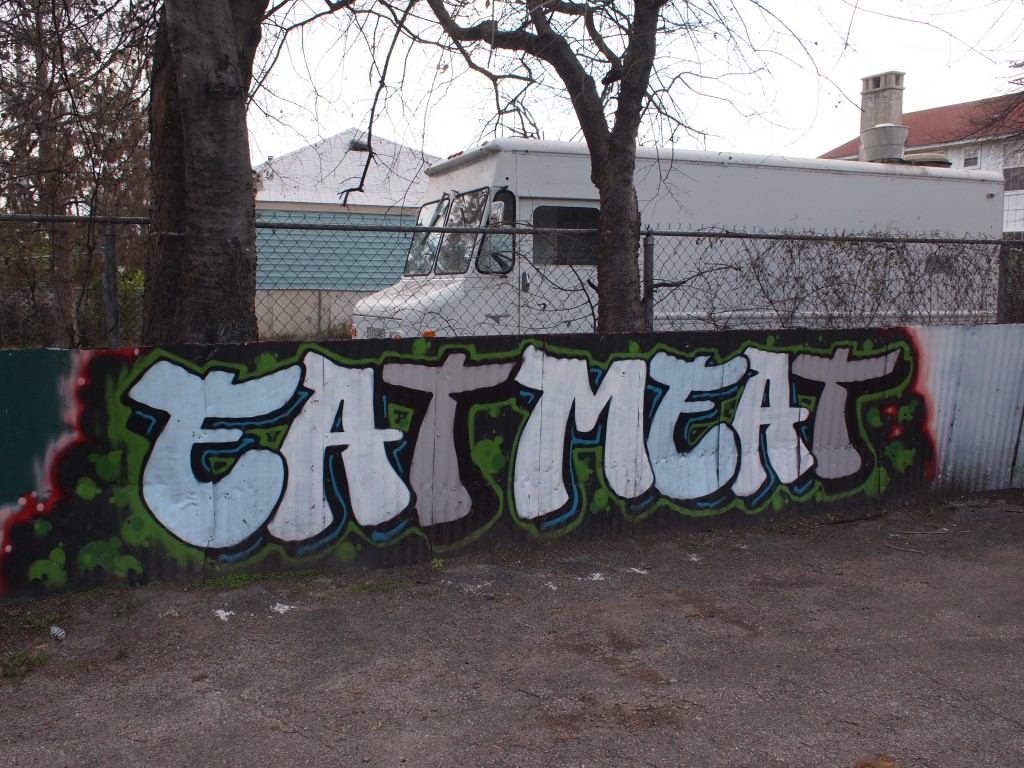 Part 1
No one really believes my wife and I, when we tell them what we are doing for vacation. "Surely, that is not all you are doing? Eating meat?" "Can't you just do that in Baltimore?" "That seems like an awfully long way to go just for that," they say.
We reassure people that we have thought this through. That this is, in fact, what we plan on doing. That really, we can't do this in Baltimore, at least not as well. And yes, it is a long way to go, but worth it, because when it comes to barbecue, Austin is legendary.
We arrive in Austin around 11:00 am after a fairly uneventful flight. We pick up our rental car and immediately plug in the address of our first stop into the GPS. A short fifteen minute ride leads us through some older commercial districts littered with used car dealerships, taco restaurants and run down thrift shops. Eventually we turn into a residential neighborhood. On the corner next to some quaint houses is Live Oak Barbecue.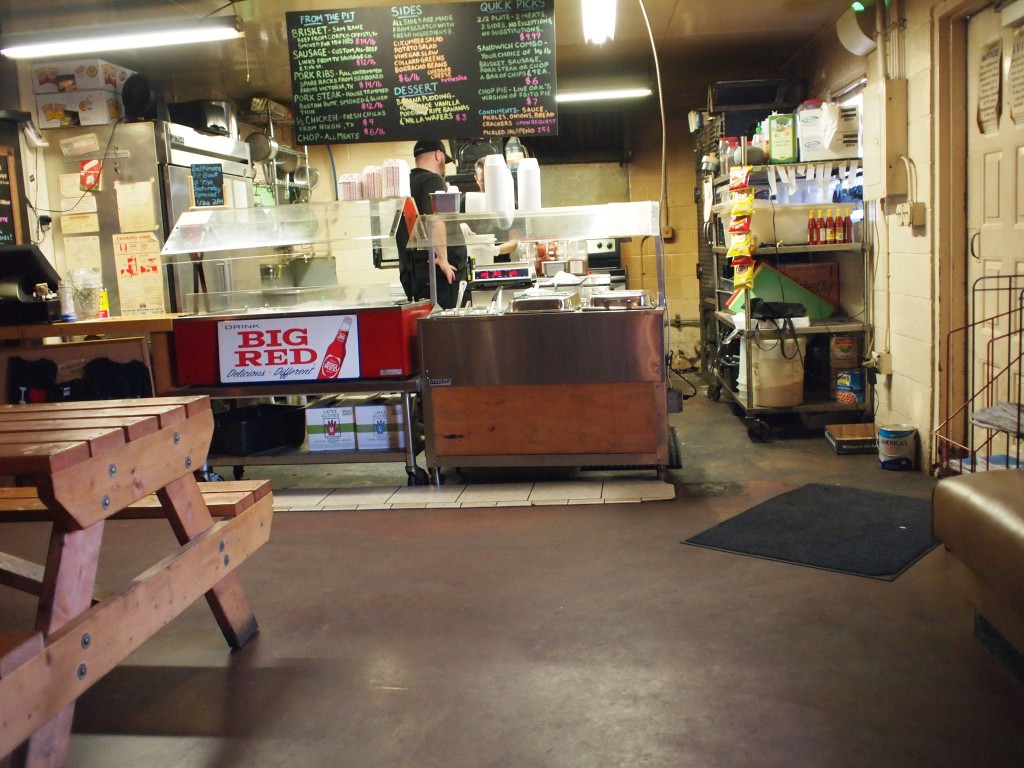 We pull into the gravel parking lot where a lone blue pick up sits beside a cinder block building, painted white. The outside is deceiving, looking more like a do-it-yourself storage facility than a great BBQ restaurant. But iImmediately upon opening the door, the smell hits us. This is why we came to Austin. This is what we don't get in Baltimore. Some authentic barbecue atmosphere complete with the glorious smells of meat wafting through the smokey air.
The interior is dark. Just inside the door is a counter. Several picnic tables provide the only seating inside. Simple wooden dowels with rolls of paper towels sat on each table. Decoration on the walls is minimal. A faded Baltimore Orioles pennant hangs above an archway. A sign for Big Red soda. A jukebox in the back. We've been on the ground for thirty minutes and it's time to dig in. What we want is meat.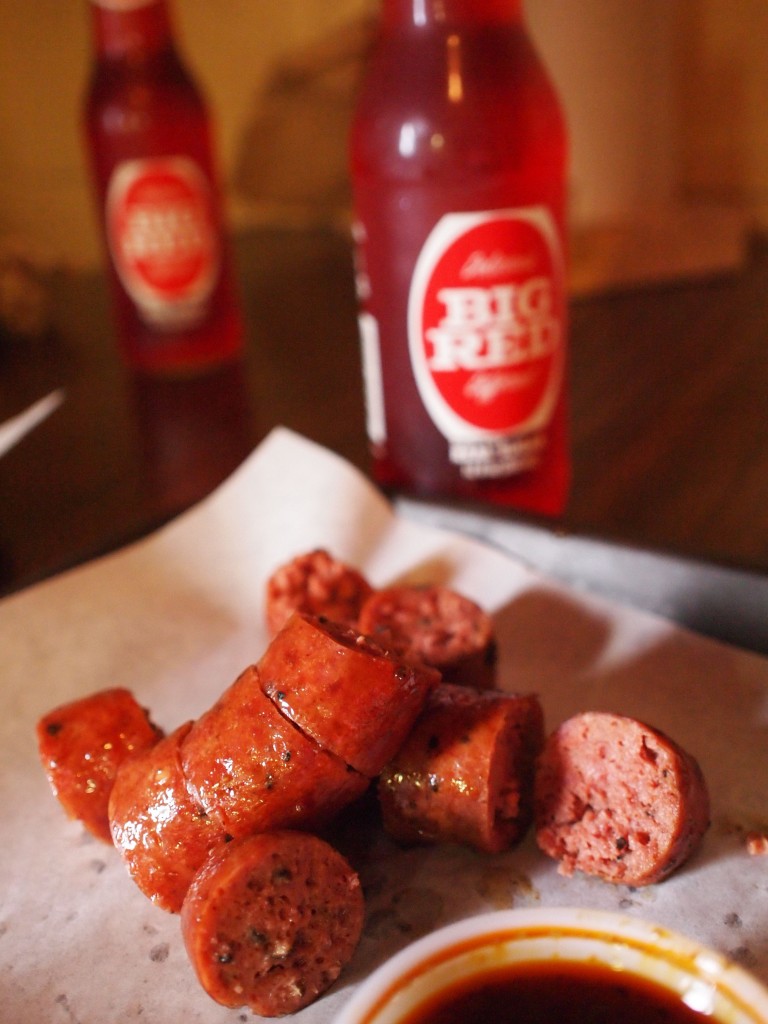 So we can have some variety, we order the two-meat plates. One with ribs and sausage. The other with brisket and pork butt. They also give us some white bread, crackers and a little slice of cheddar cheese wrapped in saran wrap. Totally unnecessary. And a little plastic container of liquid smoke. It is as if they have condensed the atmosphere within the place into two ounces of liquid that adds a whole different dimension to the experience.
The meat is fantastic. I've never had sausage so tender and flavorful. The ribs are exactly what you think of when you think of 'falling off the bone.' The brisket has the expected pink ring and nice crusty edges to offset the fat inside.
Perfect start. 2 pounds down.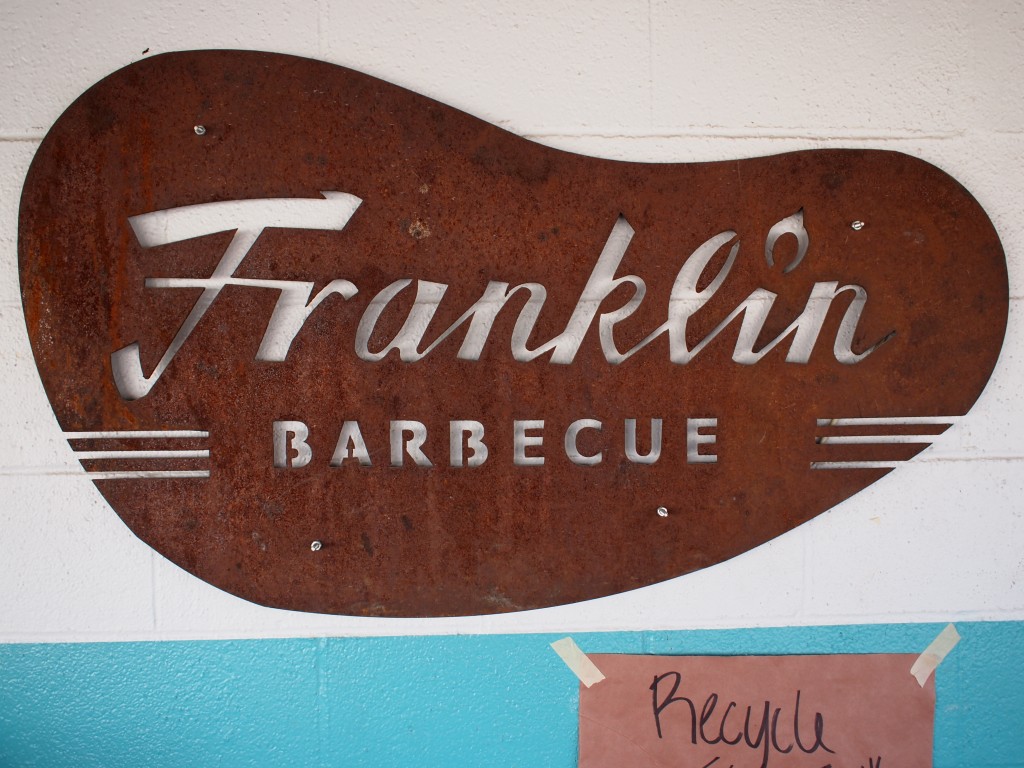 Thursday morning. This is the moment we've been waiting for. This is why we came to Austin. Today is the day we are going to Franklin Barbecue. Apparently, you need to get in line early. It is suggested that we get there by 9:30 am. Once the meat is gone, the meat is gone, so you don't want to take your chances. We listened. Many didn't.
We make a quick stop at Kens Donuts to pick up a treats to snack on while waiting in line. We pull up to Franklin at 9:00 and only two people are in line. By 9:15 there are a dozen.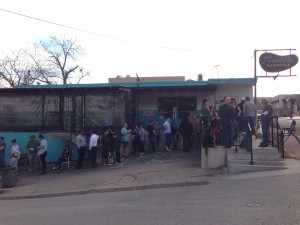 A guy with his parents and their dog bring folding chairs. Smart. A group of people from Wisconsin. They know just a little too much in a slightly annoying way. Another couple remains silent the whole time. Behind us, the line continues to form. By 10:00 the line is down the walkway, around the handicapped ramp and into the parking lot.
Around 10:15, a staff member comes out and starts taking orders in advance, getting a sense of how much meat will be needed and how many people in line might be worthy of getting that meat.
At 10:30 the know-it-alls tell us that this is going to be comparable to Famous Dave's BBQ Chain. Just get out of line. Now. Please sir, your spot in line is wasted.
Archie, the guy behind me, and I talk for awhile about football. He's from San Francisco. We have come prepared to occupy ourselves in line for two plus hours with a Kindle and cards, but the atmosphere in line is entertaining and sociable.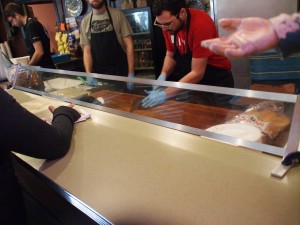 11:00 and there is a slight applause as the doors open. We have some mild apprehension as the line begins moving. You don't want a soup nazi moment and be denied your BBQ. But about 10-15 minutes later when we reach the counter, all fears are gone. Franklin himself is slicing up some meat and chatting with customers. Finally, we get our chance to survey the various piles of meat arrayed behind the counter.
I can't describe how good it is, so look at some food porn instead: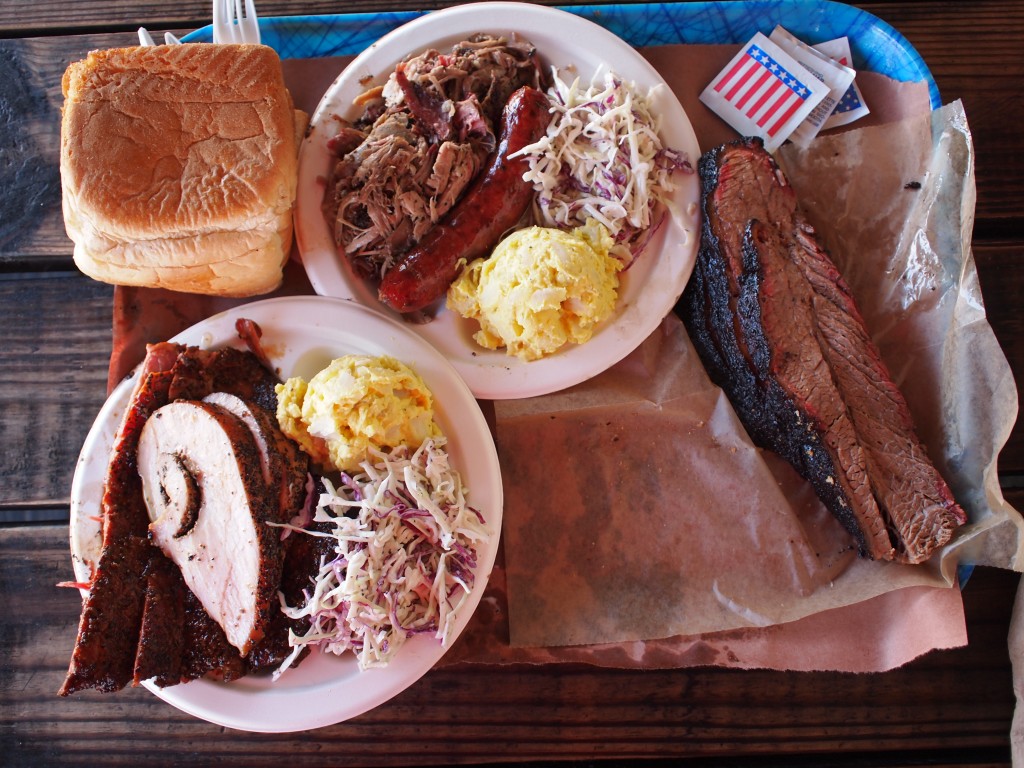 1/2 pound sausage, 1/2 pound pulled pork, 1/2 pound smoked turkey, 1/2 pound ribs, 1 pounds brisket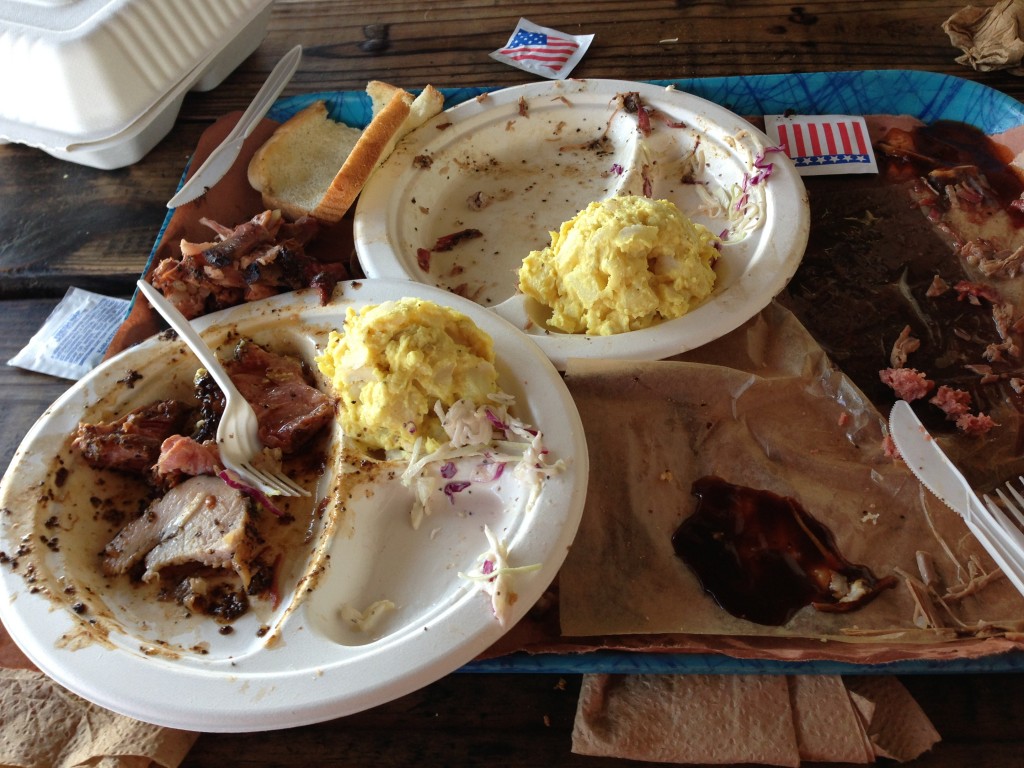 The aftermath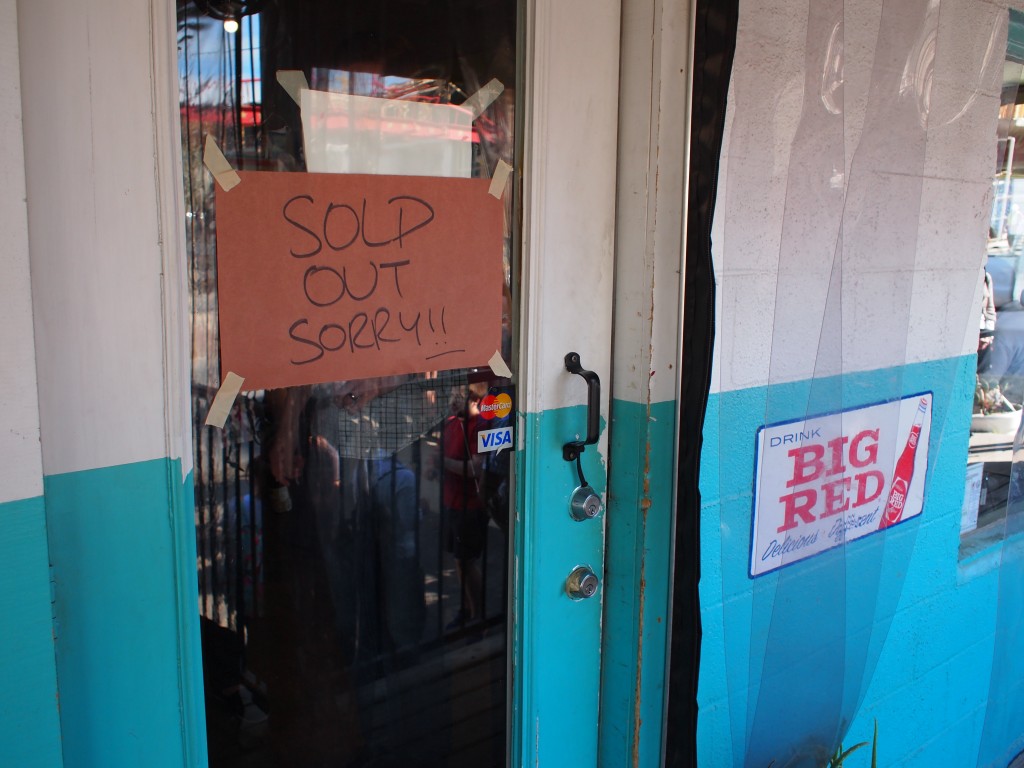 We've been on the ground 24 hours. 5 pounds of meat eaten. Five pounds more to go.
To be continued…

Jay Hood has lived in Baltimore, Maryland for the past 25 years.  He likes to travel and is an avid photographer.  His photography has been featured in several obscure and unassuming locations, such as John Ball Zoological Gardens.  He does not eat vegetables and is learning to enjoy seafood.  He strives to keep his DVR no more than 40% full.  Comfort is paramount and he is not above a little slacking.