I got a text from a buddy of mine who wanted to hang out that night. We hadn't seen each other in a while so I agreed to meet up with him and chill, but less than an hour later, I found myself in the passenger seat of his car traversing the streets of Los Angeles, on my way to a secret art show of graffiti artists at an abandoned mansion set for demolition in Compton.
As if that wasn't "LA" enough, the details and location of the show were kept under wraps and not announced until 4pm through social media day of show: Hanksy's SURPLUS CANDY LA from 6-10pm, one night only.
This reminded me of the rave location scavenger hunts in the '90s. Though I have to say, doing this through Instagram was a much more effective, and definitely more modern way for getting the audience to the location. I can't count how many times in high school/college I had gotten lost in the warehouse district of a metropolitan city looking for my peers in JNCO jeans and cartoon character mini-backpacks waving glow sticks in the air like a group of epileptic Jedi (again, it was the 90s, please forgive me) because of poor directions and hand drawn maps scribbled on a napkin and copied 100 times for covert distribution like some bootleg porn zine in the '50s.
By the time we met up, my buddy had obtained the "secret" directions from Instagram. We hopped in his car together, and keyed in the location on his GPS system (voiced by Mr. T), which then informed us our final destination was in Compton. We, two guys raised in the middle-class suburbs, paused for a moment, thought very briefly, then quickly shrugged off any fantastical scenarios of red or blue bandana'd danger ahead and started the car. We pulled out of the driveway and headed to South Central Los Angeles ("Turn right on Crenshaw Blvd., Sucka!").
We drove past the "art mansion" ("You have arrived at your destination, Fool'!") doing a little recon of the location and vibe before fully committing to going in. It was actually the Adams district of LA, an older area of Los Angeles, though the GPS said Compton. The house was HUGE. I'm talking 80s teen-movie-party-while-the-parents-are-away-for-the-weekend kind of huge. Four stories, basement, proper greeting foyer, people everywhere, loud music, flashing lights. Let's do this.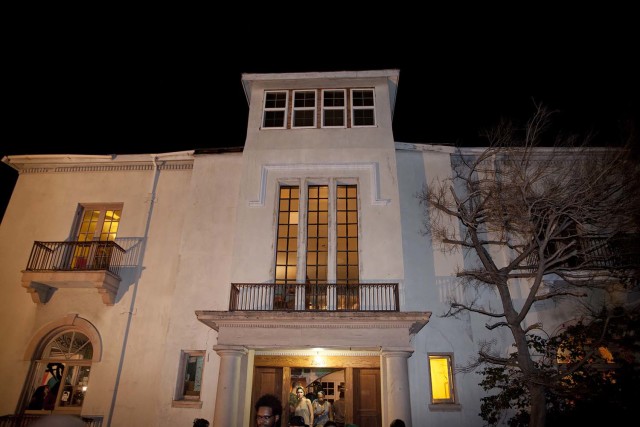 As we searched for parking, "Hypnotize" by Notorious B.I.G. came on the iPod, providing the perfect atmospheric soundtrack for this moment. We sang along word for word.
"Biggie Biggie Biggie can't you see,
Sometimes your words just hypnotize me,
And I just love your flashy ways,
Guess that's why they broke, and you're so paid"
The randomness of the evening continued as we walked up to the mansion and noticed there was a complimentary valet…at a graffiti art show…housed in an abandoned mansion…in South Central Los Angeles. That's LA baby!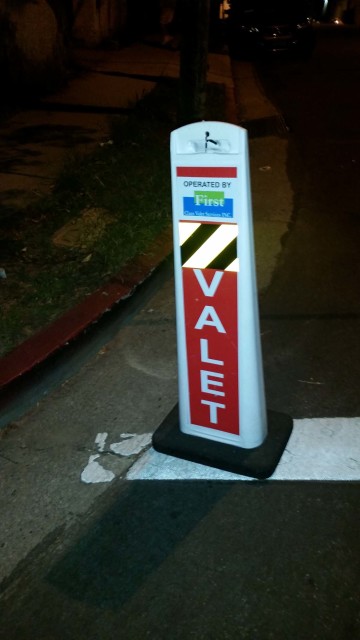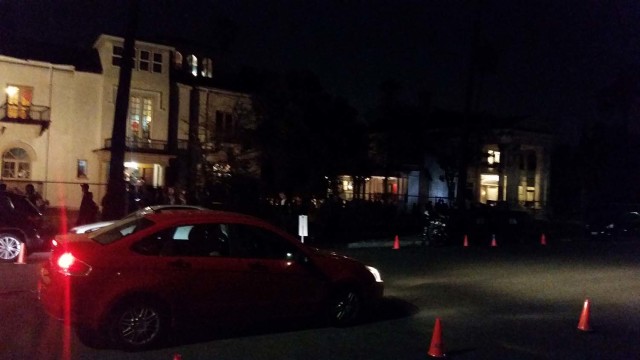 Presented by world-famous NYC graffiti artist Hanksy (a marriage of monikers between artist Banksy + Tom Hanks), "Surplus Candy LA" featured over 50 of the nation's top graffiti artists: Muck, Steiner, Pasco, Jake Merten, Annie Preece, Fanakapan, Watchyourmouf, Cyrcle, MTO, Drew Merrit and Darcy Yates just to name a few.
The line to get in the house was long. Well over an hour wait. People entertained themselves taking selfies with hidden graffiti "easter eggs", some smoking weed as the crowd snaked through several loops in the dark back yard before climbing up the back steps into the house.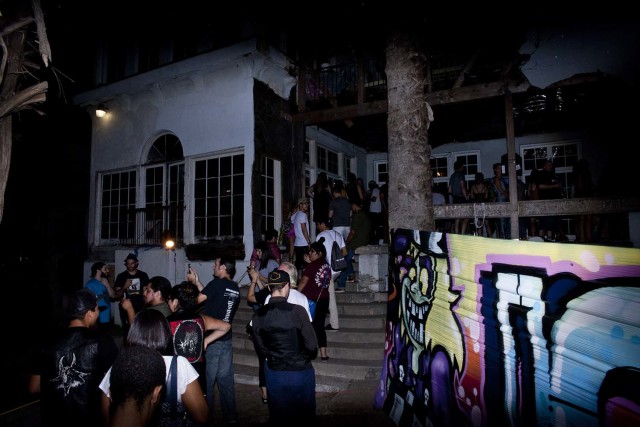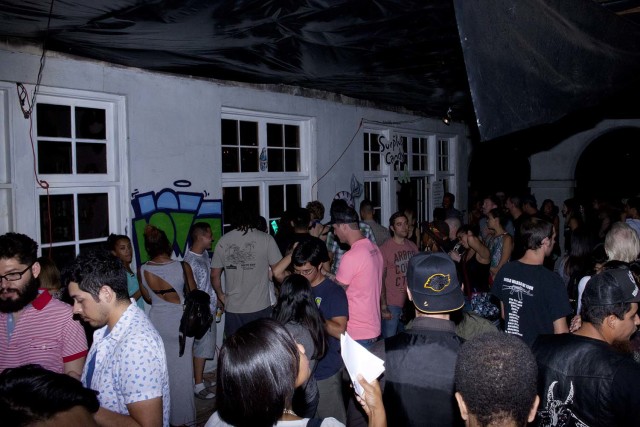 Walking into the first room, we were nearly knocked down by the fumes of spray paint, a smell so strong it would haunt my beard like cigar smoke for the rest of the night until I was able to get home and shower. But I didn't care. There was an explosion of raw guerilla art on the walls, every wall, and we couldn't wait to explore the mansion and see everything. Above the fireplace was Hanksy's own "Kanye Brest" display.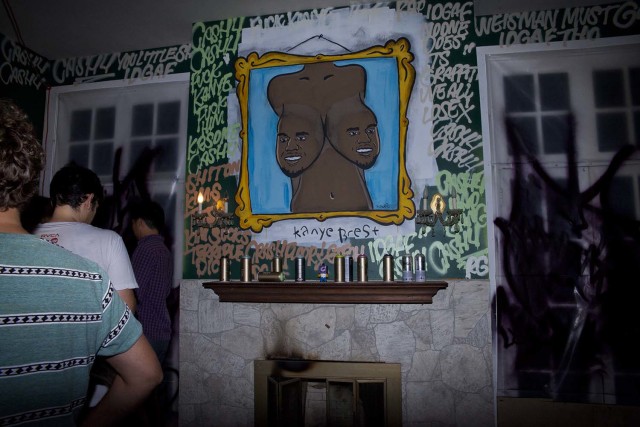 My favorite part of the installation was the room made to look like an adolescent male's bedroom from the 80s. An Atari gaming system in one corner, Star Wars toys and green army men strewn across the floor, porn and comics on the wall, and a poster of Lynda Carter as Wonder Woman, but cropped so only her "Golden Eagle" is featured (in extreme close-up!). It was like a wormhole directly back into my childhood bedroom (minus the open display of pornography on the wall of course; I kept mine between the mattress and box spring like any good kid raised in a shame-based religion). No art piece before has spoken to me on such a personal, deep, and emotionally nostalgic level.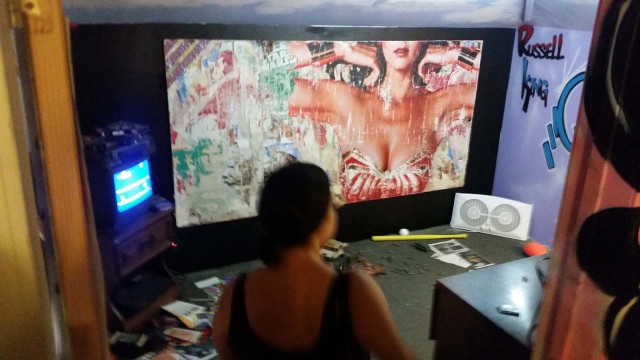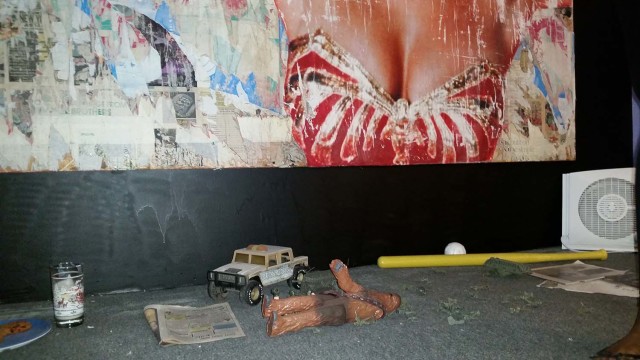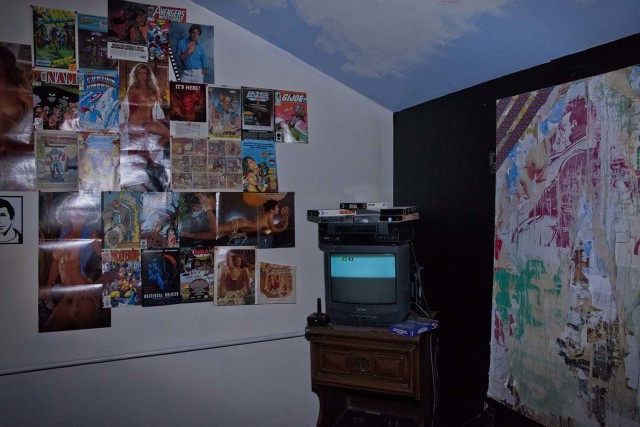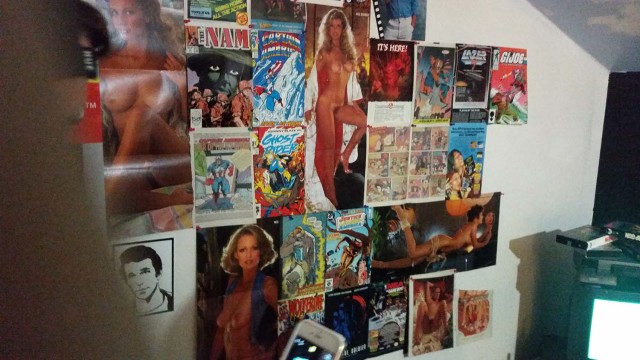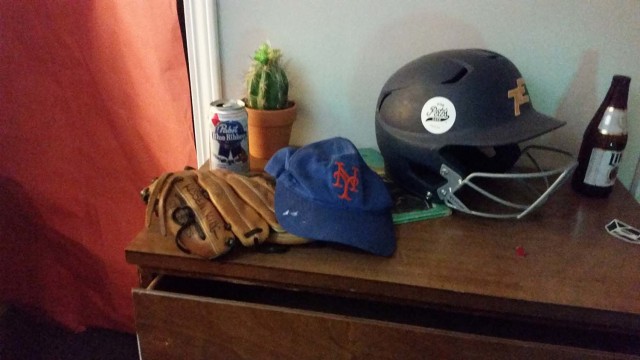 Aside from the art itself, it was entertaining to see the crowd that showed up for this event. I predicted that there'd be a mansion full of pretentious hipsters, and yes there were a few, it is LA after all, but the crowd was more diverse than that. Way more diverse. The ages ranged between 7 and 70. There was the usual LA art crowd of people with money and wanna-be artists, but this show also brought the Star Wars nerds, gamers, street artists, rich trust fund kids with their disinterested Kardashian look-a-like girlfriends, musicians, photographers, students, and comic book fanboys all under one roof mingling together. There were even a couple of LA Bloods gang members walking around checking things out, taking pictures with their smartphones. It was definitely an extreme cross-section of LA cultures funneled into one amazing artistic experience.
I won't go into detail describing the rest of the art because it's just too complicated, and frankly the amount of it was overwhelming given the limited time we had in each room.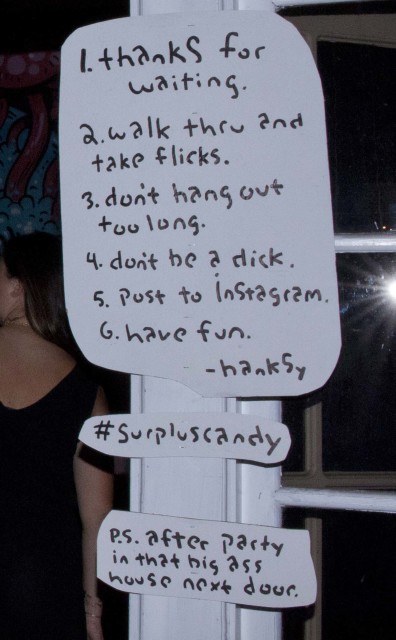 It was a machine gun assault of ideas, personal expressions, colors, and styles all converging within the four floors of this otherwise desolate lifeless structure in old Los Angeles. Every wall, in every room, on every floor, side to side, top to bottom, was covered in art of some sort. I left overstimulated and worn out, but very inspired by the visuals and idea of the whole thing. As Hanksy describes it in an interview with the LAist, "The mansion is empty. It's over a century old and while it's a bit banged up, it's still a magnificent beast. And after it's all painted up, it'll be a perfect metaphor for Hollywood. Pretty and pristine on the outside, but all fucked up on the inside."
Check out the slide show! CLICK ON ANY IMAGE…
**To follow Shea Magazine on Facebook go HERE!**
**To follow Shea Magazine on Twitter go HERE**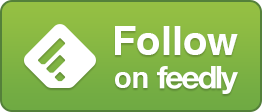 **If you liked this article you should share it!**

Nate "Chops" Johnson currently holds more than a dozen competitive bearding titles, including 6, 1st place victories, and 2 for Best In Show. He lives in Los Angeles, and enjoys Pabst Blue Ribbon beer.