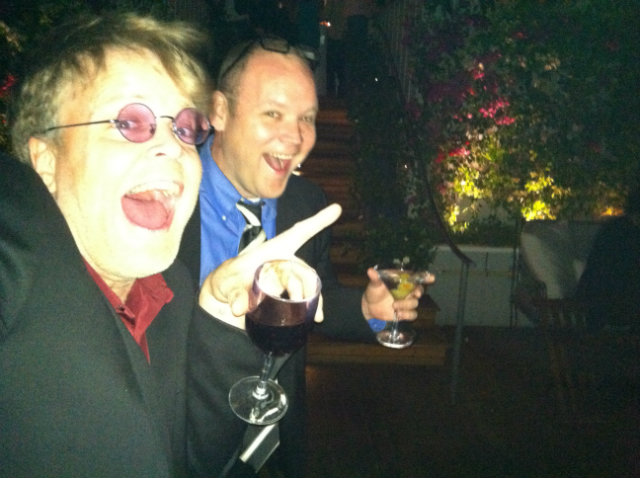 My role as a, ahem, journalist, affords me access to a plethora of open bar events here in Los Angeles. The premiere of a movie or TV show, a special magazine issue, a modeling agency launch, a band releasing an album, on and on and on, one after the other, a cavalcade of free booze, smiling, pretty, fake people – guys with three day beard-trims and girls in short dresses and push-up bras – events for awareness and events that leave you unaware. Many of these events are boring to the nines, but many of them are also fun as hell if you're in the right frame of mind. The open bars help of course. But really the key is to get involved and make something happen, and ultimately just not give a shit. Sometimes there is a story waiting, sometimes not. Half of the time at these events everybody seems nervous, worried about who they are looking at, and who is looking at them,  so you have to break through all that and just take the ride without any specific preconceived ideas of what the experience will be like. And, of course, hit the open bar like Miguel Cabrera taking batting practice.
Not long ago I attended an event for OK Magazine's Sexiest People issue, or Hottest Bodies issue, or something like that, at the Sky Bar in Hollywood. I went with my friend, Tony, who's a married father with a young son, so he was game for a night on the town. We threw on some suits, kissed our wives goodbye, and headed to Hollywood.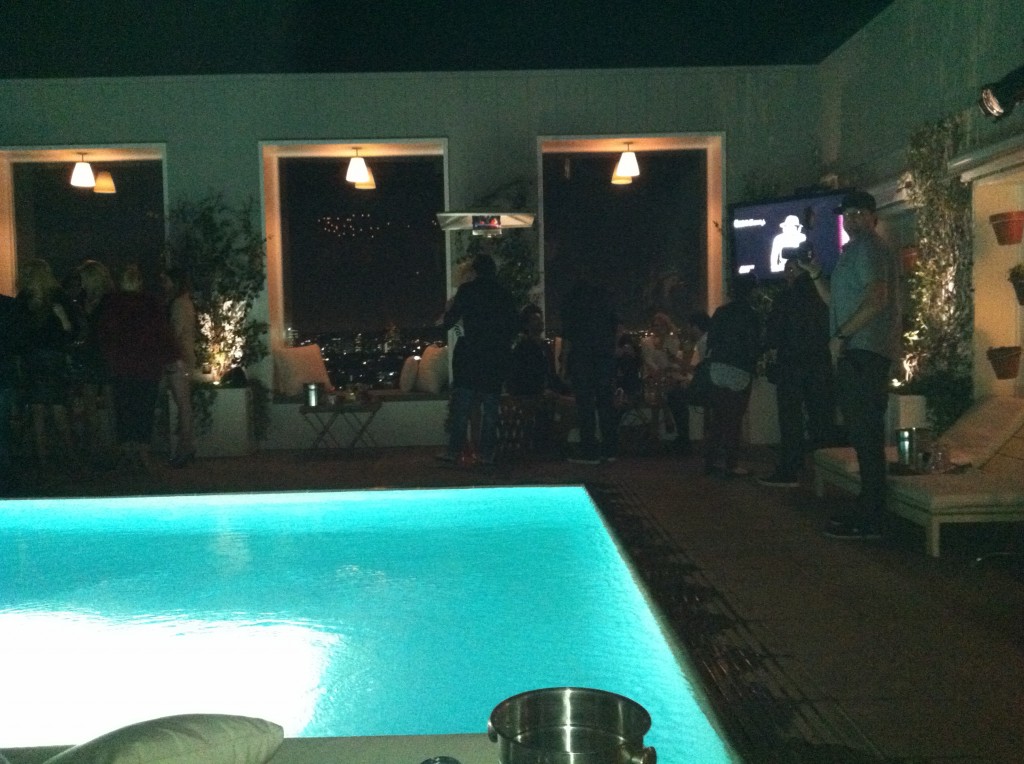 The Sky Bar is basically the rear courtyard of the Mondrian Hotel on Sunset Blvd. There's a pool and lounge chairs, and big glass windows that give you a great view of city at night. We got there just as the party was starting, before many other people had arrived. This is one of the tricks of the trade in the open bar, party game. Get there early and get the lay of the land. Figure out where the bathrooms and exits are in case the event is slammed wall to with people or a total dud. Say hello in person to the PR agent who got you on the guest list and let her know that you appreciate it. Make friends with the bartender and the waitstaff if possible. It doesn't take much. A five dollar tip upfront is the difference between getting a drink quickly or standing in a line of starving hipsters ten deep, clamoring for a taste of whatever new designer vodka is sponsoring the event. And of course, another trick of the trade is to make sure you take a cab, especially in Los Angeles where public transport is a real pain in the ass and you will undoubtedly be tempted to drive home drunk. Don't.
The main "staging area" for the party was around the pool. There was one bar there and another other bar upstairs in an outdoor cabana. Immediately, Tony and I got drinks. I ordered a glass of merlot, since I only drink wine, and he ordered a gin and tonic. I tipped the bartender and made chit chat. Right away we hit it off, so I knew that he would take care of us for the rest of the night, which was a good thing because in another half hour the place started getting packed.
Tony and I threw back our first drinks and refilled, then strolled over to the "red carpet" area to see the arrivals of some minor C-list luminaries. The geeky fat guy who kissed model Bar Refaeli in that Go Daddy.com commercial was smiling for a few cameras (I'd call him a kid but I think he's 35 years old). I took a picture with him, because like I said you just have to get involved. I'm not sure if it was a high, medium, low, or does not register moment in my life, and really who cares? He seemed like a nice guy riding out his brief time in the land of the famous. Good for him. Go man go.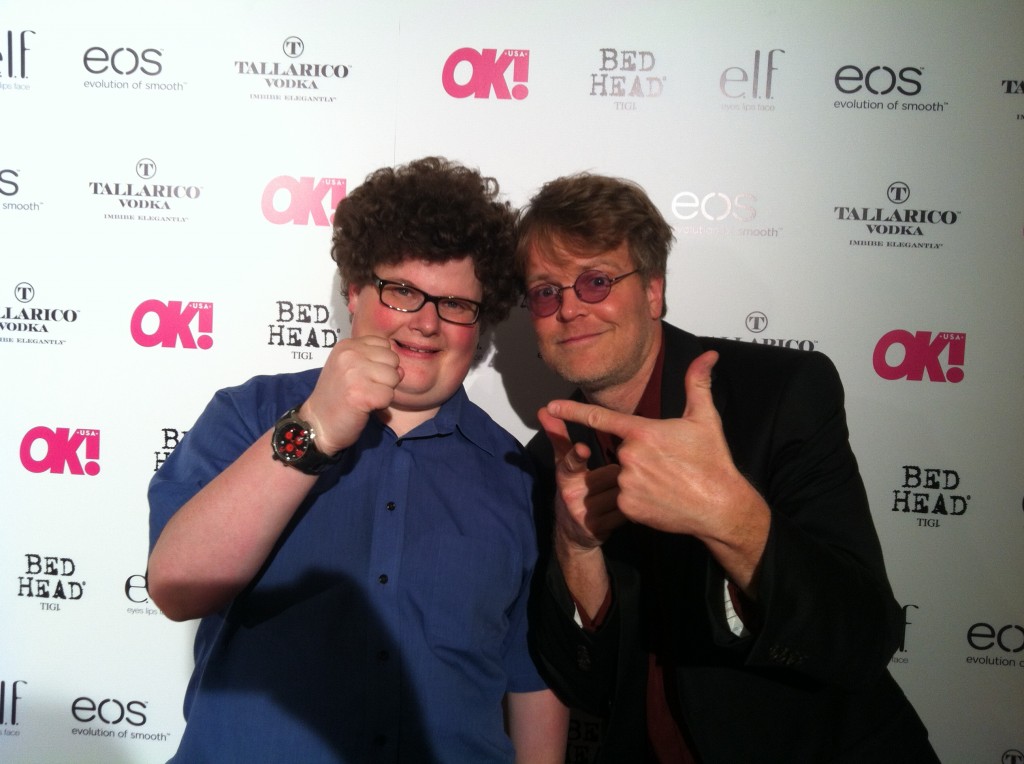 Time for another drink.
There was one hostess that I could not stop looking at. At many of these Hollywood promo parties they hire models just to walk around and say hello and this girl reminded me of my first serious girlfriend that I had from when I was 19 to 23. Tall, nice smile, pretty eyes, there was definitely a strong resemblance and it made me kind of laugh since I hadn't thought of her in years. So I went over and took a picture with her, too. Why not?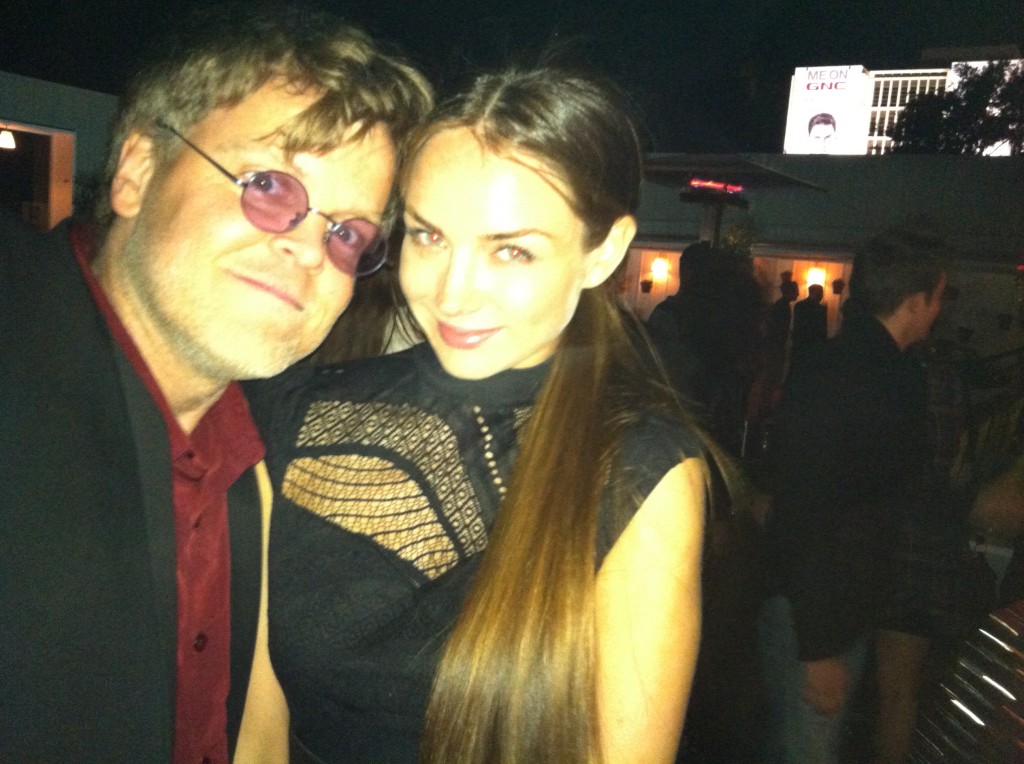 Making our way to the upper cabana bar, Tony and I grabbed another drink and sat down at seats that said "Reserved" on them. This is always a good tactic, since nobody ever knows who these seats are supposedly reserved for at events like this. The answer is that they're reserved for whoever is sitting in them.  We sat down, observing the other people drinking and talking and eating miniature designer cupcakes from the hors d'oeuvres tray that were really good. I ended up eating five of those suckers. And then out of nowhere Bai Ling, the Chinese actress, who's been in about 80 movies, but who is probably best known in this country from Celebrity Rehab with Dr. Drew, came up the steps and sat down right next to us. And now things were starting to get fun.
She started posing for pictures for some paparazzi.
She smiled at us and playfully adjusted her short skirt, giving us a bashful look, and giggling. "No panty pics," she said wagging her finger no, no, no. "Agreed," I said and me and Tony took our picture with her.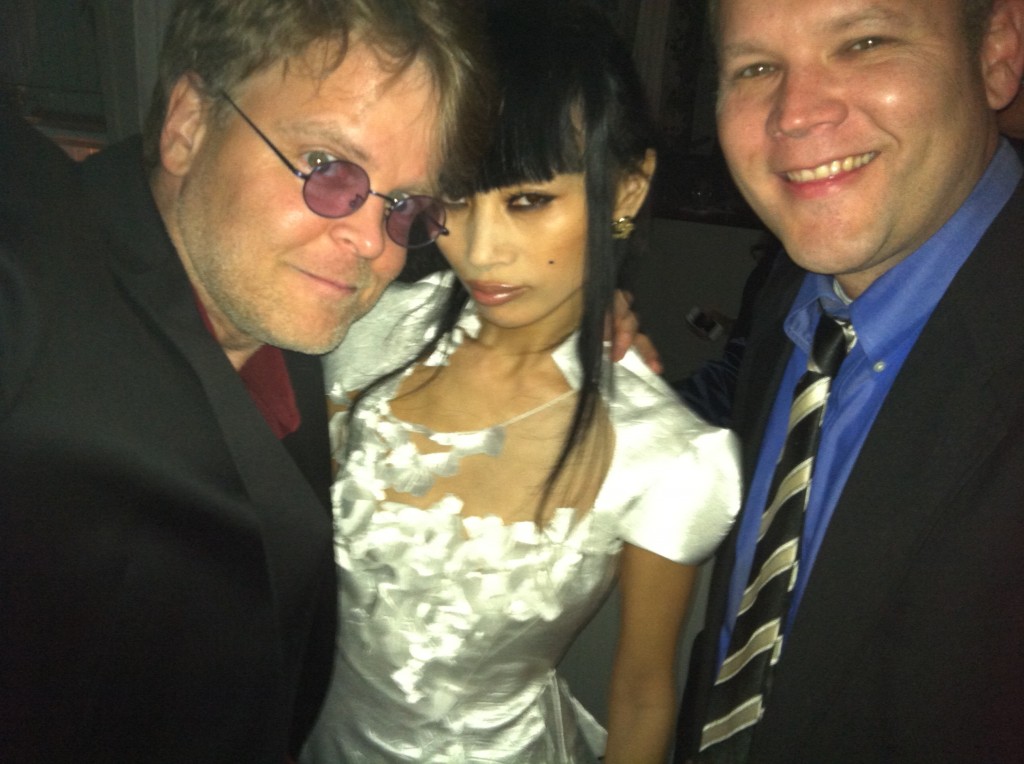 At this point, the party was hopping. The three of us sat down and started chatting while Bai adjusted the pin in her hair.  At one point during our chat, the moon made an appearance in the night sky.  Flush with my buzz, I said "Look at the moon, isn't it beautiful tonight?" "Yes,I love the moon," said Bai blowing the moon a kiss. She smiled at me, reached out, and shook my hand goodbye.
I had another glass of wine brought to me by a model/waitress working the event, and that night's free buzz was here to stay. Tony and I decided to go back down to the pool area. Almost of all of these promo parties have some kind of free merch or service in addition to the free hootch. In this case, there were make-up stations available. There were four of them and they were all empty, presumably because people felt too self conscious to have their make-up done at a party. Tony sat down at one of stations.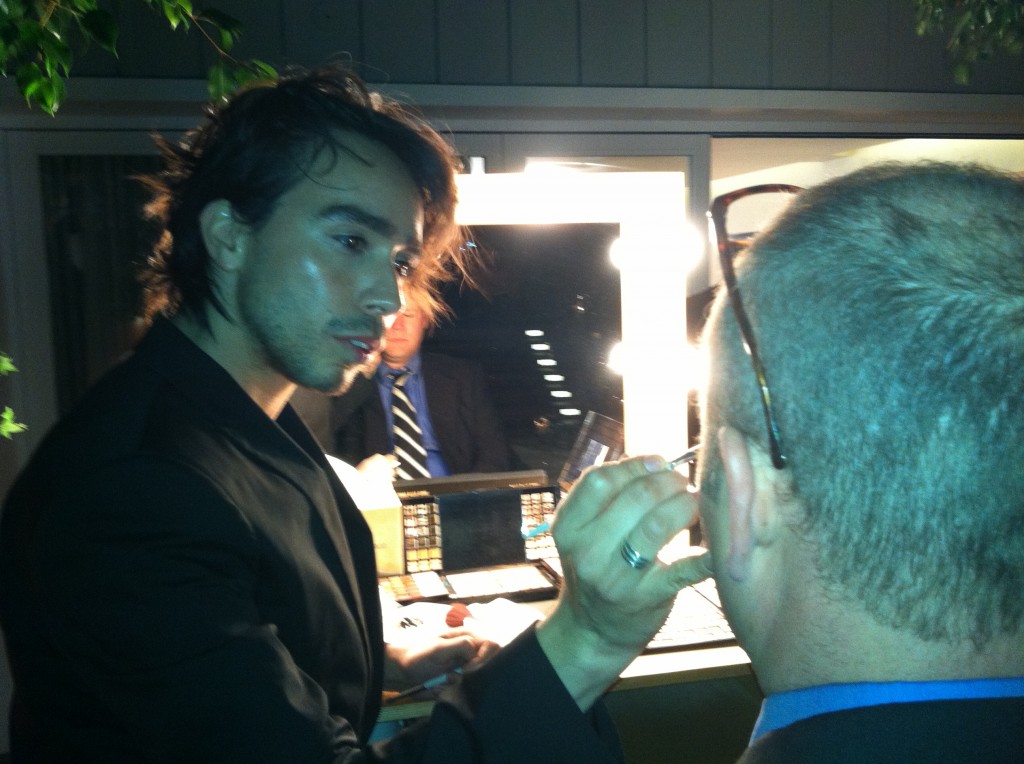 After a brief consultation Tony and the make-up artist decided for a look halfway between the Mikado and Phyillis Diller.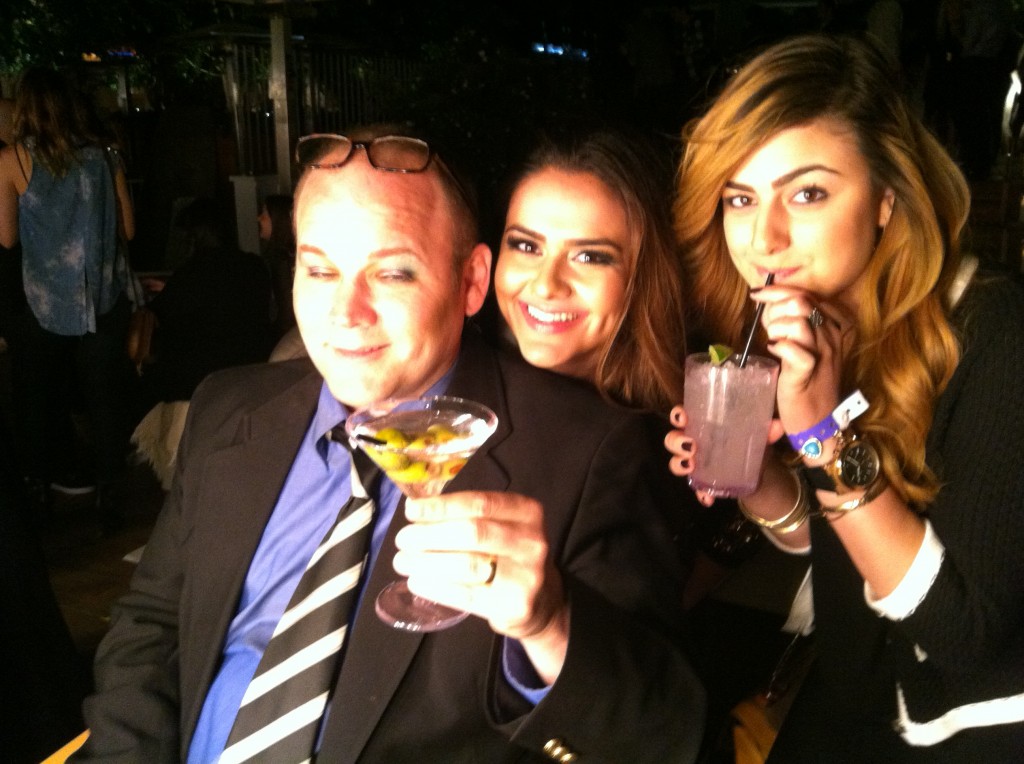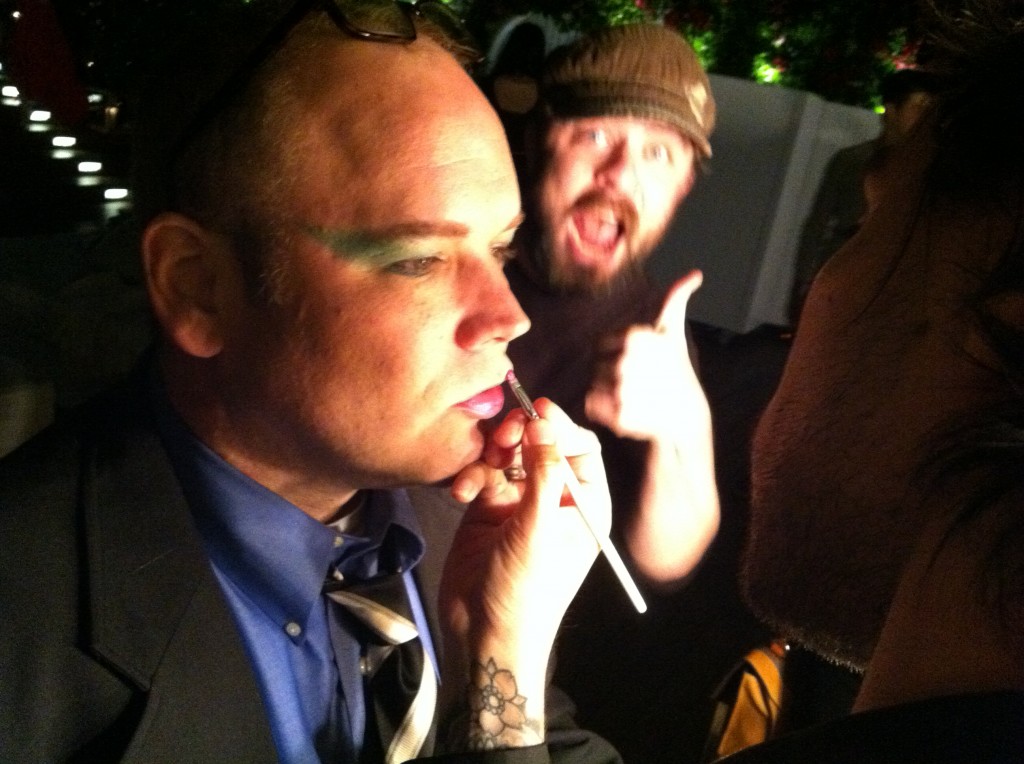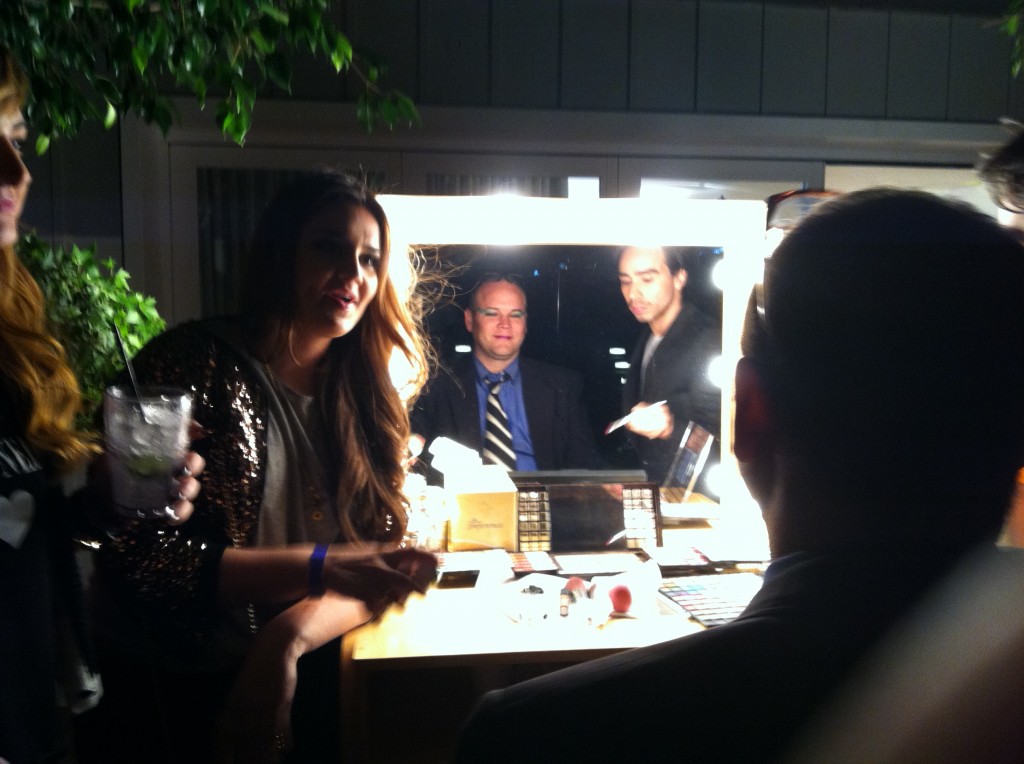 Make up session concluded, I finished my last glass of wine as a strong wind suddenly picked up, rippling the pool and swaying the trees in the courtyard. Empty glasses fell from nearby tables and shattered on the ground as people scrambled inside for cover. This was nature's way of telling us that the party was over and it was time to go home.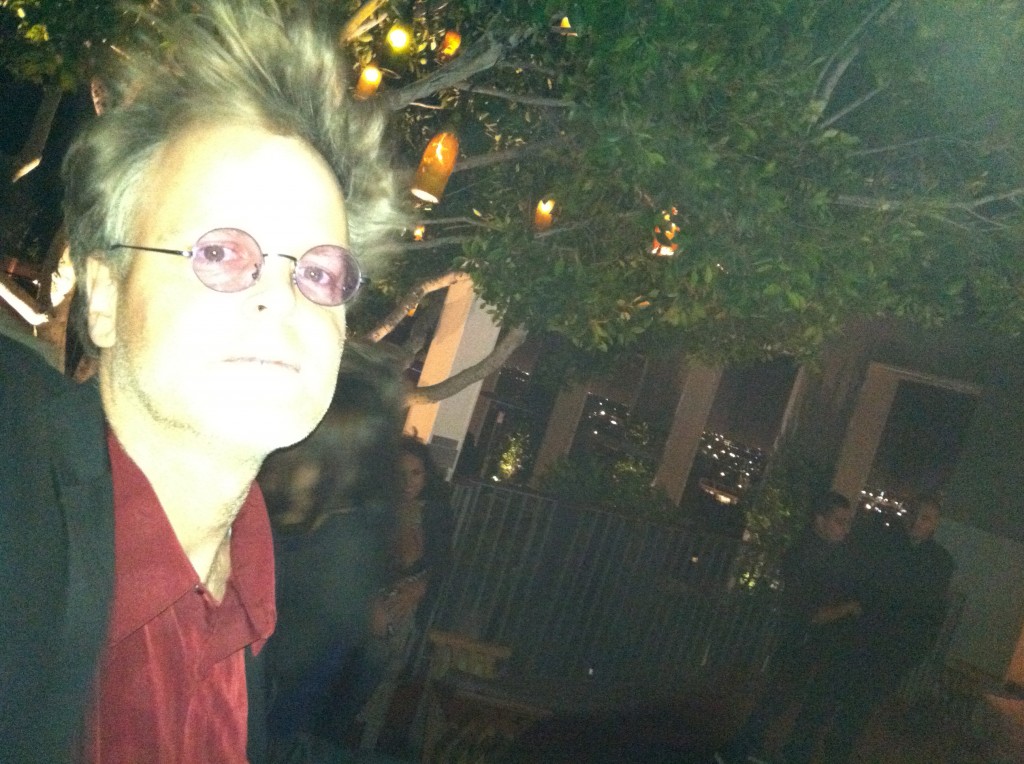 **You should like Shea Magazine on Facebook HERE!

Pennsylvania native Dan O'Day McClellan is a seasoned actor, writer, comedian, voice over artist and producer. Dan is the founding member of Los Angeles improv comedy troupe, The Omelettes. Dan's ongoing film making/producing work with Pete Galaxie Productions includes the award-winning short film, The Silence of Bees, along with the short films, Just Out of Reach, Reality of the Situation and The Afikomen. Dan's 1st Novel, Lognotes of a Wino, is due out in fall of 2015.