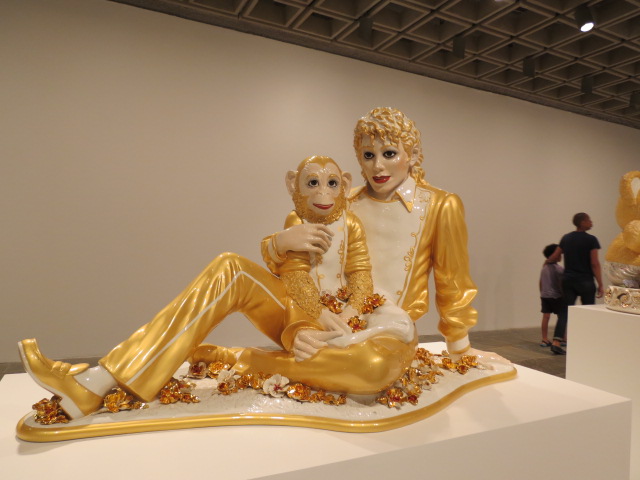 As anybody will tell you, one of the great joys of New York City is simply walking in any direction and seeing what happens next. I think of a forty block walk as almost mandatory, and my top mark so far is somewhere around a hundred, twenty blocks representing approximately a mile so you can do the math.
So it was that last Friday night I started walking near Grand Central Station heading up to Central Park to see the New York Philharmonic perform one of their many free Concerts in the Parks, and then found myself sidetracked by the Jeff Koons career retrospective at the Whitney (75th and Madison) for pay-what-you-wish Fridays (6pm-9pm), which is a great way to save on the normally $20 admission price.

Koons is of course one of America's most famous artists — his work has sold for millions of dollars, including his sculpture Balloon Dog (Orange) which set a record in 2013, selling for 58.4 M at auction, the highest price ever paid for the work of a still living artist. His Split Rocker currently sits in front of the Rockefeller Center. Despite his many accomplishments, Koons' work seems to inspire vastly different interpretations regarding its supposed worth. Depending on who you talk to, Koons, like Roy Lichtenstein, Andy Warhol, Julian Schnabel, Mark Kostabi, and Mr. Brainwash is either a genius or a kind of art world con man who has figured out how to game the system to his considerable advantage. The answer for all of them may very well be both.
Regarding Koons, his sculpture Michael Jackson with Bubbles may be the most hilarious and terrifying creation ever made. I've seen it in person previously as LACMA, and I feel like I could look at it for hours. It's a depiction of what happens when you reach the absolute top of the pop culture food chain, when you're so disconnected from anything that resembles ordinary life that the only person you can still relate to is a pet monkey in a golden suit. But who's the organ grinder here? Jackson or Bubbles? That's the question at core that makes the piece absolutely comedic and tragic at the same time. The power to simultaneously produce two conflicting emotions like that does indeed seem like genius.
I'm less jazzed by works like Three Ball 50/50 Tank (Two Dr. J. Silver Series, One Wilson Supershot), which is three basketballs floating in a fish tank, and the vacuum cleaners in plexi-glass boxes from his series The New, but I still like them. Koons has produced all sorts of work during his career and it seems unreasonable to demand that it all connect with me in the same way. I think some of it is absolutely dazzling, and some of it is so-so, some of it genius and some of it art world con, and I'm sure Koons would say that that's precisely the point.
This slideshow requires JavaScript.
**You should follow Shea Magazine on Twitter HERE!**
---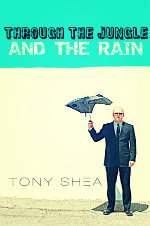 Barney DeRussey is a 35-year-old, down on his luck, door to door salesman working the mean streets of Los Angeles. During the hottest week of the year, the pressures from his tyrannical boss and his impending wedding send him into a spiral of escalating criminality as he tries to keep his sanity and maybe finally succeed.
To order the Kindle Edition for the low price of $5.99 click HERE
.

Tony Shea is based in New York, having recently moved from Los Angeles after more than a decade on the sunny coast. His short films have won numerous awards and screened at major festivals around the world including Comic-Con. As a musician, he is the lead singer for Los Angeles rock n' roll band Candygram For Mongo (C4M) candygramformongo.com who has been a featured artist on Clear Channel Radio's Discover New Music Program and whose songs have been heard on Battlestar Gallactica (Syfy Channel) and Unhitched (Fox) among other shows and films.