This is the story of how I found myself in complete darkness, alone, with the Godfather of Heavy Metal–Ozzy Osbourne. It was just a surreal minute or two. Also, I was dressed as Spider-Man.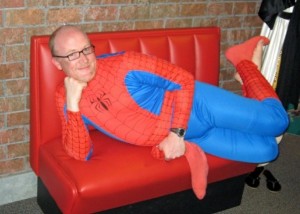 My friend Leesa Severyn, an actress, got me the job. She was helping produce an internal video for Activision about Activision that would be shown at their year-end party. In the video, Ozzy Osbourne would wander the hallways of Activision–stepping in and out of live representations of each of their new video games for the year. For Call of Duty I was in World War II fatigues carrying a body on a stretcher. For James Bond I wore a tuxedo surrounded by beautiful women, other men in tuxes and one Sean Connery look-alike.
For their Spider-Man game, I played one of several men auditioning to play the title role. I was given the standard form-fitting Halloween costume to wear. I could stand to lose a few pounds and this outfit showed it, rather clearly. One trim guy from Activision, who was not appearing in front of any cameras that day, took great joy at laughing at me. But then, that gentlemen of gentlemen, the fantastic Stan Lee, took one look at me and said "now that's what Spider-Man should look like." Hear that, Sam Raimi or Marc Webb? I believe Stan Lee liked the realism I brought to the character.
When we shot the Spider-Man segment, Stan Lee was to be sitting in a room, while in the hallway several guys in Spider-Man costumes waited to be interviewed. I would enter the room, followed closely by Ozzy Osbourne. Stan Lee would say "Next!", I would exit and then Ozzy Osbourne would sit down to be interviewed by Stan Lee.
For the shot of Ozzy following me into the room, the director didn't want any light from the room pouring into the hallway, so all lights in the room we were entering were turned off. I would enter, Ozzy would enter, shutting the door behind him. And then I would stand in silence, in complete darkness, alone with the Prince of Darkness.
Jim Coughlin was born in Ohio but raised in the suburbs of St. Louis by a lovely family that lived across the street from his family.
His childhood was much like Mark Twain's, insofar as he was forced to work in a fence painting business at an early age.
He performs standup comedy regularly in the Los Angeles vicinity, hosting "The Jim Coughlin Show" at Henri's Restaurant in Canoga Park, usually on the second Friday.  That is all.