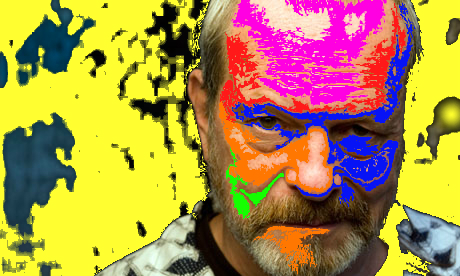 Tomorrow we celebrate the 74th birthday of the great Terry Gilliam. One of the most unusual filmmakers in the history of cinema, Gilliam's work through the years has been nothing short of astonishing, a wild ride down the rabbit hole of the imagination of a singular genius that fuses science fiction, fantasy, and fairy tale, exploring realms that are beyond the experience of the every day.
Of course, Gilliam was also a member of that most famous comedy troupe of all, Monty Python, and his experiences therein no doubt colored his comedic worldview, for his films are filled, for the most part, with a lighthearted and madcap comic joy, even when they become the stuff of nightmares.
His most recent film, The Zero Theorem, is due out for release on DVD on January 20, 2015. While you're waiting, here's my Top 5 List of the best of Terry Gilliam:
5. 12 Monkeys

Gilliam's 1995 film is the story of a time traveler who is tasked with saving humanity from a world destroying virus. Starring Bruce Willis as James Coles, a convict in a post-apocalyptic world were humans had been forced underground, the film also features fine supporting performances from Madeleine Stowe, Christopher Plummer and Brad Pitt as Jeffrey Goines, in a role that earned him an Academy Award nomination for Best Supporting Actor.
4. Time Bandits

The first of Gilliam's "Trilogy of the Imagination", which otherwise includes Brazil and The Adventures of Baron Munchausen, the 1981 film is the story of a boy who seeks to escape the tired world of his parents, receiving his wish in the form of a team of little people in possession of a magic stolen map that they use to steal time's treasures, traveling to the Napoleonic Wars, Ancient Greece and the sinking Titanic among other exotic locales along the way.
3. The Adventures of Baron Munchausen

Gilliam's 1998 film is based on a series of "Tall Tales" told by a German nobleman. It was considered a failure upon its release earning approximately 9M against its 40M budget, but for that it remains no less remarkable – a grand adventure of the imagination.
2. Monty Python and the Holy Grail

One of the funniest ever, this 1975 film, co-directed by Terry Jones, mixes absurdist comedy with Arthurian legend in a bloody mess of absolute hilarity. Gilliam, himself, is the man behind the clip-clipping coconuts dutifully "riding" along as King Arthur's knave, Patsy.
1. Brazil

This 1985 film is nothing short of an indictment of the modern bureaucratic world gone absolutely mad, hopelessly inefficient, suffocated with paperwork, and unspeakably cruel.
**You should like Shea Magazine on Facebook HERE!**

Tony Shea is based in New York, having recently moved from Los Angeles after more than a decade on the sunny coast. His short films have won numerous awards and screened at major festivals around the world including Comic-Con. As a musician, he is the lead singer for Los Angeles rock n' roll band Candygram For Mongo (C4M) candygramformongo.com who has been a featured artist on Clear Channel Radio's Discover New Music Program and whose songs have been heard on Battlestar Gallactica (Syfy Channel) and Unhitched (Fox) among other shows and films.