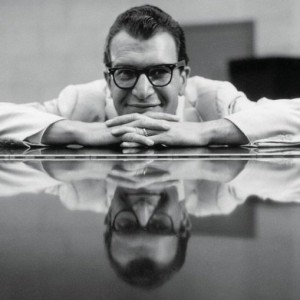 The great Dave Brubeck died on December 5th, 2012, one day short of his 92nd birthday, after a lifetime of producing joyous vibrant sounds. You might say that he was instrumental to the soundtrack of my life, through the good times and the bad, and undoubtedly the lives of many others, since he played on more than one hundred albums during his long career. Thankfully, we can all continue to hear and feel and enjoy the outstanding body of innovative music he left behind.
I first tapped into Dave Brubeck's sound when I moved to Los Angeles in the early 90's from Lebanon, Pennsylvania where I was raised. I was working as a production assistant on the animated series The Simpsons. My boss had an amazingly large collection of music – on cassette tape – which filled one entire wall in the production office. Though my mindset was very pop/rock oriented at the time, I found myself gravitating to the jazz.
Around the same time,  I was also discovering improv comedy and was delighted to find that jazz and comedy go perfectly together (along with smoking grass). I began to listen to Duke Ellington, John Coltrane, Thelonious Monk, Charles Mingus, Miles Davis and, of course, The Dave Brubeck Quartet.  All these musicians were a big part of my early adulthood, but the soundtrack that played in my head the most was Dave Brubeck's phenomenal album Time Out. I still feel cool every time I listen to Paul Drummend laying down the sax melody on the song "Take Five". It's cool music.
Time Out was released in 1959. Thirty- plus years the album waited for me to discover it among my bosses' tape collection and once I discovered it, I simply couldn't stop listening to it.  The music just seemed to fit the pacing of my thoughts, which also existed in odd time signatures (odd time signatures being one of Dave Brubeck's trademarks) like the unusual Blue Rondo A La Turk in 9/8 time below.
Dave Brubeck's music still often plays in my head whether I want it to or not, rising up at particular moments when I need a little boost from life, like tonight as I sit here writing this obituary. I raise my glass of red wine and say thank you, Dave Brubeck, for creating such wonderful music- in your own sweet way.

Pennsylvania native Dan O'Day McClellan is a seasoned actor, writer, comedian, voice over artist and producer. Dan is the founding member of Los Angeles improv comedy troupe, The Omelettes. Dan's ongoing film making/producing work with Pete Galaxie Productions includes the award-winning short film, The Silence of Bees, along with the short films, Just Out of Reach, Reality of the Situation and The Afikomen. Dan's 1st Novel, Lognotes of a Wino, is due out in fall of 2015.