In Contempt of: A column that celebrates all the things in life I can't stand.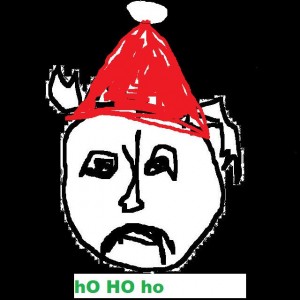 If you're anything like me, your eardrums are about to explode by now because you've heard so much lame Christmas music blaring from the in-built ceiling speakers in every department store and every open car window, the 9,000th rendition of "White Christmas," or "It's the Most Wonderful Time of the Year," or "Sleigh Ride," or "I'll Be Home for Christmas," or "Frosty the Snowman," or "Rudolph the Red Nose Reindeer," or "Let it Snow," or "Here Comes Santa Claus," or "Jingle Bells," or "Walking in a Winter Wonderland," or "Silver Bells" or "Santa Claus is Coming to Town," or mercy please, "The Christmas Song," AKA "Chestnuts Roasting on An Open Fire."
These songs have been covered by seemingly every recording artist in history, even "artists" like Bob Dylan and Bruce Springsteen, who you would think would be above putting out the same old canned ham on the shelves, have cut versions of "I'll Be Home for Christmas" and "Santa Claus is Coming to Town," respectively. What do these versions add to the legacy of these songs, you ask, what makes them special? Absolutely nothing. The source material of these "beloved Christmas songs" is already so familiar that it is impossible to add anything new, no matter how earnestly and deeply and soulfully a performer tries to be. Why then the need to record a version of one of these songs in the first place? It's Christmas. Buying presents is absolutely mandatory. Even if you don't have the money, even if you're in the hospital in a body cast. You have to buy stuff and give it to people to show them that you care about them and appreciate them and even love them. And then the next thing you know, it's Christmas Eve and you're running through the local mall in a white hot panic, and before you know it, before you can even examine the logic of the decision, you're buying Justin Beiber's "Under the Mistletoe" CD as a stocking stuffer.
"Chessssnutttttttttssssssss roastiiggggg on an oopenn fiiiiiiiiahhhaaaaaiiirrreee, Jaaahhahhahhhhacccccckkkkk Froooooooaaaassstttttt niiiiiiiiipppping ahhhhaatttt youuuuuuurrrrrr noooooooooosseee ohhhhh yeahhhhhh…little Justin sings through the echoing auto-tune, straining to let your hear how earnest he is, how much Christmas means to him, how he cherishes this special holiday. But of course lil' Justin is not the first hog to eat at this money trough. Here's old Rod Stewart, rasping through "Let It Snow," in another one of his signature performances that are crafted purely with the specific intention of not scaring old ladies.
Just like when artists step to the mike to sing that ultimate cheap con, the National Anthem, which is designed to stir those prideful nationalistic feelings, every swooning Christmas song is designed to bring a tear to your eye as you long for an imaginary time from long ago when you still had your innocence. In order to reclaim that feeling of childlike purity, you'll need to reach for your wallet.
Scott Weiland of Stone Temple Pilots and Velvet Revolver fame released an album of Christmas songs last year. Here's his version of "I'll be Home For Christmas," which blends a patriotic tie-a-yellow-ribbon-round-the-old-oak-tree sort of sentimentality with World War II romanticism, as he ditches his rock and roll rage and sings in the nasal voice of an old time crooner. This rendition is so bad that part of me thinks it is a parody of some kind.
For goodness sake, even a band as fun and cool as Weezer has released a lame record of classic Christmas songs. Why we would need to hear Rivers Cuomo sing "We Wish You a Merry Christmas" or "Come all Ye' Faithful" is a complete mystery, except that it's not a mystery at all. It's just another ripoff, another shakedown, another cheap con in a holiday season filled with them.
Somewhere tonight, someone is giving one of these cynical commercial gimmicks to someone else, perhaps along with a pair of bedroom slippers, or maybe a six pack of cheap, white, Chinese tube socks as a way of saying 'I love you'. Three weeks from now, all of this lousy junk will be in the middle of a land fill.
What a laugh. Ho ho ho.
I remain humbly yours in prodigious  contempt,
Mike Anthrope

Mike Anthrope is a comedian based in Los Angeles. Originally from Chicago, where he worked in a used auto parts store, Mike has traveled the world in search of trivial things that disgust him so that, by their omission, he might discover the things he loves.