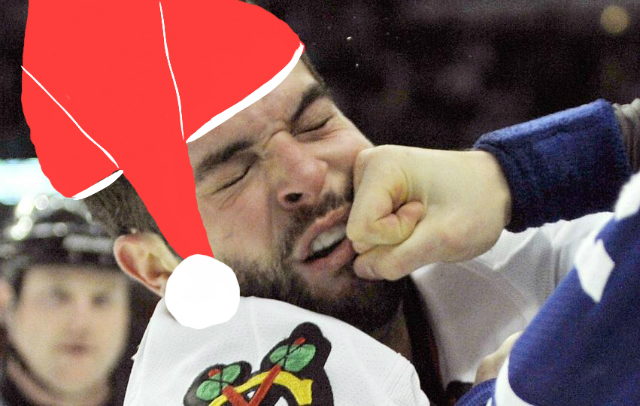 Now that the last of the 90 degree days are behind us here in LA (fingers crossed) and darkness, cool cloudy days, and even occasional precipitation have come to Los Angeles, I am now ready to savor HOCKEY – glorious hockey in all its bone crushing, fist breaking, teeth loosening glory. Hockey's like a pinball machine that hardly ever stops, a hive of furious bees. It's ADD heaven turning on a dime, and who knows what's going to happen next?
I love the game's essential toughness. The hits, the bump and grind. And I love hockey fights. I just do. My old man was always taking me to see the Washington Capitals, the Caps as we called them, when I was a kid. Between periods he'd give me ten bucks and say "I'll meet you back in the seats." And then he would go and smoke, which wasn't such a shock back in the 80's. Everybody smoked back then. You could smoke at work – at your desk. Drink too. I'd usually get a hot dog during the first intermission, and then a "Choco Taco," which, as you might reasonably suspect, was an ice cream served in a taco shell to start the third period.
Back in the seats, a fight on the ice would light up and my old man would laugh and cheer, allowing me to scream every four letter word I felt like. My old man was in the Navy during the Korean war. He'd heard it all.
Those not fully indoctrinated to the joys of hockey often complain about what they see as the unnecessary violence, but while these glacial gladiators are often stirred to drop the gloves and unload, their fights, ultimately, are harmless ones in which both of the participants emerge unscathed. These fights to my way of thinking represent the culmination of honest discord. When a fight concludes you'll often see the players pat each other on the back in mutual respect. Wars should be fought this way with the leaders of nations skating off the ice to raucous applause and serving 5 minutes in the penalty box.
This season is off to a wonderful start fight-wise, with several goalie fights, the pinnacle of hockey fisticuffs in my opinion, as well as numerous other brawls. There's a little more than half the season to go before the playoffs so there will be dozens of additional altercations you can bet. But here's a chance to catch up on what you missed with a little help from YouTube and the good folks at Hockeyfights.com.
Ho Ho Ho Merry Fisticuffs!

Featuring a near on ice riot and a spectacular goalie fight, the season was barely underway when the Buffalo Sabres and the Toronto Maple Leafs clashed.

Former Patrick Division Rivals, the Washington Capitals and the Philadelphia Flyers have a long, deep history of mutual hatred. In fairness, everyone hates the Flyers.

And from just a few days ago, in a perfect example of what I'm talking about, Tim Jackman and Matt Martin have a real throw down but shake hands at the end of it all.
Wishing you a peaceful Christmas! Cheers!
**You should like Shea Magazine on Facebook to see all of our curated content.**

Tony Shea is based in New York, having recently moved from Los Angeles after more than a decade on the sunny coast. His short films have won numerous awards and screened at major festivals around the world including Comic-Con. As a musician, he is the lead singer for Los Angeles rock n' roll band Candygram For Mongo (C4M) candygramformongo.com who has been a featured artist on Clear Channel Radio's Discover New Music Program and whose songs have been heard on Battlestar Gallactica (Syfy Channel) and Unhitched (Fox) among other shows and films.