This week marks the anniversary of the release of Elvis Costello's first album, as well as his new collaboration with The Roots.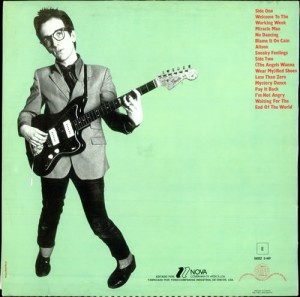 This week marks the 36th anniversary of the release of Elvis Costello's landmark album My Aim is True. Long regarded as one of the great debut albums in music history (Rolling Stone ranked it #163 on their 2003 list of the 500 greatest albums of all time), the album features a string of excellent tracks including "Alison," "(The Angels Want to Wear My) Red Shoes," and "Blame It on Cain." Produced by Nick Lowe, the album announced the arrival of a musical force who blended pop, rock, country, and new wave with smart lyrics and an unmistakable vocal presence. The former Declan MacManus (and former data entry clerk) changed his named and Elvis Costello was born.
In the nearly forty years since the album was released, Costello has been productive to say the least, releasing 24 albums, and collaborating with a slew of bands and other performers including: the Attractions (Costello's first backing band, with whom he was inducted into the Rock and Roll Hall of Fame in 2003), Paul McCartney (who co-wrote songs with Costello for the outstanding 1989 album Spike), and Burt Bacharach who along with Costello released their co-album Painted from Memory in 1998.
This week also marked the release of a new track,"Walk Us Uptown," from Costello's forthcoming collaboration album with The Roots, who stepped away from their day gig as the backing band on Late Night with Jimmy Fallon, demonstrating Costello's remarkable lyrical and song writing skills once again. Through the years, Costello's aim remains true.
**You should like Shea Magazine on Facebook HERE!

Tony Shea is based in New York, having recently moved from Los Angeles after more than a decade on the sunny coast. His short films have won numerous awards and screened at major festivals around the world including Comic-Con. As a musician, he is the lead singer for Los Angeles rock n' roll band Candygram For Mongo (C4M) candygramformongo.com who has been a featured artist on Clear Channel Radio's Discover New Music Program and whose songs have been heard on Battlestar Gallactica (Syfy Channel) and Unhitched (Fox) among other shows and films.