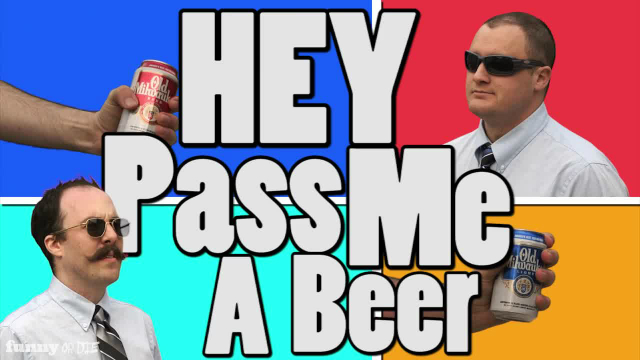 As their Facebook bio attests, "The Packard Brothers are the idiots that have brought you viral hits such as "Real Life Angry Birds," "Hey Pass Me A Beer," and the bowling trick shot franchise including "More Awesome Bowling Trick Shots." Indeed, since 2001, the two brothers from Wisconsin have been serving up some awesome viral joy on their website , and YouTube channel (as well as other sites like Funny or Die, where brother Jack happens to be the content supervisor.) Lately, I can't get enough of "Hey Pass Me a Beer," and "Hey Pass Me a Beer II," as the Packards seemingly devise every way in the world that a beer can be passed, cracking open cans of Old Milwaukee (in what is actually a clever ad campaign) with steely eyed determination.
Hey Pass Me a Beer

The maiden voyage of the suds.
Hey Pass Me a Beer 11

The happy hilarity continues.
Outtakes

What'd you think, they did it all on the first try?
**To see more of our curated content, you should like Shea Magazine on Facebook HERE!**

Tony Shea is based in New York, having recently moved from Los Angeles after more than a decade on the sunny coast. His short films have won numerous awards and screened at major festivals around the world including Comic-Con. As a musician, he is the lead singer for Los Angeles rock n' roll band Candygram For Mongo (C4M) candygramformongo.com who has been a featured artist on Clear Channel Radio's Discover New Music Program and whose songs have been heard on Battlestar Gallactica (Syfy Channel) and Unhitched (Fox) among other shows and films.