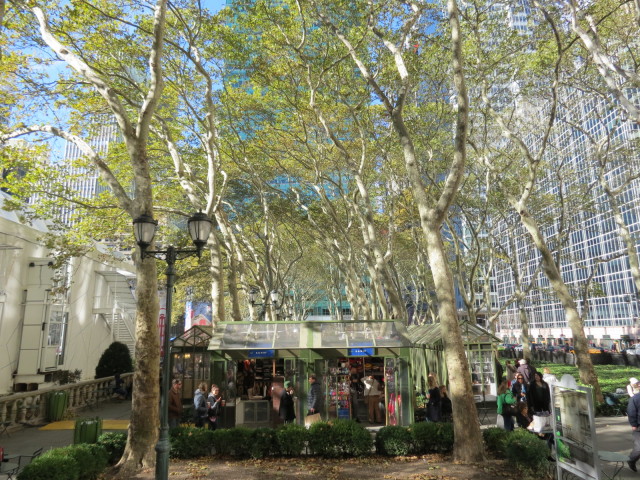 I started out at the Winter Village at Bryant Park. There's dozens of stands set up selling all sorts of different stuff (eat your heart out Dr. Seuss): christmas ornaments, and jewelry, and artwork, and food. It was chilly so I bought a cup of hot apple cider with a cinnamon stick in the middle of it that I chewed on for a while. It really was like a cinnamon-flavored stick, just about the same texture. I guess it's nice to get what you pay for sometimes.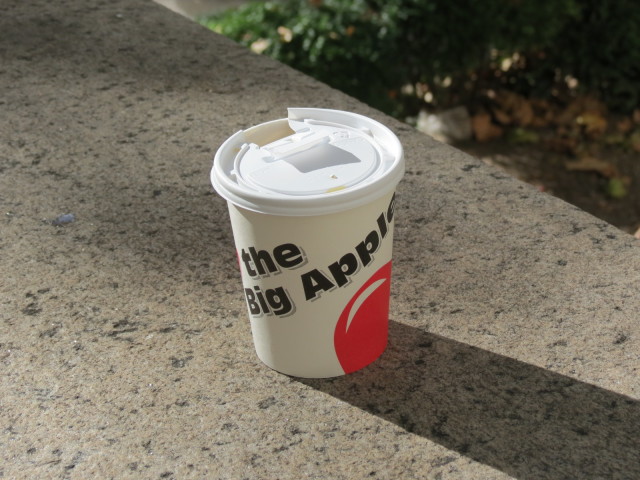 And I bought a pair of gloves that have little special touch pads on the on the thumbs and index fingers so you can keep texting even when it's cold outside, which seemed like a pretty good invention to me, a reasonable response to the modern world.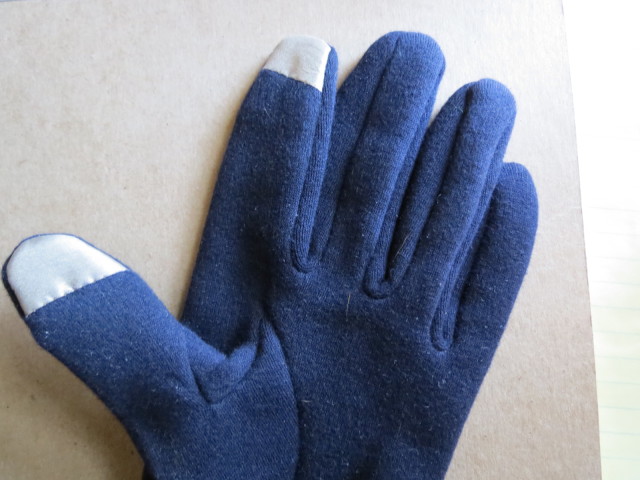 There's also an ice skating rink there. When I walked by nobody was skating. The Zamboni was on the ice.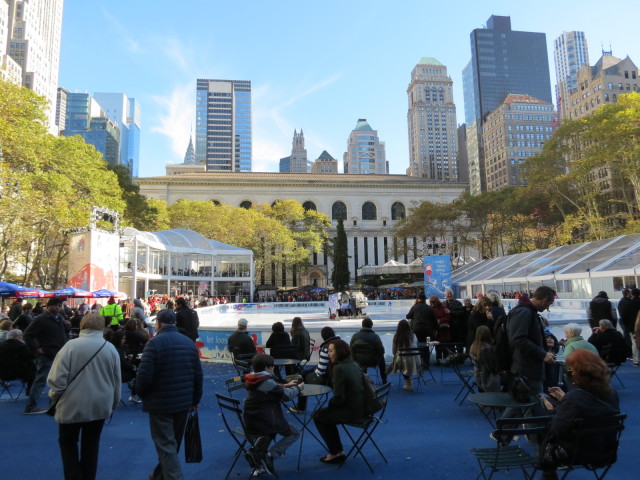 I took the #1 subway train down to Christopher street and then I started walking, as always with no destination in mind. I walked into SoHo and strolled along Spring St. and Prince St. and King St. and up and around and down taking pictures of fire escapes like these ones.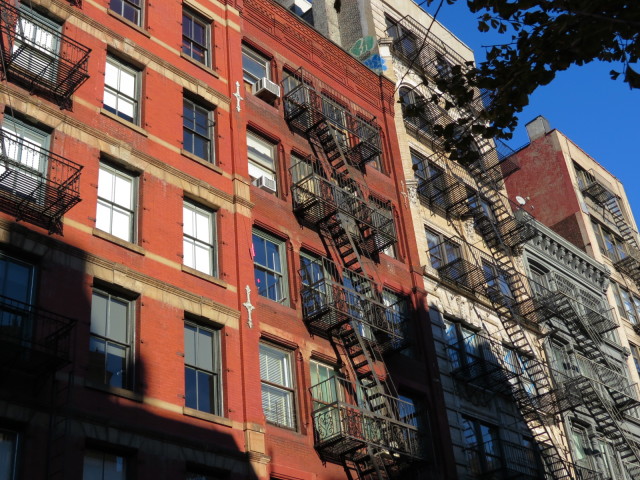 If you like fire escapes, and I do, this is a good part of town. I thought about all those rickety-looking metal steps being using for their stated purpose and it just seemed hard to imagine that people die in fires. But I guess they die from all sorts of things. I wonder how many people must have died in New York since the city was established in 1624. Lots.
There were people everywhere.
All the restaurants were absolutely mobbed with people eating, eating waffles and eggs and huge bowls of pasta and drinking coffee and beer and champagne. It was like everyone was absolutely ravenous, like they all hadn't eaten in a week. And then I thought about what goes into keeping all these people alive day after day. Somewhere out there men are working in slaughterhouses, and farmers are harvesting wheat and apples and corn and a thousand other things. And then all the stuff that is being slaughtered and harvested is being processed in factories and stored in crates and carried on boats and trains and enormous trucks and delivered to all these restaurants. I couldn't get much further than that in my thinking. I was hungry. I wanted to eat in this place.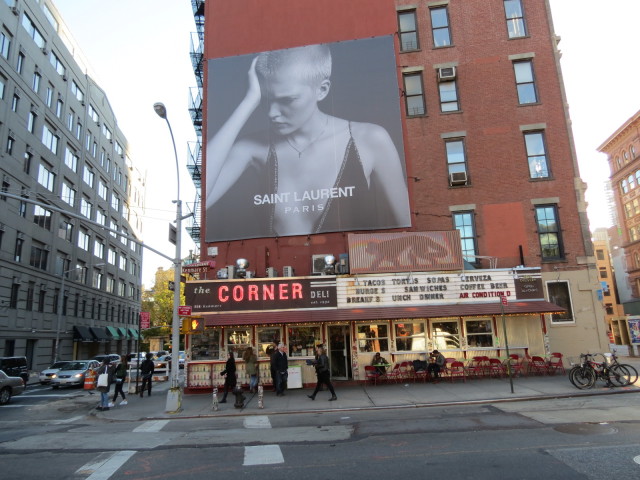 But I didn't have any cash. Fortunately I found this ATM machine.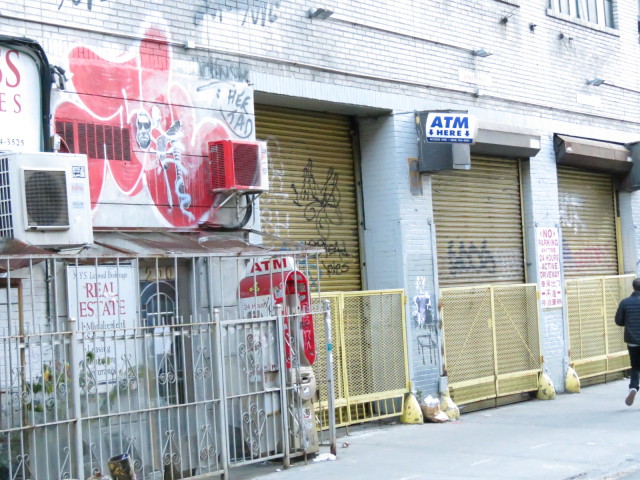 And then I popped in a falafel place.
It was pretty crowded in there too.
I got a falafel sandwich and some fries and an ice tea and watched people walking by on the streets.
And some of them watched me back.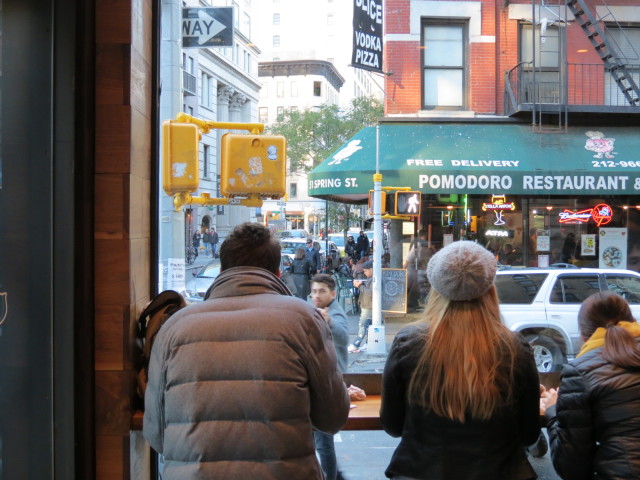 I'm a fool for a good falafel sandwich. And it was good. I ate the whole thing. I only ate half the fries. And I walked over into Little Italy, but I was already full.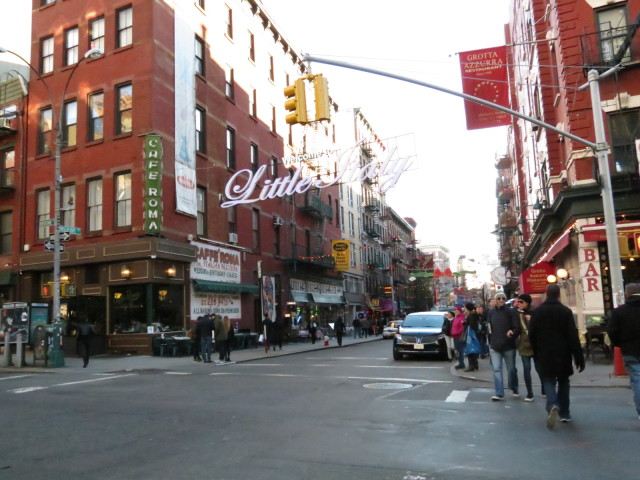 And then I kept on walking. And as I kept on walking I heard half a dozen languages that I recognized (and many others I did not.) Spanish, Chinese, Japanese, Tagalog, Russian, French. I heard more French spoken yesterday than I have since I was in Paris nine years ago. It was like people were speaking French in solidarity with the folks who died over the weekend, gunned down around the city, most of them at a rock n' roll concert. And I thought about how the nation of France has contributed so substantially to our ideas of freedom, how the French gave us a statue of a woman once back in 1886, La Liberté éclairant le monde. It means Liberty Enlightening the World. The Statue of Liberty.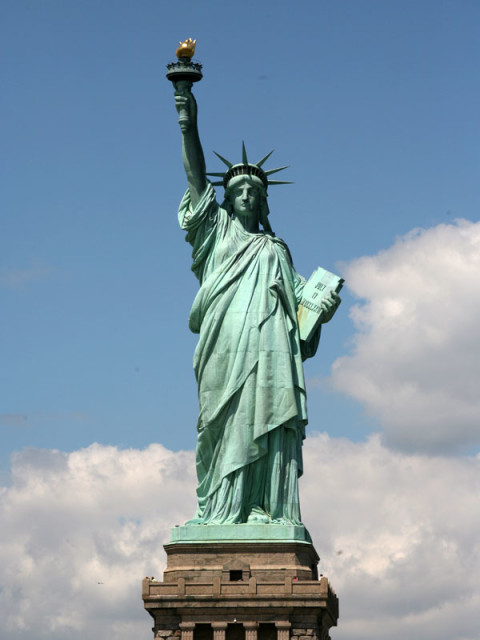 May the idea of liberty, inasmuch as it is able, continue to enlighten the world.
**To follow Shea Magazine on Twitter go HERE**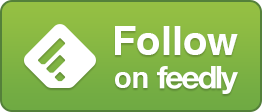 **If you liked this article you should share it!**

Tony Shea is based in New York, having recently moved from Los Angeles after more than a decade on the sunny coast. His short films have won numerous awards and screened at major festivals around the world including Comic-Con. As a musician, he is the lead singer for Los Angeles rock n' roll band Candygram For Mongo (C4M) candygramformongo.com who has been a featured artist on Clear Channel Radio's Discover New Music Program and whose songs have been heard on Battlestar Gallactica (Syfy Channel) and Unhitched (Fox) among other shows and films.