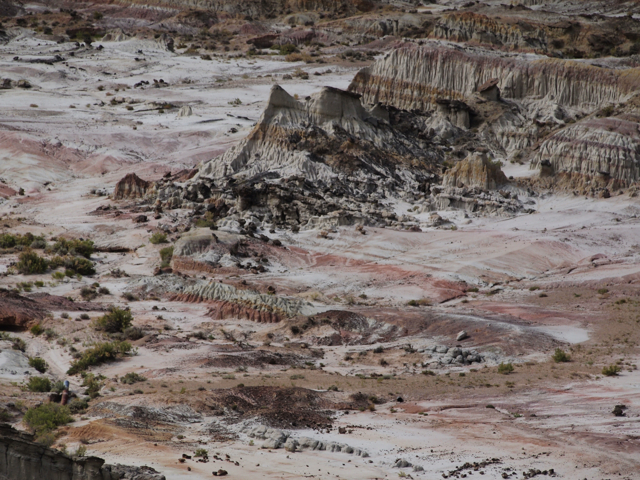 And you thought the Badlands were bad. Welcome to Hell's Half Acre. Here you will find many of the same geological formations as the Badlands. Unlike the Badlands, Hell's Half Acre is just bleached rock blasted by the sun until only the most meager of colors remain. No bright oranges and golds to catch the sun at the perfect time, just gray and white with a few streaks of red. Inside the barbed wire fences that surround it are 320 acres of misery and despair. The terrain at the bottom of the canyon is the epitome of bleak and unforgiving. The movie Starship Troopers used it as a location for an alien planet. Chuck Norris turned down a role in the movie because even he was afraid of entering. These days, no one can enter. Chain link fence encloses the entire location. Most likely, few even know it is there. It appears as a deserted pull-off along the side of the highway in the middle of nowhere in Wyoming.
Click on the photo above to view the barren landscape in full size or check out the Shea Magazine Flickr photostream for more.

Jay Hood has lived in Baltimore, Maryland for the past 25 years.  He likes to travel and is an avid photographer.  His photography has been featured in several obscure and unassuming locations, such as John Ball Zoological Gardens.  He does not eat vegetables and is learning to enjoy seafood.  He strives to keep his DVR no more than 40% full.  Comfort is paramount and he is not above a little slacking.