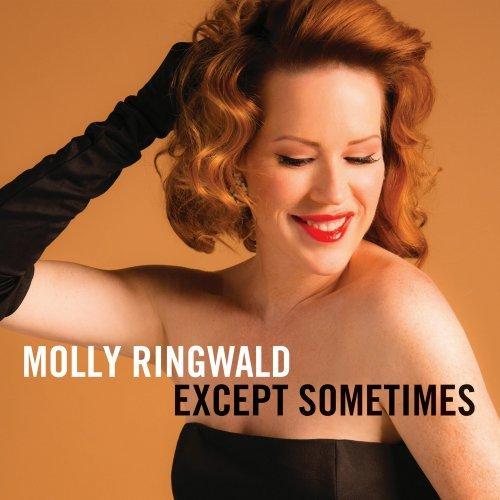 "Ladies and gentlemen, please welcome to the stage… Molly Ringwald!" And with that, I and the entire audience witnessed an American icon and film legend we grew up watching, who played characters that reflected our own personal experiences, that is near and dear to our hearts, take the stage to try a new professional venture. To sing jazz. Molly is currently on tour with a small band to promote her new cd Except Sometimes. A collection of American songbook jazz standards with the exception of one surprising stand-out piece that I will address a little later.
She looked exactly the same as she did in her early films, the thick lips, wide doe eyes, just more mature (not older), though her hair was now short and blond instead of red. Her voice was steady and strong, though physically she seemed a bit nervous at first looking out over the audience as she opened with the Stephen Sondheim penned "Sooner or Later," first sung by Madonna for the film Dick Tracy in 1990. A newer song compared to the majority of the rest of her set, which came from the 20s, 30s, and 40s.
But the moment she opened her mouth, the mental Roladex of pop culture and nostalgia I have in my mind started flipping uncontrollably, and I was taken right back to the first time I saw Molly Ringwald on film which was 30 years ago this year.
She was playing Samantha Baker in John Hughes's Sixteen Candles, a character that was turning 16 that day, and was displeased with the world, the way most teenagers are, for not going exactly how she wanted it to according to the fantasy and expectations she had built up in her head. When I say "the world," I mean her world. High School.
Somehow Samantha expected to blossom into curvy, sophisticated womanhood at midnight the day of her 16th birthday, but finds herself incredibly disappointed with the reality that she still has the same body and mind as the day before. She says to herself while posing in the mirror, "Chronologically you're 16 today. Physically you're still 15." Then as she leaves for school, wading through the chaos of the typical American family morning routine, waiting for some sort of excited acknowledgment, she realizes her entire family forgot her birthday. Her Sweet 16 birthday that was supposed to be a significant milestone, not just for her, but for her family as well, clearly expecting everyone to make a big deal over her as they should have. None of which happened. Then through a veil of ironic, self-deprecating humor, and sarcasm, mixed with upper middle class expectations of the world, the words pour out of her privileged teenage mouth accompanied by an eye-roll, "I can't believe this. They fucking forgot my birthday." And so was born my love and fascination for Molly Ringwald (also John Hughes films) and red-haired girls with a filthy mouths that has carried on into adulthood (Shirley Manson of Garbage, Jessica Rabbit, Ariel).
The movie follows her through her day at school and the emotions of the experience; being heavily pursued by a 'geek' she couldn't be less attracted to, unrequited love, and being jealous of the fully formed Carolyn Mulford ("Who must've flunked about 9 grades."), who was dating the guy she was in love with, Jake Ryan, played by Michael Shoeffling. Popular, rich, and ridiculously good-looking, Jake was the Gosling of the school. So good-looking in form and character in fact that there are shirts in stores today, 30 years later, stating "I HEART Jake Ryan." Every girl wants him. Every guy wants to be him. And I hated him because at the end of the movie, he winds up with Molly and makes out with her over a birthday cake. The 8-year-old me screamed inside, "Curse you Jake Ryan!"
My love for Molly Ringwald would further deepen when The Breakfast Club came out about a year later. This time she was the virginal Prom Queen and "Princess.," Claire Standish, but she still had that fire-red hair and used adult language but this time underscored with a tone of snobby high-school bitchiness, which completely offended the Christian values of my family, ensuring that I wasn't "allowed" to watch it, only making her more fascinating to me. Of course, I found ways of seeing it without my family's knowledge (insert my giant evil grin here).
The following year, Pretty In Pink was released. It is kind of a Cinderella story, which was not too appealing to me as a 10-year-old boy, but Molly was in it, also another Hughes film (Hughes wrote the script, though it was directed by Howard Duetch), so I didn't care what the storyline was. I paid my $3.25 for my matinée ticket (it was 1986) at Pecanland Mall in Monroe, Louisianna, and sat down for a full 90 minutes of Molly. This time around it was missing something though. She wasn't privileged and bitchy, but, poor, sweet and vulnerable. I remember being in the theater hoping she was going to be like the characters from the two previous Hughes installments, and being dissatisfied that she wasn't…until the rich boy she liked, Blane ("His name is Blane?! That's a major appliance, that's not a name!" – Ducky Dale), who had been courting her, dumps her just before prom and she calls him a "filthy fucking no good liar!" while slapping him. There she is! There's the red-haired girl with the sailor mouth I've come to love and adore, I thought, and now with a side of slight domestic abuse (ME-OWWW). And my love continued.
I had no idea at the time this would be the last Hughes/Ringwald collaboration. Molly decided to grow as an actor and try new things. Who can blame her? She couldn't play a teenager forever. But in my mind, my heart, she will always be that feisty red-haired girl with high standards and a dirty mouth, and I love her for it.
Sadly, John Hughes has since passed away. I never knew the man. But his films, his art, in some way, shaped my view of the world. I related to his vision, his message from those three films (as well as Ferris Beuller's Day Off). It's going to sound dramatic, but I don't know who I'd be today without the Hughes/Ringwald trilogy. Those three films came out at a time when I was very impressionable. Though I was in elementary school, those films were reflecting experiences I was having myself on an everyday basis. The rich kids vs. the poor kids, cool kids vs. the dorks, dismissive school staff, teachers who got off on authority, and bus rides with the obnoxious. I related to those films. Deeply. I understood those scenes, those characters, those emotions.
What's funny is, I always wanted to be (read imagined myself to be) the cool kid, with the confidence of the "Sporto," the suaveness of Jake Ryan, the toughness of John Bendor, but as an adult, looking back, I realize now I'm the guys played by Anthony Michael Hall, especially the character of Brian Johnson, the resident geek, from The Breakfast Club. I am now, and always have been, the Ducky Dale of my life, in my own head, dancing to my own groove, always pining for the pretty, unattainable one, and never popular. In adulthood, I've realized that was okay, but for a good portion of my life, it made me feel "Left of Center," to quote a song from the Pretty in Pink soundtrack, to not be one of the cool kids.
Speaking of soundtracks, Hughes' soundtrack choices were the best for a dorky loner kid like me, who was somewhat reclusive and living in West Monroe, Louisianna (a city now famous for being the home of the Duck Dynasty guys if that tells you anything about the music that was available to me) and I had no exposure to non-mainstream Top 40 music. Even MTV (pre-120 Minutes) seemed only to be interested in the holy 80's trinity of Michael, Madonna, and Prince. All of whom I love, but without the Ringwald/Hughes trilogy, I never would have had the opportunity to discover The Specials, The Smiths, Psychedelic Furs, Echo and the Bunnymen, early INXS, Suzanne Vega, Otis Redding, The Rave-Ups, and New Order (and some of these discoveries led to similar artists like Jesus and Mary Chain, Joy Division, English Beat, Sigue Sigue Sputnik and the like). I obsessed over the soundtracks to these films, and bought their individual albums (much to my proper southern family's dismay), and I still have those albums on LP in my closet and now digitally on my iPod today and listen to them on a regular basis. I STILL revel in them when they come on the radio, or start playing in a club/bar that I'm in.
Back in the moment now, at my table watching Molly on stage. Her set was nearly over. She had been on stage for almost 80 minutes entertaining the crowd with songs and stories of recording the album. She had a charming personable energy, making jokes here and there. As any performer, she had an encore planned, and with that, she announced "it's time to travel back in time" with a somewhat sarcastic but humorous undertone, as her band began to play a jazz cover of Simple Mind's "Don't You (Forget About Me)," the theme song from The Breakfast Club, and the last track on her CD (the liner notes on the album reads "Dedicated to the memory of J.H.") The audience erupted.
What a great way to bridge what she's doing now and the past she is best known for, and will forever be tethered to. Molly is the Princess Leia of what is essentially the Star Wars trilogy of teen angst. She will always be a teenager in our hearts and minds, even when she is a 75-year-old grey-haired grandmother.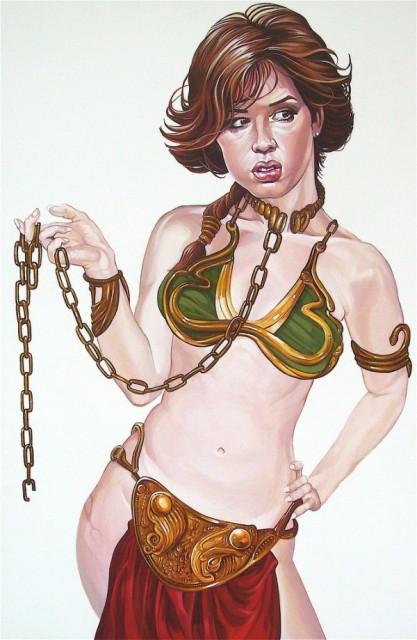 image via
Molly Ringwald will forever be that pop culture icon that represents the best and (awkward) worst of the teenage years, whether you were the brain, an athlete, a basket case, a princess, or a criminal. Don't forget about you, Molly? Don't worry. There's no way we ever could, or would even want to.
**To see more of our curated content, you should like Shea Magazine on Facebook HERE!**

Nate "Chops" Johnson currently holds more than a dozen competitive bearding titles, including 6, 1st place victories, and 2 for Best In Show. He lives in Los Angeles, and enjoys Pabst Blue Ribbon beer.