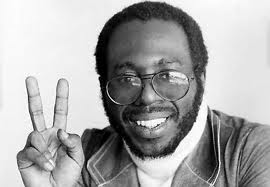 I know what you're thinking. This chick can't get out of the past when it comes to music. I am a nostalgic being by nature. I love music that makes me remember a certain time in my life, happy or sad. Curtis Mayfield is one of those artists that I forgot about until I heard him again as an adult…and it took me right back to being a kid, riding in my mom's VW bug, her snapping her fingers and primping her perfect afro, us bobbing our heads to the sultry beat. What I didn't know as a kid is that Curtis Mayfield was telling a story with his songs. He was one of the artists the stood up against social and political inequality, singing of a ghetto that was riddled with crime, drugs, and downtrodden black folks trying to make it in America.
Curtis Lee Mayfield (June 3, 1942 – December 26, 1999) was an American soul, Rn'B, and funk singer, songwriter, and record producer. He is best known for his anthemic music with The Impressions during the Civil Rights Movement of the 1960's and for composing the soundtrack to the blaxploitation film Superfly. Mayfield is highly regarded as a pioneer of funk and of politically conscious African-American music. He was also a multi-instrumentalist who played the guitar, bass, piano, saxophone, and drums. Mayfield is a winner of both the Grammy Legend Award (in 1994) and the Grammy Lifetime Achievement Award (in 1995), and he was a double inductee into The Rock and Roll Hall of Fame, inducted as a member of The Impressions into The Rock and Roll Hall of Fame in 1991, and again in 1999 as a solo artist. He is also a two-time Grammy Hall of Fame inductee. Injured in a stage accident in 1990 that left him a quadriplegic, Mayfield still wrote, sang and recorded his last album  laying on his back. Superfly indeed. Happy birthday to the great Curtis Mayfield – one bad mofo!
MY TOP 5 CURTIS SONGS…
Diamond in the BackHard to pick a fav so I'll try to pick a few good ones, this one gets in my soul…Diamond in the back, sunroof top, diggin the scene with a gangstah lean, woooo hoooo oooooo!!! I mean, who writes and sings like this anymore?? NOBODY! Great lyrics, great groovy, funky guitar riffs. Just remember bruthas and sistas, you can still stand tall!!
PushermanOne of my absolute favorite. The baseline is infectious. Many of my favorite bands have covered this song, and covered it well. THIS song tells a story.
Little Child Running WildWhen I listened to the lyrics for the first time (instead of just listening to the music), I pictured the whole song as a movie, Blaxploitation and all. I could see the seventies clad cast, bad ass cars, and a really sad place for any kid to grow up. (Or maybe I was just picturing Superfly) Either way, I felt fortunate.
Move On UpOff the first album, the world's first glimpse of Curtis Mayfield. From here he banged out an album every year, sometimes two a year for over a decade.
Superfly, duh!!
The title track to the influential Blaxploitation film Superfly. This film was a look into the gritty Harlem drug scene during the 70's but what few know is the Superfly soundtrack outsold the movie. Tryna git ooooooovah!! Git you some. This is a great clip from Soul Train –  indulge me because I miss Don Cornelius.
**You should like Shea Magazine on Facebook HERE!