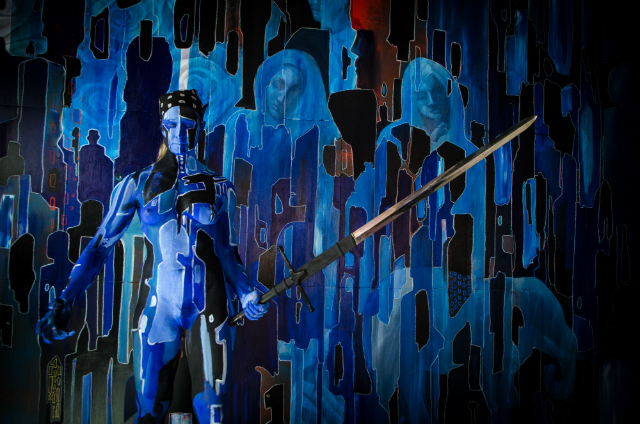 This marks the third occasion that we've featured the work of Los Angeles artist Gus Harper, and with good reason. Harper has had a run of successful gallery exhibitions and his work has been featured in numerous films and television shows including: Modern Family, The New Girl, Up All Night, and Dallas among them. But now with his new collection, a collaboration with photographer Justin Davanzo, Painted Guardians, that features a variety of painted models (including, in something of an odd coincidence, Shea Magazine contributor and brilliantly brave comic Lang Parker) "inserted" into Harper's paintings and photographed, Harper seems on the verge of his artistic tipping point. Painted Guardians is a provocative abstract exploration that like much of Harper's work is heightened by a mystical sense of possibility, a hallucinatory quality that transcends our ordinary expectations, and I imagine work that will likely earn him a great deal of attention in the coming months.
I recently caught up with him to ask him some questions about his incredible new series.
You've collaborated with a variety of artists including LA's Gronk and now photographer Justin Davanzo…What do you enjoy about the collaborative process as opposed to when you're working on something by yourself?
I feel like most of mankind's great achievements are the result of teamwork. I work by myself all the time. It's nice to be able to combine my creativity with someone else's for a change. And, we learn from each other. Sometimes we come up with a result that neither one of us expected. Our mediums and styles are different, but they compliment each other. We've been doing this all our lives and there is always a sense of play when we work together.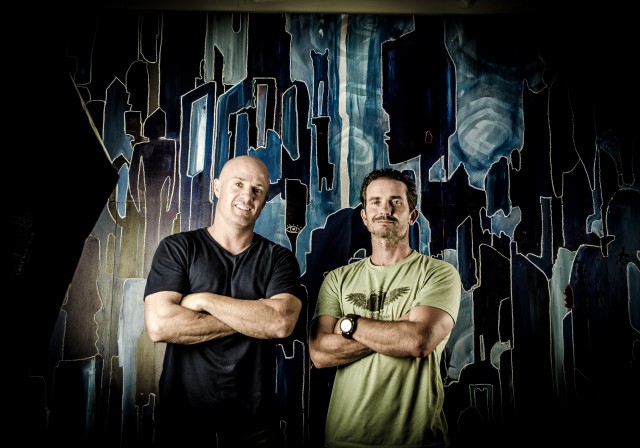 Gus Harper and photographer Justin Davanzo
You're work often seems to have a spiritual or transcendental quality to it – is this by design or an interesting coincidence? What do you think happens to us after we die?
Well, I'm definitely aware of that aspect of my work. And my recent dreamscape paintings touch on this subject particularly. (Laughs) I don't know what happens when we die. Do you?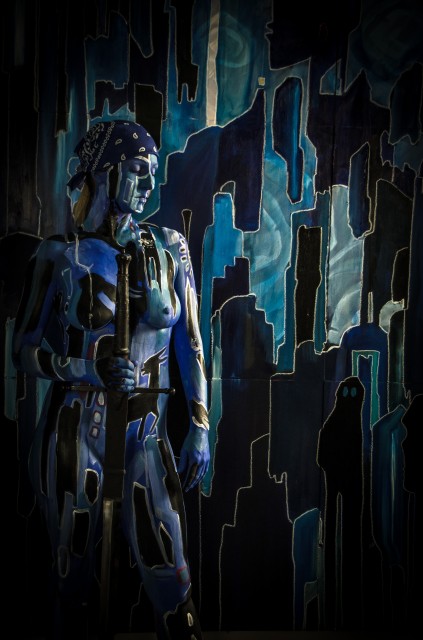 What was the genesis of this new idea to paint living models and incorporate them into your work?
I felt inspired when I saw several people posing in front of some of my larger pieces at a recent art shows.  I always like the way bigger pieces can take over a room and dominate the backdrop of both candid and posed photos.  It seems like the people and the painting were posing together, so I decided to to make the people part of the composition.  I wasn't trying to camouflage the people but rather to use their forms as an addition to the painting.  And I brought in the best photographer I know. Justin is so good at capturing unique angles and he gave these images that haunting look with his use of lighting. He really knows what he's doing. The models were posed in front of two large paintings, "Searching For Heroes" (the red centerpiece from my most recent show) and "The Homunculus Nebula" (the blue centerpiece for my upcoming September show in L.A.). The models were all very patient and easy to work with. I think the next shoot will involve painted suits/clothing and more props.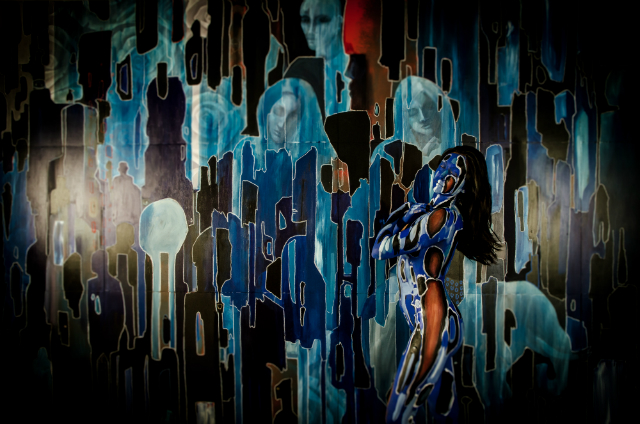 You're a native Angeleno. Tell us a little about where you grew up and how Los Angeles factors into your work – if at all?
I am from L.A. (Santa Monica High school '90). So is Justin. In fact, we have been making art side by side since second grade. So it's cool that we can still find a way to work together. I love the LA art scene.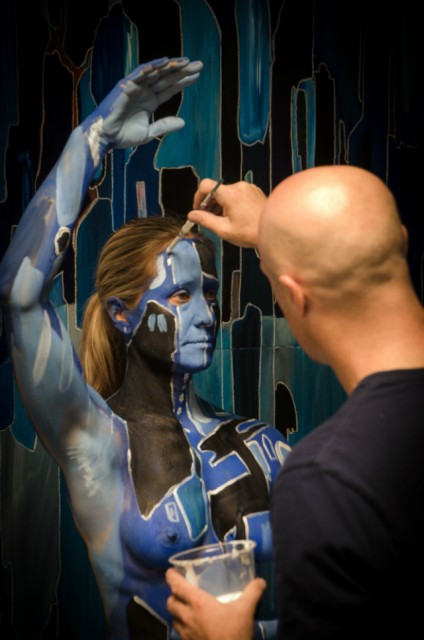 This question may seem banal – but what's your favorite color? What qualities do you attribute to that color that manifests itself in your work if any?
I actually get asked that all the time. I seem drawn to crimson red. Seems like a good, passionate color. But maybe my favorite show was my all white show. It was my most ethereal work.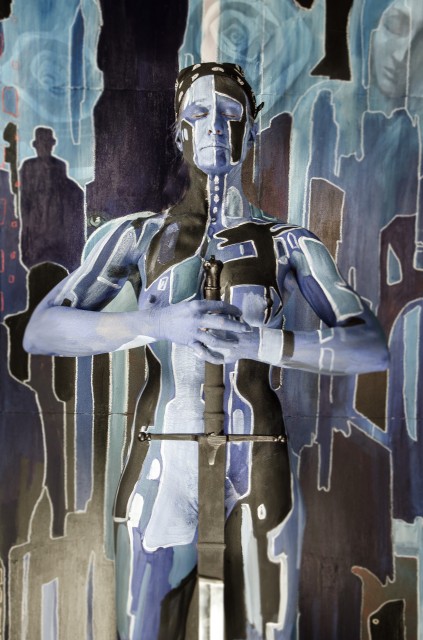 What's next?
I am getting ready for some Fall shows. September in Culver City. October at the Artwork Network in Denver. And Perhaps Mexico City in November. But mostly, I'm just having fun with these big new pieces I'm making. A lot of them are inspired by my recent trip to Nepal. I get a lot of inspiration from my travels.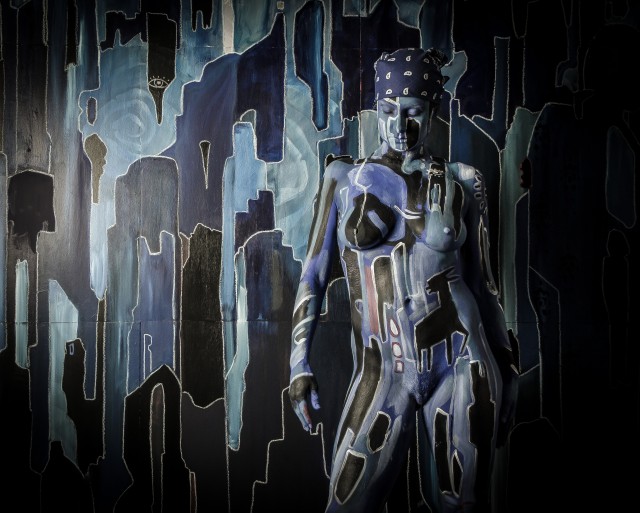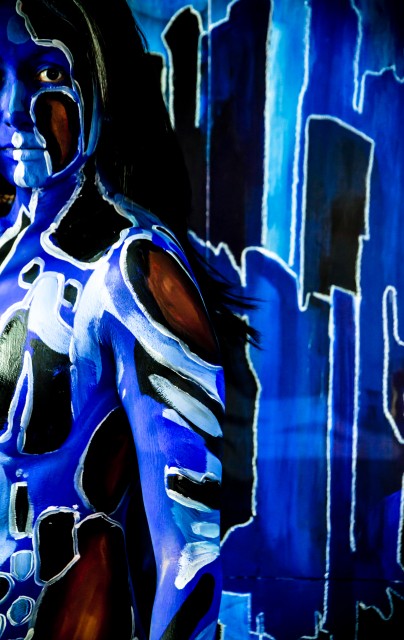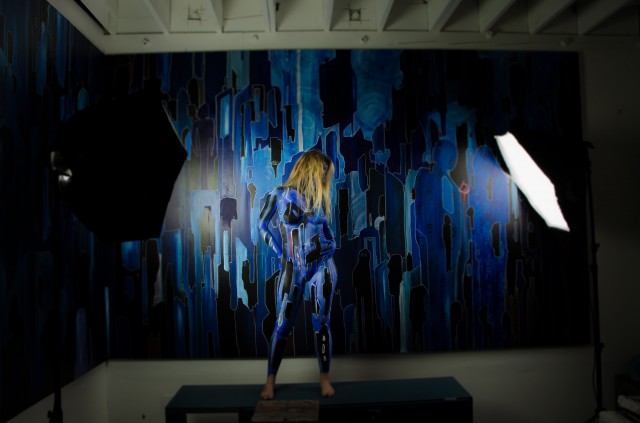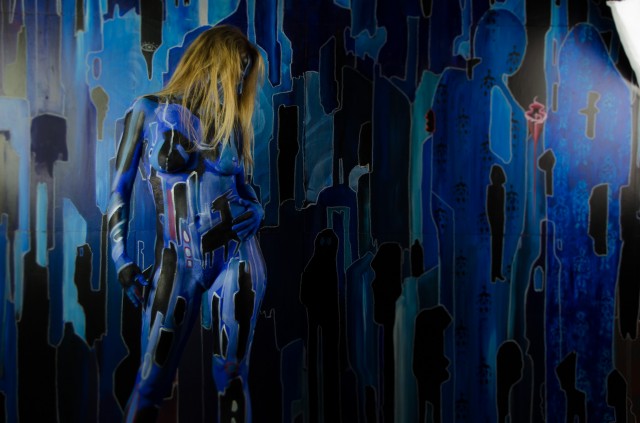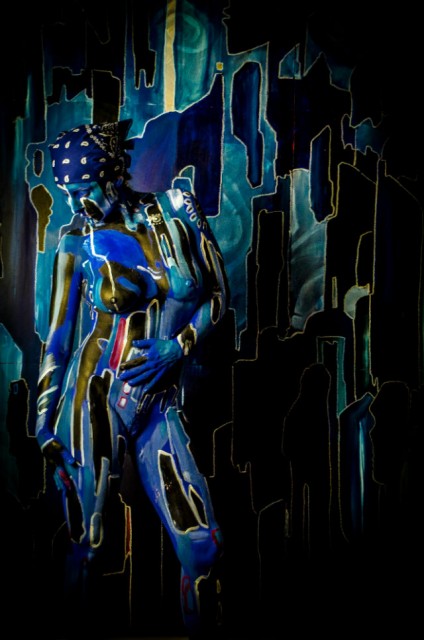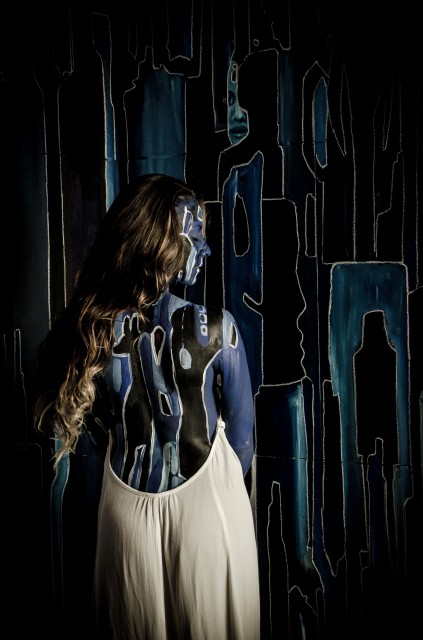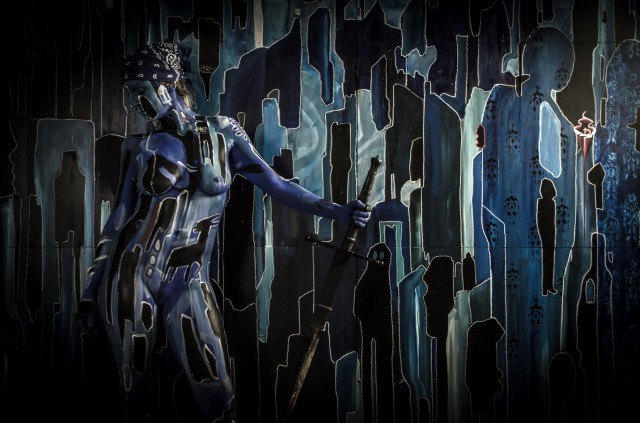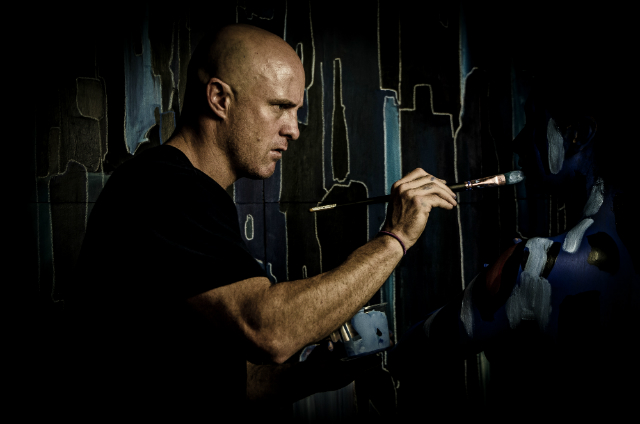 To learn more about Gus Harper visit his site at http://gusharperart.com.
You should follow Shea Magazine on Twitter HERE.

Tony Shea is based in New York, having recently moved from Los Angeles after more than a decade on the sunny coast. His short films have won numerous awards and screened at major festivals around the world including Comic-Con. As a musician, he is the lead singer for Los Angeles rock n' roll band Candygram For Mongo (C4M) candygramformongo.com who has been a featured artist on Clear Channel Radio's Discover New Music Program and whose songs have been heard on Battlestar Gallactica (Syfy Channel) and Unhitched (Fox) among other shows and films.