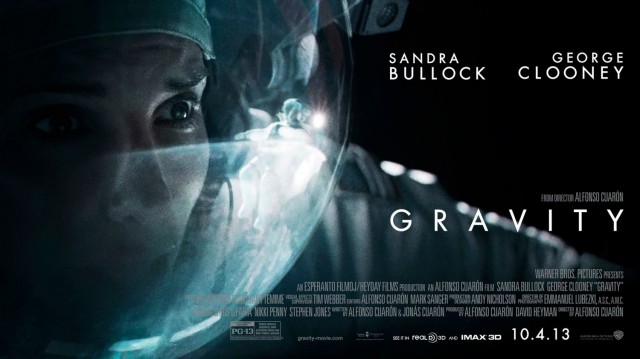 A friend of mine whose opinion on matters of taste in films and books very closely mirrors my own told me, before I had seen the film, that Gravity would blow my mind.
At the time, I did not believe him. I suppose the reason had to do with the fact that there was a giant poster for the film pasted on the wall on one of the Warner Bros buildings down the street from my house. I had stared at it a hundred times already as I came and went. I had become immune to it. I was no longer impulsed. Sandra Bullock, George Clooney. The names written in large white letters. Though I like both actors considerably, I am getting to a point where they are starting to feel too familiar, considering that they have both been part of the cultural landscape for 25 years now. There is only so much time. You can only have the same experience so many times before you begin to feel a kind of panic that compels you to look in another direction, that anxious restless feeling that typically occasions the beginning of a new focus or interest. What's old recedes into the past. You're ready for something new. Or at least I thought that I was.
But then my wife and I had a lunch date one Friday and decided to actually go to the movies, an occurrence that seems to happen rarely these days in the Netflix/PPV/Online word of whatever you want whenever you want it – not to mention we have a two-year old that typically keeps us close to home. Gravity was the only film that was playing when we arrived, and so we went in and saw it, and my friend was right – Gravity totally blew my mind. I felt like a kid. I watched it with my mouth hanging open, the way you might when you actually see a head on collision in real life. And as I watched it, I thought to myself, this film should win Best Picture. But it won't.

Gravity Trailer
The film, directed by Alfonso Cuaron (who has become one of the world's very best filmmakers with a resume that includes Y Tu Mama Tambien, Harry Potter and the Prisoner of Azkaban, Children of Men, and Pan's Labyrinth among others) surges from the starting line and never slows. Almost immediately, the casting of Bullock and Clooney made complete and total sense to me. Because there is almost no exposition, it is essential that the audience know immediately who these characters are so that we will care about them. If two unknown actors had been cast, the film, while still surely a viscerally visual thrill ride, would have lacked the full emotional curvature that makes for a complete experience. Bullock and Clooney are perfect, because so much is already known about them. They're like are two old friends.
George Clooney in the role of Matt Kowalski, a long toothed astronaut out for his last space walk before hanging up his moon boots, might just as easily have been called "George Clooney in Space." Clooney for his part plays the role with more old school charm than we have seen in the last fifty years from anybody except Clooney himself. Bullock, likewise, in her role as the unexceptionally named Dr. Ryan Stone, seems precisely like the person that she appears to be whenever we see her. So we're completely comfortable with them and then whammo! like a debris field going 20,000 miles an hour there's…well a debris field going 20,000 miles an hour.
What follows after that is largely a pure piece of cinema, a silent film for the new age, as Bullock and Clooney try to stay alive against a number of out of this world obstacles. Since space is a vacuum, a series of astonishing collisions and explosions occur in silence, a kaleidoscope of destruction punctuated here and there by the sounds of Bullock's frenzied breathing in her space helmet. The effect is that the film exists on a grand scale and likewise produces a profound sense of claustrophobia.

Here's an in-depth look at the behind the scenes making of the film.
To say that it is expertly made would be an understatement since it is a technical marvel to behold. And the full 3-D theater effect was totally immersive. The only other film of it's caliber is James Cameron's Avatar, which provided a completely new sensory experience as you became a cat-like being flying a terra-dactyl. In Gravity, you are the astronaut suffocating from carbon monoxide as you read the Russian flight manual aboard a burning life pod. Avatar also did not win Best Picture – although it should have, because whatever the scope of its flaws, it was a film that raised the bar on the movie going experience, a film that was technologically leaps ahead of any of its competitors. Of course, its hard to feel sorry for James Cameron, since he's won just about every award there is and made a billion dollars to boot. And there will be no feeling sorry for Alfonso Cuaron either when Best Picture goes to 12 Years a Slave.
Alfonso Cuaron has already the won DGA award for Outstanding Directorial Achievement, along with a slew of other awards. And in all likelihood, he will win an Oscar for Best Director. Still, I am a person of the mindset that the director and the film ride on the same sled, to use olympic winter games speak. If one wins, they both should. Indeed, filmmaking is a collaborative effort in the extreme where the contributions of potentially hundreds of people come together to form a work of art. But still, the director is the person at the heart of it, the person ultimately most responsible. It just seems like a paradox that a Best Picture could exist without a Best Director to me. The fact that the Academy does not necessarily feel the same way does produce an added level of excitement, albeit in a slightly illogical way.
Through Oscars history, there have been 22 incidents when the awards for Best Director and Best Picture have been split. Remember when Steven Spielberg won Best Director for Saving Private Ryan but Best Picture went to Shakespeare in Love? Does anyone remember that The Godfather won Best Picture in 1973, but that Best Director actually went to Bob Fosse for Cabaret? The discrepancy perhaps stems from the fact that the largest portion of the Academy voting body are actors. Likely, they respond to films in a different way than folks at the DGA might, in the same way one imagines that the folks from the Visual Effects Society might have a different take on things.
Chances seem good that this year the Academy will reward 12 Years a Slave with the Best Picture honor, at least if you're looking at the Vegas odds, since the film features a variety of powerful character performances, to say the least, and the film has an important historical scope that gives it a kind of political gravitas that the future leaning Gravity lacks.
Like that other mind-blowing scion fiction film, 2001 a Space Odyssey, Gravity is a real trip. However unlike, 2001, Gravity doesn't blow minds by virtue of its ideas, but by virtue of its incredible continuous motion shots. There is no theoretical concept that is going to radically alter the way you think about the nature of existence, but Gravity does indeed represent an evolution in the way in which we are going to experience cinema now – and in the future.
It was the Best Picture last year. But it won't win.
**You should like Shea Magazine on Facebook HERE! to see more of our curated content.**
---
THROUGH THE JUNGLE AND THE RAIN – The Debut Novel from Tony Shea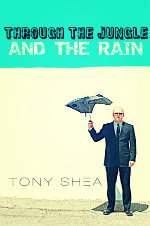 Barney DeRussey is a 35 year old, down on his luck, door to door salesman working the mean streets of Los Angeles. During the hottest week of the year, the pressures from his tyrannical boss and his impending wedding send him into a spiral of escalating criminality as he tries to keep his sanity and maybe finally succeed. To order the Kindle Edition for the low price of $5.99 click HERE.

Tony Shea is based in New York, having recently moved from Los Angeles after more than a decade on the sunny coast. His short films have won numerous awards and screened at major festivals around the world including Comic-Con. As a musician, he is the lead singer for Los Angeles rock n' roll band Candygram For Mongo (C4M) candygramformongo.com who has been a featured artist on Clear Channel Radio's Discover New Music Program and whose songs have been heard on Battlestar Gallactica (Syfy Channel) and Unhitched (Fox) among other shows and films.