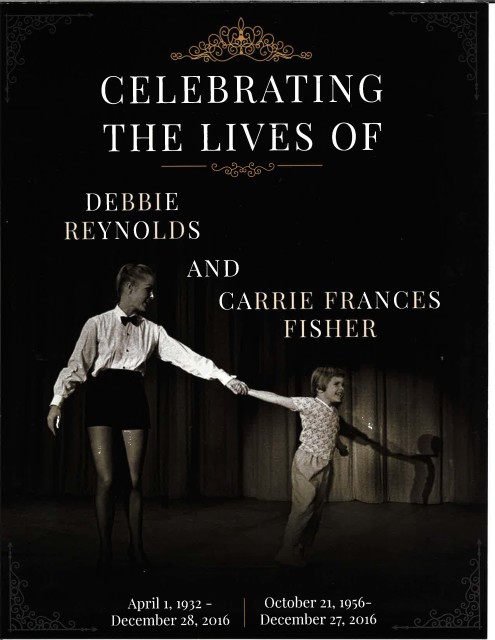 On Saturday March 25th, a public memorial as held for Debbie Reynolds and Carrie Fisher, the famous mother and daughter pair that passed away just one day apart in December 2016. The event was set for Forest Lawn Memorial Park – Hollywood Hills in the Hall of Liberty at the back of the property. A fitting venue and final resting place for two stars whose backgrounds are so entrenched in Hollywood history, not just in film, but the culture of Hollywood, since Forest Lawn used to be a movie studio used by directors like Cecil B. DeMille.
Though the event was called a memorial, it was more of a Hollywood production. Lights, cameras, stage director, paparazzi, a press line with reporters, and of course live streaming of the event for the modern age. Only 1,200 seats were available for the free 1pm show, and by 11am, a large crowd of fans had already formed a line snaking down the hill from the entrance to the venue. Apparently Forest Lawn has an auditorium with a stage on the premises. Typical Hollywood.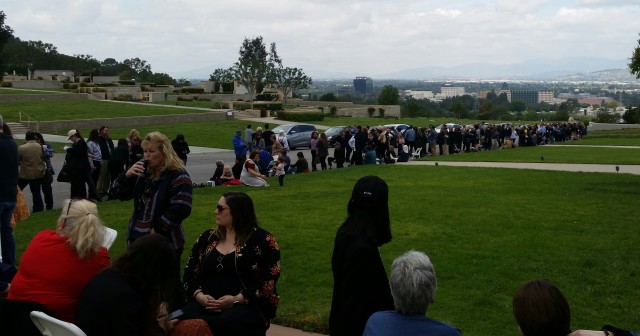 As the public waited for the doors to open with programs in their hands, personal friends of the honored arrived in black chauffeured vehicles. First to pull up was Eddie Fisher's 3rd wife, Connie Stevens, along with Carrie's two half-sisters Joely Fisher and Tricia Fisher. They walked arm in arm to the press line of cameras and reporters just inside the building. They were followed shortly by Michael Knight of All My Children, Jeffrey Jones, Fisher Stevens, Tab Hunter, Renee Russo, Donna Dixon, Dan Aykroyd , and of course, son of Debbie, brother of Carrie, and the event's master of ceremonies, Todd Fisher.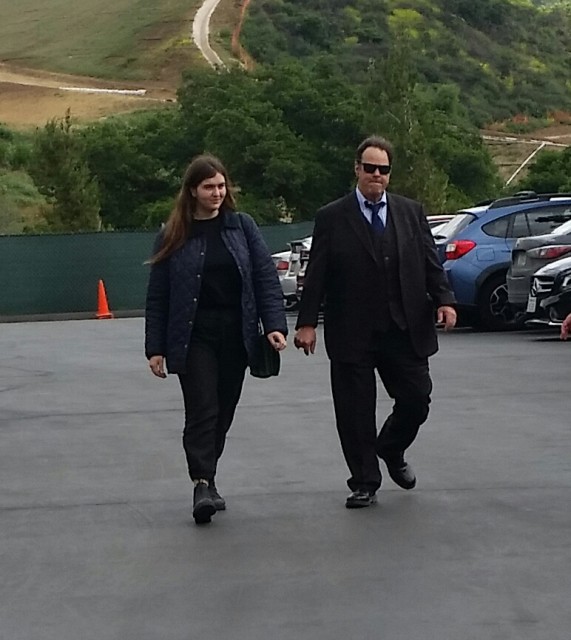 As the audience was ushered into the theater, we passed displays of fan letters, gifts, and a few movie costumes including Debbie Reynold's "cake outfit" from Singin' In the Rain, and a replica of Carrie Fisher's Princess Leia costume from the original Star Wars along with an R2-D2 replica.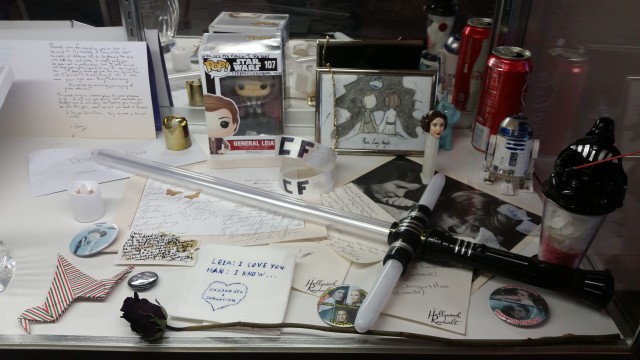 Walking through the theater to our seats, we passed the wide stage. There was a giant photo of artwork by artist Rick LeChance, bookended by two hauntingly empty director's chairs. One for Debbie Reynolds and one for Carrie Fisher.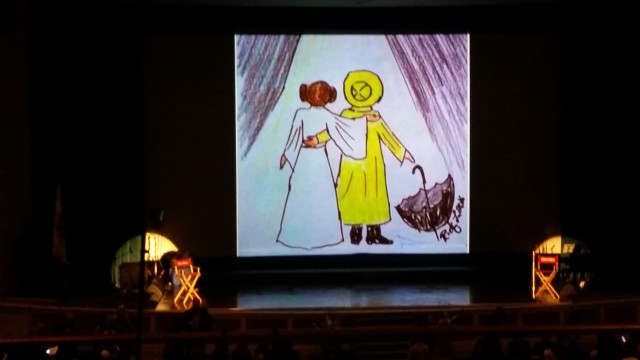 Todd Fisher opened the show with an introduction of the color guard as a tribute to Debbie Reynold's overseas USO tours in the 50s and 60s. And then he stepped back to make way for a montage of Carrie Fisher's career with a heavy focus being on the four Star Wars films she was in. The last being The Force Awakens which showed a more mature and greying Leia/Fisher.
As a life-long Star Wars fan, one of the most touching moments of the entire memorial was after Fisher's career montage, R2-D2 rolled out on stage making the sad beeps and clicks we're all familiar with, as if R2 was also experiencing the loss of Leia along with the fans.
Next up was Debbie Reynolds long time partner in charity, Ruta Lee, who talked of their friendship together and the work they did for various charities over the decades they had known each other, before a montage of the charity galas and red carpet photos of Debbie Reynolds showed.
The Gay Men's Chorus of Los Angeles sang a beautiful acapella version of "True Colors" as a montage of mother and daughter together through life played on the giant screen behind them. It truly was an emotional moment for the entire audience. Several of Fisher's personal friends and a few one time paramours stood at the podium and shared stories of Carrie and funny, precious moments of their relationships together.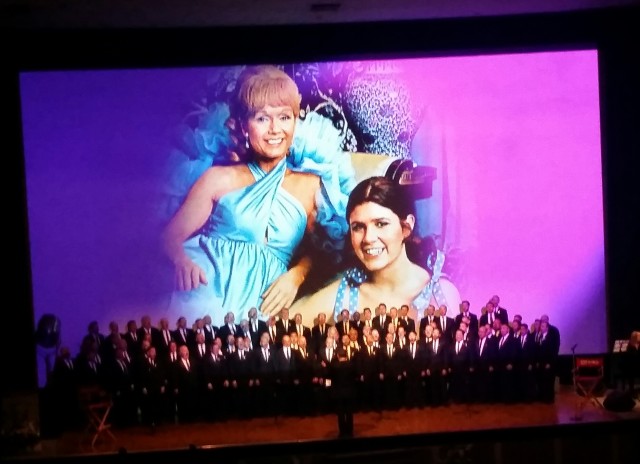 Dan Aykroyd shared the story of how he asked her to marry him (she never answered and returned to Paul Simon instead), and mused what the baby of Princess Leia and Elwood Blues would be like.
Griffin Dunne reminisced about parties at her home, living in NYC together before they were stars, and going to the first Star Wars screening with her at the Ziegfeld Theater before the movie was ever released to the public.
Longtime friend Gavin de Becker gave the most open, heartfelt and emotional speech, choking up a few times while discussing their childhood and journey through life together as friends, colleagues, and each other's inspirations.
Todd Fisher then got back on stage and introduced another montage of Carrie Fisher, this time personal photos and home videos, instead of showcasing her career highlights, over James Blunt's "You're Beautiful", who was not in attendance. Which, according to Fisher, was written in Carrie Fisher's bathroom because she had a piano in there. Needless to say, this brought some levity to the event and the audience chuckled.
But that was immediately followed by the premier of James Blunts haunting new tribute song about the loss of his friend close Carrie Fisher. After a few more kind words from Todd Fisher, the show ended with a dance number by students from Debbie Reynold's Dance Studio, and the audience filed out and headed to the tomb where the two stars are buried together.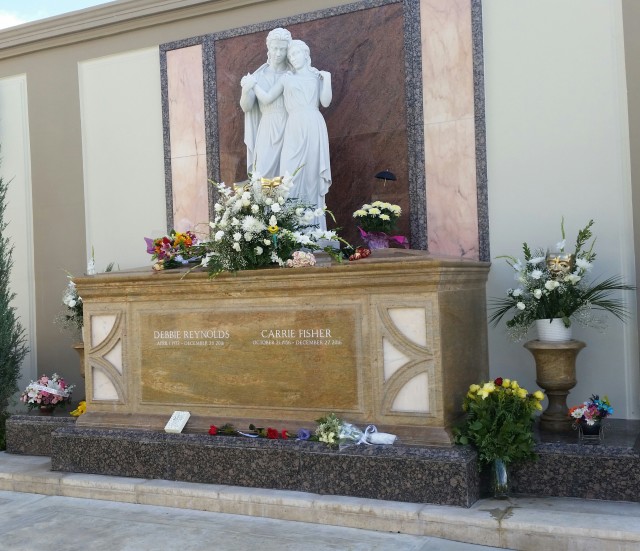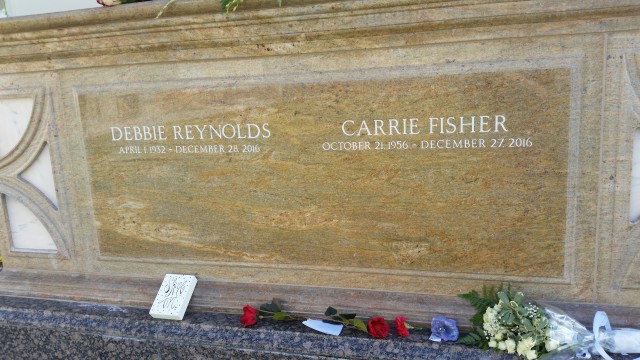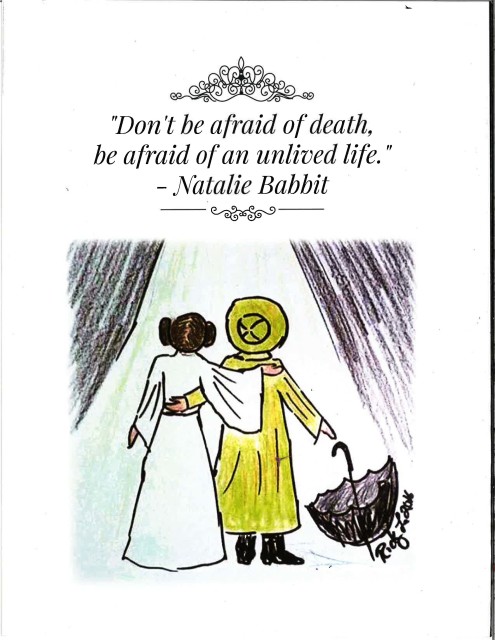 **To follow Shea Magazine on Facebook go HERE!**
**To follow Shea Magazine on Twitter go HERE**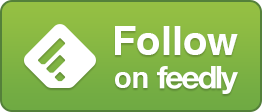 **If you liked this article you should share it!**

Nate "Chops" Johnson currently holds more than a dozen competitive bearding titles, including 6, 1st place victories, and 2 for Best In Show. He lives in Los Angeles, and enjoys Pabst Blue Ribbon beer.