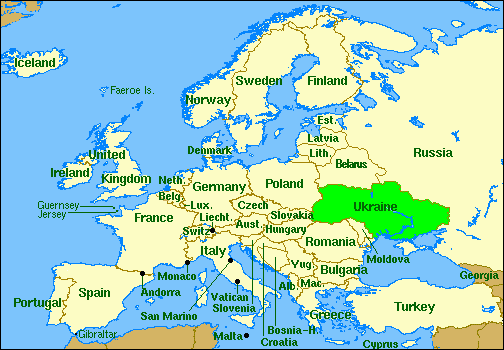 Predictably, neo-conservatives are blaming President Obama's vacillation and weakness in dealing with Benghazi, Iran, and Syria for Russia's aggression in Ukraine.
The portrayal of Obama as indecisive dates from the September 11, 2012, attack on Benghazi, a tragic, isolated event carried out by terrorists against a poorly protected embassy. And yet, Obama's conduct of foreign policy had nothing to do with the Benghazi attack. There are far more than six degrees of separation between presidential responsibility and the conduct of day-to-day embassy affairs.
Establishing cause and effect relationships where none exist is illogical and dangerous. According to neo-conservatives, giving peace a chance in Iran was also a timid choice. Better to ratchet up the sanctions until the Ayatollah "screamed uncle" and gave up all production of weapons-grade uranium. Better to green light Israel to take out Iran's nuclear facilities, maybe even join them in the attack. So what if the American military considered such actions problematic? Lost in the accusation of timidness is Obama's role in bringing Iran to the negotiating table, using the very sanctions he's accused of not using sufficiently.
Then there was his refusal to send massive arms to the Syrian rebels, whose most effective fighters are extremists. And why didn't he establish a no-fly zone? Who cares that most military leaders warned that such a move would be unenforceable? Cooperating with the Russians to get Syria to agree to destroy its massive supply of chemical/biological weapons apparently counts for nothing – or is just another sign of weakness.
The invasion of Ukraine by those same Russians is the latest fodder for critics who see the move as part of a bolder Putin plan to annex all of eastern and southern Ukraine, and maybe other former Soviet republics as well. No matter that events in Ukraine caught Putin completely by surprise, as attested to by his clumsy, heavy-handed, ad hoc responses. Apparently it's better to forgo diplomacy and get right to the maximum sanctions while the situation continues to unfold in ways not yet predictable.
The truth is, even had Obama bombed the Syrian airforce to smithereens, Putin would have preceded exactly as he did in Ukraine. Crimea was part of Russia until 1954, when Khrushchev bestowed it as a "gift" to the Ukrainan people. Kiev, the center of the revolution, exists only as a weak provisional government. But historical complexity does not enter the mindset of those prone toward acting first and thinking later.
Or perhaps anything that Obama does or doesn't do is unacceptable?
Obama has said that he and our allies would impose tough sanctions on Russia if it annexes Crimea, just as neo-conservatives suggest. But this stance is ignored because Obama is also willing to open up a diplomatic door that could lead to more autonomy for Crimea if Russia stops short of annexation.
Given our very poor track record in those places where we did act aggressively – Vietnam, Iraq, and Afghanistan – Obama has been absolutely right in keeping the United States from jumping headfirst into yet another costly, unpredictable military adventure.
Do his critics remember that after the United States withdrew the last of its forces from Iraq on December 31, 2011, the country was "awash in a blood-dimmed tide, with nearly 9,000 killed last year and almost 1,000 killed last month, as Al Qaeda and another jihadist group fight for supremacy. In Falluja, the city where nearly 100 American soldiers died in the fiercest fighting of the war, the black insurgent flag now flies over buildings." (Maureen Dowd, "History: Get Me Rewrite," New York Times, February 19, 2014)
Do those critics consider that to date President Hamid Karzai has been unwilling to sign off on a bilateral security agreement to let any American soldiers stay on after December 31, 2014? In response, Obama has threatened to sign an agreement with a new Afghan government after the April 5 elections. Unfortunately, "of the eleven campaigns for those elections six included at least one candidate on the ticket who was widely viewed as a warlord, with pasts and policies directly at odds with Western attempts to improve human rights." (Bob Norland, "Warlords With Dark Pasts Battle in Afghan Elections, New York Times, February 26, 2014)
"Act first, think later," is not a recipe for international success. Nor is refusal to recognize the limits of American power. Nor is making bad analogies, such as the current one linking Crimea and Putin to Hitler and Munich.
Better to err on the side of caution. Better to look long and hard before we leap – again – into the unknown. Better to have a cautious president who deliberates before he sounds the charge. It is not feckless to refuse to be reckless.
**To see more of our curated content, you should like Shea Magazine on Facebook HERE!**

After receiving his doctorate from Indiana University, Harvey Asher taught a variety of courses in history and interdisciplinary studies for thirty-five years at Drury University, a liberal arts school in Springfield, Missouri. His articles on themes in Russian history, American history, and the Holocaust have appeared in the Russian Review, Kritika, the Journal of Genocide Research, the Russian Dictionary, the SHARF Newsletter, Federalism in America: An Encyclopedia, and Lessons and Legacies of the Holocaust. He is also the author of The Drury Story Continues, an informal but thorough history of the school.