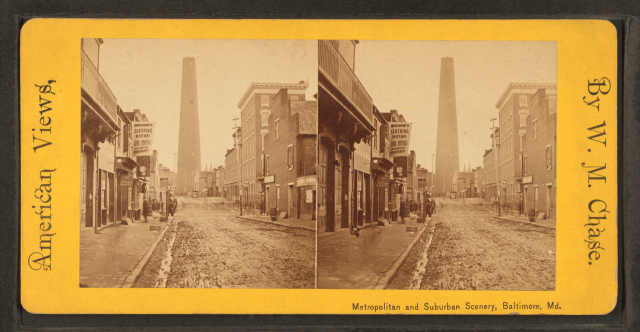 The Shot Tower in Baltimore has been a local landmark since 1828. That year, upon completion of the structure, it was the tallest structure in the United States. Standing just over 234 feet, the Shot Tower was used to drop molten lead into a vat of cold water to produce shot pellets for cannons, pistols and rifles. Nearly two hundred years later, in December 2012, while working on a photography project, we saw the "Face in the Door". And from that face in the door thereby hangs an eerie tale.
The face in the door, along with the 305 steps that lead from the base of the shot tower to its roof, then served as an inspiration for what has become an eerie short film. This eight to ten minute long short film is my homage to Baltimorean Edgar Allan Poe. Most people from Baltimore have driven past the Shot Tower. But very few have actually been inside or even know what it looks like inside. Here is your opportunity to find out.
Stay tuned for more information on where the completed version of The Face in the Door will be showing or help out with our Kickstarter campaign.

Marcus is a world renowned entertainer who's music is the essence of his being. Since his 1975 debut appearance in Amsterdam, Marcus has charmed his audiences with his unique style, intimate voice, poetic original songs and humor from New York to Tokyo and so many places in between. He has been described as an "excellent lyricist" by the great Sammy Cahn, and Phyllis Hyman referred to him as her "favorite saloon singer" because he has the soul to interpret a lyric with its full integrity. His fans span the globe and reflect a sophisticated audience that care about the content of a song and take his intensity driven performances to heart. To become a fan is simple. All you have to do is... Listen!!