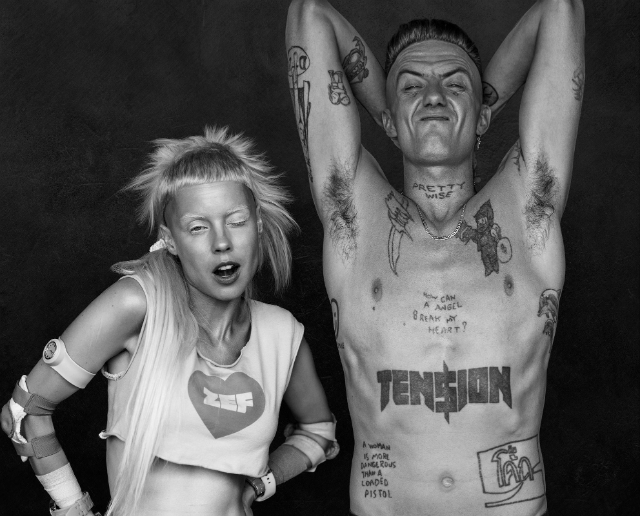 For the last 6 years, Capetown South Africa's rap-ravers Die Antwoord have doing their best to shake things up. Blending startling imagery with blazing beats, the band's new album, Donker Mag, is set to drop on June 3rd. To tease the new album the band has also released their latest in a series of intensely weird, and often bloody, videos that have already earned more then 40M hits on YouTube and that scan like a cross between City of God and a David Lynch movie. The new video for the song "Pitbull Terrier" is directed by Die Antwoord frontman Ninja, and as always accompanied by the odd baby whisper vocal stylings of the disturbingly beautiful Anri Du Toit, blazing to the mad beats of DJ Hi-Tek. If you under the age of 15, I recommend that you show this video to your parents since it will undoubtedly scare the shit out of them.
Pitbull Terrier

This song is "What Did the Fox Say" on bath salts. "Pussy for a bad boy. No pussy you a sad boy."
Cookie Thumper

Burning school girl uniforms – check, star-crossed semi-vampire lovers – check, weed – check. "Snack your cookie, snack snack you snookie cookie."
Fatty Boom Boom

Fake Lady GaGa giving birth to slime covered cockroach – check, helpful tour guide – check, people being eaten by lions in the street – check, black face – check, white face – check, insane beats – check. Did I mention there's a fake Lady GaGa giving birth to slime covered cockroach?
I Find You Freaky

Indeed. Even the toddler in this video is giving you the finger.
Enter the Ninja

Primordial dwarf rapping. I don't know what else to say.
For more on Die Antwoord visit them at their website HERE.
**You should follow Shea Magazine on Twitter HERE!**


Tony Shea is based in New York, having recently moved from Los Angeles after more than a decade on the sunny coast. His short films have won numerous awards and screened at major festivals around the world including Comic-Con. As a musician, he is the lead singer for Los Angeles rock n' roll band Candygram For Mongo (C4M) candygramformongo.com who has been a featured artist on Clear Channel Radio's Discover New Music Program and whose songs have been heard on Battlestar Gallactica (Syfy Channel) and Unhitched (Fox) among other shows and films.