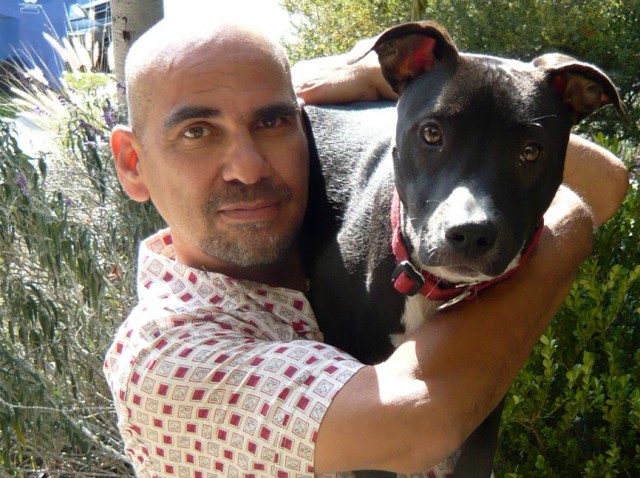 Conrad Romo is a second generation L.A. native. He grew up on the other side of the tracks (N.E.L.A.) short, stocky and swarthy. The first album that he bought was the soundtrack to the movie Bonnie and Clyde. The first concert he attended was '68 for The Cream. He has been the subject of artwork five times. On the Oprah show during a segment on safe sex a comedian girlfriend referenced him as having participated in prolonged and very enjoyable kissing which then brought a response from the audience that in unison went oooooOOOOOOOOoooo.
Conrad has made his daily bread as a door to door salesman and as a telephone solicitor for over 30 years and some of the things that he's sold has been boxed meat, bad art, eel skin leather products, office supplies, oil and gas leases, chimney cleaning, DVD/CD replication services, and fund raising for the Libertarian, Democratic parties and police benevolent associations just to mention a few. He grew up Catholic, then a Scientologist and is now a Zen Buddhist for the duration. He would like to thought of as a man's man and a lady's man neither of which are true, but at least he is a dogs best friend and his rescue mutt is named Abbie, a Lab/Pit mix. He has studied writing with Lynda Barry and Jack Grapes. He's been published in Los Angeles Review, Latinos in Lotusland, Tu Ciudad, Palehouse, Silver Birch and online at Splicetoday.
He's also the founder of Litcrawl as well as LA's primo reading series Tongue and Groove, which has its monthly event this Sunday, February 16th, at the Hotel Cafe in Hollywood. I sat down with him to talk about literary things:
You're one of the co-founders of Litcrawl which has become a national phenomenon, generating enormous interest, including almost 20,000 folks in San Francisco last October. The inaugural Litcrawl event in Los Angeles was just a few months back in October and had all of NoHo buzzing with 23 literary events at 12 locations in two rounds. Take us through the history of Litcrawl, how did it get started? What are you plans for the future of this event that brings together all sorts of diverse literary talent for one night of libations and literature? What cities will be featured in the coming year? Will Litcrawl be going international anytime soon?
Well Litquake is all San Francisco and Litcrawl started there in 2004 and since then is now also in NYC, Seattle, Austin, Los Angeles, Iowa City and London. I first spoke with the founder of the whole enchilada Jack Boulware, about 6 years ago just to learn a bit about what he was up to. On my own, back in 2005 at the Knitting Factory, I produced Palabrazilla, a 2 night spoken word event with 12 participating groups of story tellers, poets etc. I had been intending on a return of a big literary event ever since then but for one reason or another it didn't happen. Then two years ago a few literary forces PEN, Good Reads and the Nervous Breakdown, put their collective muscle to together to hold a big event that they called a litcrawl at the Echo, but it took place at one location and no crawling actually took place. Then two years ago I was talking with Sally Shore of the New Short Fiction Series about what we'd like to see happen in a litcrawl if one were to happen and she suggested NoHo as a possible location. We kicked around the idea a bit and then invited Roz Helfand to join our circle and then reached out to the SF folks to have their blessing. And we are now in the planning stages of organizing our second NoHo Litcrawl event which will take place on October 22nd.This time we'll start a little later and are planning on 3 rounds, so it'll be bigger and better.
Where does the love of alcohol and literature collide? What's your drink of choice?
Short answer is too much of anything could be a bad thing. Then again some would say that too much is just getting started. I used to drink Bushmills and my favorite beers were Watneys, Guiness and Singha, but then again I drank plenty of the champagne of bottled beer, Miller. Uhhh, I don't drink anymore and haven't for many years.
Your work has appeared in a number of publications including your recent work in Splice. Who are the writers that influenced your own work and how? What's your process? What are you working on?
I've always loved reading but I'll mention a few. I love Raymond Carver, Richard Ford, Bobbie Anne Mason, Charles Bukowski and Lynda Barry. I used to read a lot of Richard Brautigan also have read a lot of Elmore Leonard. I'd say that a lesson learned from Bukowski is the moment to moment beats in writing. A lesson from Lynda Barry is to stay behind the story and let it pull me. Carver showed me how an economy of words can be a beautiful thing. Brautigan made me laugh out loud and I do what I can to allow my humor in my writing. Harvey Pekar showed me that the everyman with everyday moments can be worth writing about. Process? It could start in a line that comes to me or a slice of life that I observe or something overheard. I don't have a favorite writing time. It's been very sporadic of late. I have been cannibalizing older pieces that weren't done yet and adding a little something new and then moving things around and then happily have breathed life into something with legs. I've got a few unfinished Scientology related pieces and a little novella that deals with Alaska, gambling, A.A, a psychic woman and a bit of crime.
You started the local LA reading series Tongue and Groove more than ten years ago now. In that time, it has become one of the premiere reading series in Los Angeles. How do you think that the Los Angeles literary scene shapes up against other literary towns like San Francisco, Seattle and New York? How does Los Angeles factor into your own work?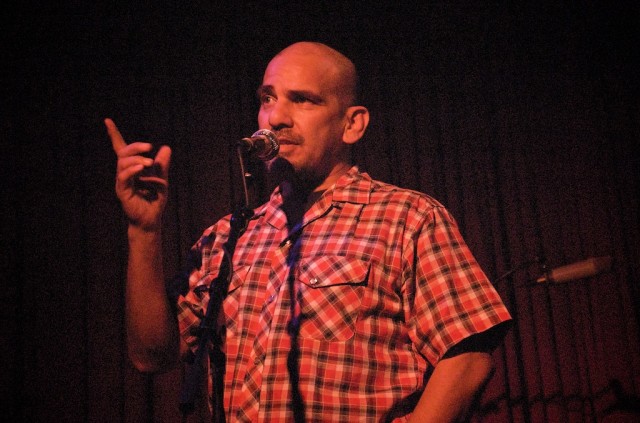 We are not just a movie town. There are a lot of great writers in L.A. and a big appreciative audience. I take a little pride that Tongue and Groove is a respectable reading series. I've had a number of well published writers that have read all over the country tell me the T and G is head and shoulders above a lot that they have experienced. I've been to readings in N.Y.C and S.F. and Los Angeles is definitely on a par with whatever they have to offer. Those two cities do have a great energy and have a lot of fun with readings with gimmicks of sorts and it would be fun to see some offshoots in L.A. I recently learned about something called Popup Magazine in S.F. contacted them to say that I'd love to collaborate somehow with them. I'm an L.A. native and I'm a Mexican American so some of that essence is always at heart factored in my work.
I imagine that many writers have difficulty making the transition from the page to the stage in terms of converting work that was created in the solitude of their own minds into a public experience, into a show. Is it important for writers to publicly read their work? Is it necessary? What advice do you have for first time readers?
Yes the practice of reading aloud is a good and necessary thing to do. Reading aloud helps one see how long a piece will actually take to read. One will then also learn how to pace out what might be taken for granted, like breathing. You might also find typos in your work that might not be caught otherwise. Funny thing how that works. Go to a lot of readings and learn from others. Some writers that I've heard like James Lee Burke or Ed Lin brilliantly do character voices. If your writing has this potential, then it's something to consider and then practice. Go to readings to see how some writers work the room to their advantage. Jerry Stahl has a tendency to heckle the room and is funny as hell. Chuck Palahniuk makes his readings events and tosses goodies to the audience. Some women command the space with sex, charm, humor and sheer force. Catch Lynda Barry or Mayda Del Valle or Paula Killen and see for yourself. Go to lots of readings and catch old horses like Gerald Locklin or Jack Grapes and learn from them. See writers that are showmen like Sherman Alexie and James Ellroy. I apologize for not mentioning more women writers that I love, but these are the names that quickly come to mind. Go to open mics, sign up and read. ( if you want a list of some write me at the address below). You'll learn from experience. And when you are up there, don't second guess yourself while you are in the process. Edit the hell out of your work before you hit the stage and trust in your work and that you have something to say and then give it away in the reading. A couple more things, don't get tripped up in the sounds in the room; the laughter, the applause, the gasps or the absence of sounds. Sometime the room is quiet because people are feeling something. Sometime what you thought was funny doesn't get the response that you expected and something else will get a laugh where there shouldn't be. That's how it is sometimes. Have fun.
How should people get in touch with you if they would like to participate in future events?
If you want a chance at participating with Tongue & Groove then showing up first and support the venue. Introduce yourself to me. After that, if you want to read sometime then please no more than five double spaced pages can be sent to me here: conrad.romo@gmail.com
If you want to be a musical guest then send me a mp3 or link to give you a listen. And show up and do the handshake thing too.
And if you would be interested in the possibility of co-producing Tongue & Groove with me then I'd welcome the opportunity to meet and speak.
*******This month's Tongue and Groove event is scheduled for Feb. 16 as per usual at the Hotel Café in Hollywood. Below is the line-up. I'm also on the bill this month as the musical guest.*********
SPREADING THE WORD for 10 YEARS!
"Tongue & Groove"
A monthly offering of short fiction, personal essays, poetry, spoken word + music produced by Conrad Romo. This month features Eileen Cronin "Mermaid", Rob Roman, Carribean Fragoza, Bill Brochtrup, Tom Lisowski and music by Tony Shea.
Sunday February 16th
6-7:30 pm
The Hotel Cafe
1623 1/2 No. Cahuenga Blvd.
Hollywood, Ca 90028
$6.00
Eileen Cronin grew up in the Midwest during the 60s and 70s. Her memoir, MERMAID, was selected for O Magazine's "10 Titles to Pick Up Now" and was included in Page One of Poet's & Writers. Her first publication was a cover story for the Washington Post Outlook section. Awarded the Washington Writing Prize in fiction and a notable essay in Best American Essays, she also practices clinical psychology. Eileen, her husband, and daughter have lived in the Washington, DC area and now live in Los Angeles.
Carribean Fragoza is a writer and artist from Los Angeles. She has published fiction and poetry in publications such as Palabra Literary Magazine and Emohippus and has a forthcoming short story in Bomb Magazine. Her arts/culture reviews and essays have been published in online national and international magazines such as Letras Libres, Culture Strike, and Tropics of Meta. She is a graduate of UCLA and CalArts' MFA Writing Program. She is founder and co-director of the South El Monte Art Posse, a multi-disciplinary arts collective.
Robert Roman grew up in Pittsburgh, PA, where he sold newspapers to cars from a concrete island. He worked as a mail carrier, busboy, bartender, and laborer while earning a degree in English Literature from the University of Pittsburgh. He taught GED preparation at a juvenile detention facility, elementary school in the Baltimore City public schools, and English to high school seniors in Howard County, MD. He studied writing at Johns Hopkins and UCLA. He now lives in L.A., where he writes fiction and hangman puzzles.
Bill Brochtrup is a stage, film, and television actor best known for playing "P.A.A. John Irvin," on ABC's long-running NYPD Blue. This season he has recurring roles on Showtime's Shameless and TNT's Major Crimes. He has told his original stories at numerous Spoken Word events and has written for OUT Magazine and the best-selling book of essays I Love You, Mom! He is an SPCA "Friend for Life," has hosted AIDS Walks across the country, and has traveled the world visiting our Troops with the USO and Armed Forces Entertainment. He is the Co-Artistic director of The Antaeus Company, LA's classical theatre ensemble, and is currently appearing onstage at the Odyssey Theatre in Sarah Ruhl's Passion Play. www.billbrochtrup.com.
Tom Lisowski is an artist whose life changed irreversibly after he found himself in one of David Sedaris' creative writing courses at the School of the Art Institute of Chicago. Now residing in LA he is the author of the very short fiction blog http://www.veryshortfiction.com. By day he works as a production designer on feature films.
Tony Shea is the lead singer for Candygram For Mongo (C4M) who has been a featured artist on Clear Channel Radio's Discover New Music Program and whose songs have been heard on Battlestar Gallactica (Syfy Channel) and Unhitched (Fox) among other shows and films.
**You should follow Shea Magazine on Twitter to see more of our curated content.**

Tony Shea is based in New York, having recently moved from Los Angeles after more than a decade on the sunny coast. His short films have won numerous awards and screened at major festivals around the world including Comic-Con. As a musician, he is the lead singer for Los Angeles rock n' roll band Candygram For Mongo (C4M) candygramformongo.com who has been a featured artist on Clear Channel Radio's Discover New Music Program and whose songs have been heard on Battlestar Gallactica (Syfy Channel) and Unhitched (Fox) among other shows and films.