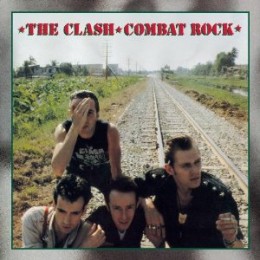 This week marks the 30th anniversary of the release of the Clash's fifth album, Combat Rock. Ranked #28 in Rolling Stone's 2004 issue of Greatest Artist of all Time, the Clash was a stunningly original band that begin with a pure punk style and elevated the form into something that was a unique genre unto itself, combining reggae, new wave, dance and sample and sound effect elements.
Sadly, though Combat Rock would become the Clash's bestselling album, if not their best (that honor belongs to London Calling), it laid the track, so to speak,  for the band's eventual breakup, as the relationship between the two headed hydra of Joe Strummer and Mick Jones would become increasingly contentious, eventually resulting in Jones's departure from the group, and perhaps giving the listener further insight into the song, "Should I Stay or Should I Go."
Strummer continued on, releasing one more record under the Clash banner, Cut the Crap, but in the absence of Jones, and relying largely upon the efforts of studio musicians, the magic was clearly gone. Strummer formally dissolved what was left of the Clash in 1986.

Tony Shea is based in New York, having recently moved from Los Angeles after more than a decade on the sunny coast. His short films have won numerous awards and screened at major festivals around the world including Comic-Con. As a musician, he is the lead singer for Los Angeles rock n' roll band Candygram For Mongo (C4M) candygramformongo.com who has been a featured artist on Clear Channel Radio's Discover New Music Program and whose songs have been heard on Battlestar Gallactica (Syfy Channel) and Unhitched (Fox) among other shows and films.