Andy Mangialino contributed to this article.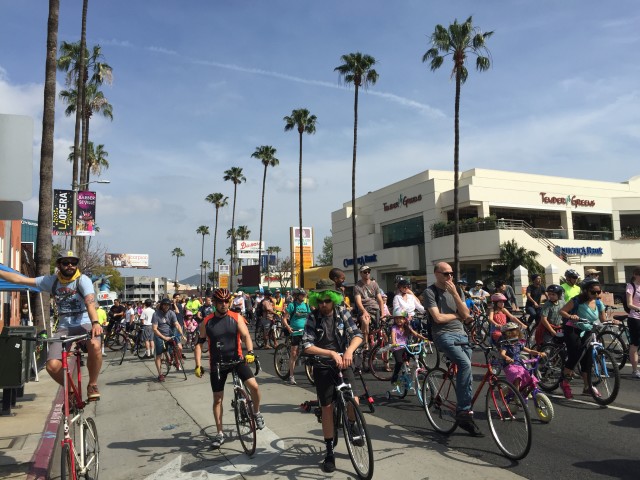 CicLAvia, the premiere Los Angeles cycling event, rode into the Valley yesterday. This is the 12th installment of CicLAvia, which has thus far focused on routes on the south side of the Hollywood Hills, including routes downtown as well as along Wilshire Blvd. But yesterday the San Fernando Valley finally got its due with a 5.5 mile course that extended from North Hollywood along Lankershim Blvd. into Studio City via Ventura Blvd.
Modeled after Ciclovia, which began in Colombia, South America, this great event brings together a diverse cross-section of Angelenos on just about every kind of wheels you could imagine including bikes, skateboards, roller-skates and baby carriages, along with many walkers who take advantage of the street closures to enjoy a nice stroll. In a town made for driving, this is a big deal.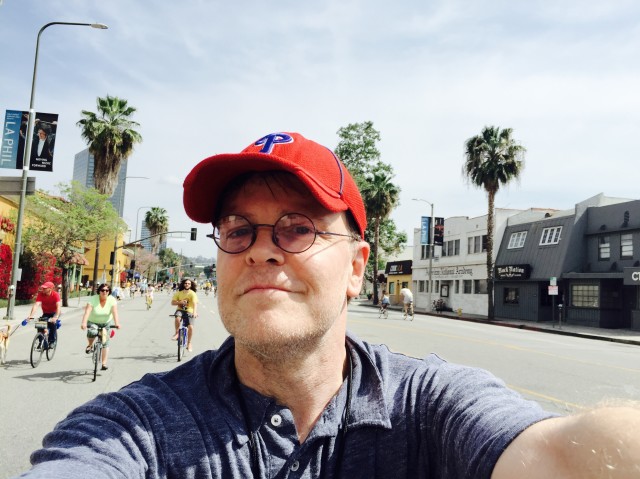 I decided to take a lot of pictures of the many interesting people enjoying the beautiful weather.
My bud, Andy, joined up with me and we decided to ask a few participants what they thought of CicLAvia in the Valley.
This man helped us all feel the LA groove.
In the end, it was another successful CicLAvia event–riding, skating, wheeling, and walking down the closed streets on a beautiful day. What else could you ask for?
**To see more of our curated content, you should like Shea Magazine on Facebook HERE!**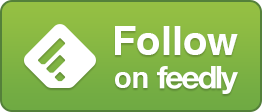 **If you liked this article you should share it!**

Pennsylvania native Dan O'Day McClellan is a seasoned actor, writer, comedian, voice over artist and producer. Dan is the founding member of Los Angeles improv comedy troupe, The Omelettes. Dan's ongoing film making/producing work with Pete Galaxie Productions includes the award-winning short film, The Silence of Bees, along with the short films, Just Out of Reach, Reality of the Situation and The Afikomen. Dan's 1st Novel, Lognotes of a Wino, is due out in fall of 2015.