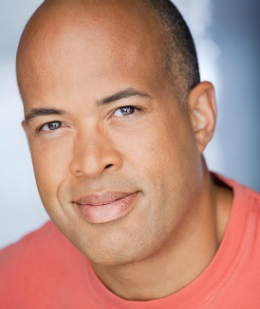 You might think that Christopher T. Wood looks familiar–maybe he's the new guy your friend is dating, or maybe he was the salesman who sold you your new T-Mobile phone, or maybe he's somebody you saw at the local McDonalds. Maybe he's all of them, sort of. Big name advertisers have relied on Wood for the last ten years to sell their products, using his combination of everyday charm and appealing demo skewing looks in a number of national commercials. Wood has also done numerous guest spots on big time TV shows like Everybody Loves Raymond, Arrested Development and ER, as well as several classic soap operas like Days of Our Lives and All My Children, not to mention big budget features like the 40 Year-Old Virgin and Justin Timberlake star vehicle, Friends with Benefits. That's the kind of resume that most actors in LA would dream of. But it's only the beginning for Wood, who continues to expand his repertoire writing, directing and producing.
Lately he's been generating some buzz for a short he wrote (along with Scott D. Frank and director, Justin Rettke) and stars in called Time to Kill, which is currently experiencing a successful festival run and earning excellent reviews like this one in Cinema Crazed that says:
Wood's performance is very natural as a straight man dropped into a hilarious and absurd situation, while the writers along with director Rettke explore the doldrums and mundane aspects of often sensationalized jobs like being a hit man for the mafia. With a light touch of dark comedy resonant of "Pulp Fiction," Justin Rettke's "Time to Kill" is a hilarious and very entertaining short film that should go over well with audiences that appreciate subtle and well-timed comedy films.
Wood has several other projects in the works, chief among them a feature film project called Fagen about the life of black solider in the Philippine American War, circa 1898, who becomes a part of the brutal chaos around him as he struggles to survive.
Wood wrote the script and directed a trailer that has managed to interest a variety of investors, no small feat considering the budget of the film is upwards of 40M. With so much going on, Christopher T. Wood seems on the verge of breaking out in a big way. I caught up with him recently to discuss his career and what his hopes are for the year ahead.
T.S.: You went to Georgetown University, Columbia Law, then went to Wall Street for five years, before becoming a corporate entertainment attorney for Sony for three more…And then you became an actor….What motivated the career change?
Christopher T. Wood: Pain. No, I would love to take credit for it, but it was really my mother and sister who pushed me to make the switch. I was taking acting classes, but I wasn't very good and I didn't know anyone who was making any money or really even in a play, so I hadn't even considered a switch. They then called me up and told me to make the do just that. I told them they were VERY wrong, hung up the phone and decided to do exactly what they said. I never labored over the decision at all. I went from never having considered being a professional actor to being all in, which is probably the only way to do something like that.
You were also in the a cappella singing group the Georgetown Chimes. Did that motivate you to pursue a performance based profession?

I thought it would, but I got caught up in trying to be the perfect singer, taking lessons forever, instead of just singing. I made sure I never approached acting that way. I am not, nor will I ever be, the best actor on the planet, but I can add something to your project that is mine alone. If that helps tell your story, then you would do well to go with me because you'll be hard pressed to find it someplace else. So far that seems to be working.
You've become a successful commercial actor, what's your secret? What sets you apart from the thousands and thousands of other actors out there beating the pavement? How do you do it?

I need the money. That'll wake you up in the morning. In the end, it's my job to get hired for film, television and commercials. It's not my dream or destiny. It's my professional responsibility. I don't "put it out there" and hope for the best. I put me out there until I get the best. Getting work is my nine to five. The fact that I love it, the fact that I am thrilled to be on set is just an added benefit. I used to think I had a secret, but then I hit a dry spell, so I no longer insist on petting my neighbor's dog and singing Danny Boy in French before auditions. I could have sworn that was working for a while, though.
You created a series of shorts around the character of the Reluctant DILF that have become popular online…How did the idea come about? How's your dating life these days?


Someone approached me about doing their project and I thought, "Why in God's name am I not doing my own project"? I have a certain rhythm in my writing that I didn't see in the material I was using in stand-up and improv for filmed comedies, so why not let fly and see what comes of it. I mean, I'm an actor. It's not like I didn't have the time. The test was, could I write like I spoke and speak what I wrote without losing the pace or reality. Again, I was bored, so why not, but it really got me thinking about doing other projects. As for my dating life, I am with a woman who is far more attractive than me. So far it's good, but she goes in for cataract surgery next week, so fingers crossed.
Your new film Time to Kill is currently making the rounds on the festival circuit and getting some great reviews. you've been accepted into The Other Venice Film Festival, Palm Springs International Shortfest and the film is about to play the LA Shortfest on July 30th at 7:45pm. How did the idea for the film come about? Why did you decide to make it?

My friends and I were sitting around drinking whisky and grilling meat (it was Sunday, after all) and Scott D. Frank asked what the hell do hit men do while they wait for the guy to get home. You always see them in the chair with the moonlight streaked across their face, but how do they even know when you're getting back? They can't stay in that position forever, right? How do they kill the time? Hence, the movie, Time To Kill. I banged out a couple of drafts, brought on Justin Rettke to direct (he was also drinking whiskey and grilling meat) and boom! We brought on Cindy Hong and Rekon Productions to produce and history (or rather a ten minute, dark comedy) was made.
Tell us about the production for Time to Kill…How many shooting days? Who else was involved?

First, we needed the money. I knew this Italian guy, Joe Rand, back in New York who worked in his "family's company", if you know what I mean. Actually, what I mean is that his family is in real estate and he works for the company. But I've known him since BEFORE he was married and consequently had leverage to extract the initial funding for the film. Thanks Joe! Then the mighty Justin Rettke, the aforementioned director, pulled in every favor in the book and got us an outstanding crew, with the brilliant Michael Pessah as our Director of Photography and the painfully talented Danica L. Vallone as our production designer. We shot at Justin's apartment (which Danica completely transformed overnight into a character in itself) over two days. Two HOT days. I loved it, but I really learned how much of a collaboration films are. By the end, I really felt just like an actor helping these other folks tell their story, which is just how it should be.
You've started a production company and have another short in the can that is currently in edits. What's it about?
Actually, I have produced everything I've made through Rekon Productions, LLC. They do a far better job than I ever could. My sister, Elise Wood, has come on as an Executive Producer. The film has a working title of "Her First Black Guy" and is the story of Kevin who wants to be anything but that. I play Kevin. I had always wanted to do a piece starring the guys I've auditioned with every day for a decade, but didn't have an idea for a one until I saw a performance by our lead actress, Caroline Foggerty. I listened to her banter back and forth with one of our other actors, James Black, and the script kind of wrote itself. I was lucky enough to get all of the actors I wanted, Chris Williams, John Bentley, Barry Wiggins, Jason Kelly, Herve Clermont and Matt Reidy. These guys ALL had better things to do and I was lucky to get them even for a day.
The kicker was securing Sam Auster, a feature director whose last film was the critically acclaimed The Return of Joe Rich. Again, I knew him BEFORE he was married, so he readily agreed to do the film.
Because of what Sam and I have done (much more Sam than I) there has been some industry interest in HFBG. It's nice to be wanted.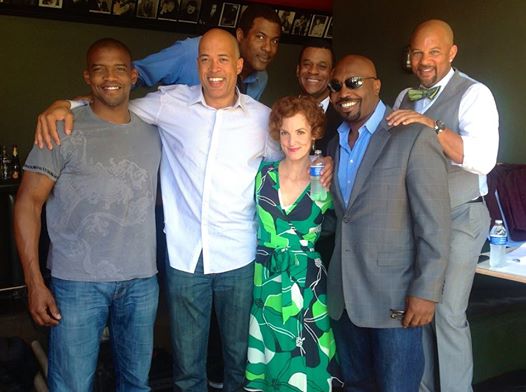 You're an Angeleno these days, and have been for the last fifteen years, but you also lived in New York for ten years so you've seen Americas biggest cities on both coasts. Which do you like better? What are the respective strengths and weaknesses of the two towns? How have these two distinct city experiences influenced your choices as an actor, writer, director?
Both are great. New York asks you "why" and forces you to answer (with its hand around your neck), whereas LA asks you "why not", but lets you sit on the couch and ignore the question. The language I use comes straight out of my time in NYC. The opportunity to use it could only be realized in LA. Besides, I was a corporate lawyer in New York and an actor in LA, so naturally I'm happier here.
Your feature screenplay Fagen is the story of black american soldier, David Fagen, in 1898 fighting in the Philippine/American war who, not unlike many young men, tries to right the wrongs of war and almost becomes the thing he is fighting against. You shot a trailer for the film that's impressive… Tell us how you shot the trailer?
We actually shot everything in the parking lot of the General Wax and Candle Company in North Hollywood, because nothing says Philippine jungle like an empty North Hollywood parking lot. Through the brilliance of green screen, Justin Rettke and some donated plants, we made it happen. Again, Justin was able to assemble a crew that was beyond compare. It's the kind of thing that happens everyday in LA and is why I will never leave.
You also cast the actor Rolando Boyce to play the role of Fagen…Why not cast yourself?

I actually had an idea for what I wanted and it was not me. Besides, Fagen is in his twenties and I am … not. I heard about Rolando Boyce and what he was doing in the production of Jitney at the Pasadena Playhouse. I went and saw the show, tracked him down and begged him to do it. He was great.
What's next for you?
Fagen seems to be catching fire. I brought on Kim Williams as a co-producer and the heat feels good. It is good to be the one getting the calls instead of making them for once. That would be my first feature. Look, in the end, it's all just spaghetti on the wall. Just see what sticks. When I was young, I was impressed with the Luke "Power Man" Cage theory of perseverance. Just keep hitting the same spot harder and harder until you can hear something crack. So far that seems to be working. Fingers crossed.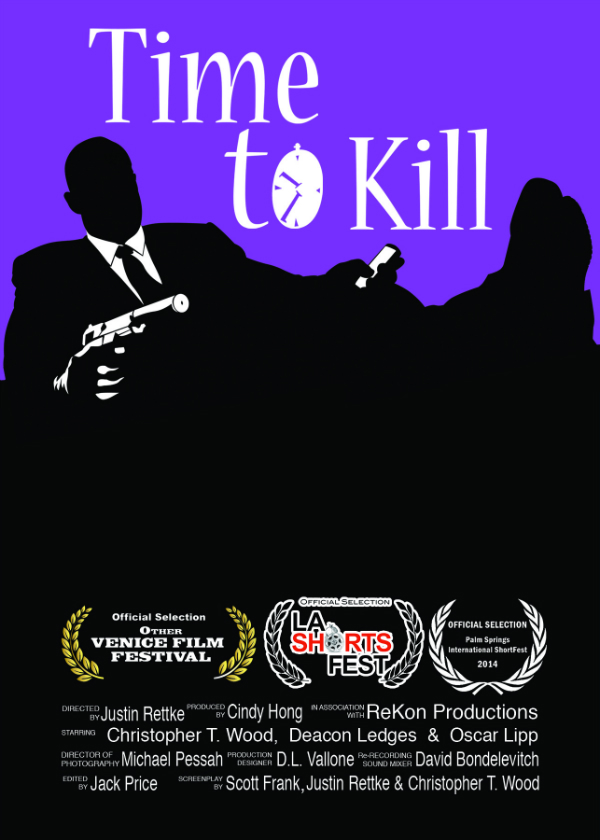 You can see Time to Kill this week at the LA Shortfest on July 30th at 7:45pm. GET TICKETS HERE.
**To see more of our curated content, you should like Shea Magazine on Facebook HERE!**


Tony Shea is based in New York, having recently moved from Los Angeles after more than a decade on the sunny coast. His short films have won numerous awards and screened at major festivals around the world including Comic-Con. As a musician, he is the lead singer for Los Angeles rock n' roll band Candygram For Mongo (C4M) candygramformongo.com who has been a featured artist on Clear Channel Radio's Discover New Music Program and whose songs have been heard on Battlestar Gallactica (Syfy Channel) and Unhitched (Fox) among other shows and films.