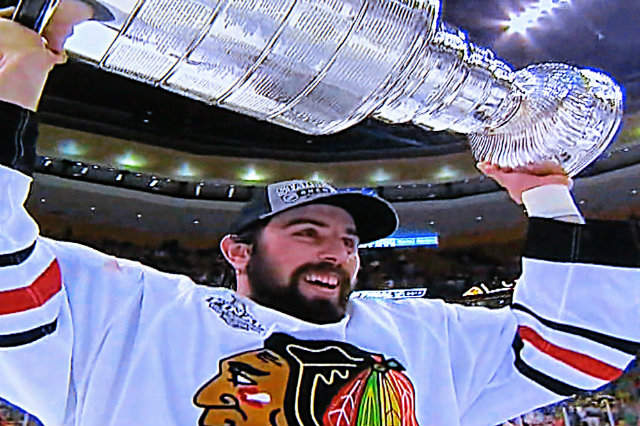 This year's Stanley Cup Finals surely has to rank as one of the best in recent memory, starring two of the "original six" teams, the Chicago Blackhawks and the Boston Bruins, in an intense series that featured three overtime games. For Bostonians it must undoubtedly have been heartbreaking to watch Chicago in game six, as they came back from a one goal deficit and then took a one goal lead in a stunning 17 second burst of scoring power that dismantled the hopes of a game seven. But in all fairness to Boston, who did indeed have a brilliant post season, the better team won.
Chicago, after a strike shortened half season, started the year by going 24 games without a regulation loss, and finished with a scant 7 losses in 41 games. The road to the cup was not entirely smooth, however, as Chicago faced stiff competition from the Detroit Redwings, falling behind 3 games to 1 in the second round series, before charging back to win three games in a row and move on to the Western Conference championship against the defending champion Los Angeles Kings. The Kings, of course, were dispatched in five games, setting the stage for the series against Boston.
And so it is that the 2013 Chicago Blackhawks shall carve their names onto that chalice of eternity, Lord Stanley's Cup, now in its 120th year as the premiere trophy in all of sport. Winning the Stanley Cup requires a profound endurance. In theory, it might take 28 games to achieve complete victory – it took Chicago 23 games this year – spaced out over two months in which players, according to the custom, refuse to shave, growing beards that, in the end, are the mark of a team's greatness or failure. The hierarchy and age of players is often obvious from the scruff on their cheeks, as young rookies grow disconnected patches of reddish peach fuzz and weary veterans grow thick matted beards, swirling with gray. In the end, the team with the longest beards wins this ballistic ballet on ice, this modern day Viking tribal war, where the soldiers still wear armor after a fashion, but where the broadswords have been replaced by the curved blades of sticks. And at the conclusion of the slow march towards victory, the soldiers of this grand game do indeed sport the wounds of battle, eyes blacked, teeth knocked out, faces stitched closed and ripped open again, dripping blood down on the ice, each long chin hair a memento of the war.
Congrats to the 2013 Chicago Blackhawks, who may now sharpen their razor blades.
**You should like Shea Magazine on Facebook HERE!

Tony Shea is based in New York, having recently moved from Los Angeles after more than a decade on the sunny coast. His short films have won numerous awards and screened at major festivals around the world including Comic-Con. As a musician, he is the lead singer for Los Angeles rock n' roll band Candygram For Mongo (C4M) candygramformongo.com who has been a featured artist on Clear Channel Radio's Discover New Music Program and whose songs have been heard on Battlestar Gallactica (Syfy Channel) and Unhitched (Fox) among other shows and films.