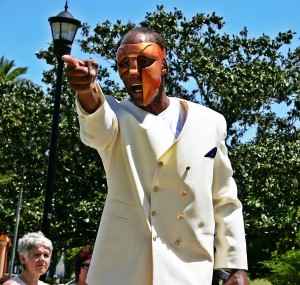 A troubadour is commonly defined as a composer and performer of lyric poetry during the High Middle ages.  As an actor and dramatic composer, Cedric Liqueur has been performing his one-man show criss-crossing the United States for the last twelve years—fitting the bill as a contemporary troubadour.
An independent actor and playwright, Liqueur is a former member of the Royal Shakespeare Company in London even though he was born and raised in the United States. One of his yearly stops over the last five years has been in Saint Leo, Florida,  where I caught up with him after a performance of "Duke Ellington: Rocks in my Bed" at the Saint Leo University library. We discussed the many historic figures Liqueur has chosen to portray, why he chooses the subjects he does, and how as an actor he approaches each new performance.
Brent Short:  Cedric Liqueur—heading somewhere else, came from somewhere else, but here now at Saint Leo University.  You were here last night doing your Duke Ellington piece. Why did you become an actor?
Cedric Liqueur:  Curiosity.  I was curious. I liked movies.  I didn't go to live theater.  There's maybe one or two actors that I try to see but not follow. It was just something that happened. I started reading a little bit about it, and then I talked to actors. I wasn't necessarily serious about becoming an actor.
BS:  What's your educational background?
CL:  Normal. College.
BS:  It wasn't majoring in theater?
CL:  No.
BS:  Do you find a freedom in acting?  A lot of actors I've heard talk about it, talk about a phenomenon that takes over when they inhabit another character they feel freer, less inhibited, more themselves than they otherwise would be.  Do you find that to be true?
CL:  No. Although acting is what I feel most comfortable doing, when I prepare for a role that's the only role I'm preparing for. I don't think about what I did in the past. I don't try to figure out whether this character is anything like me. Each character comes in a different way. I discover more about the character by researching and then listening to my inner thoughts and my instincts. I guess you could say I'm an instinct actor.  I don't have a lot of formal training.  I have a lot of on the job training doing solo performances. But to answer your question—it's still curiosity… about who I am and about who the character I'm studying is.
BS:  So, the more different the character is from who you consider yourself to be, the more you end up learning?

CL:  Yes.  Characters also continue to change just as we do as people.  A character you create, a fiction, still has to have some humanity. For me as an actor nothing is standing still. So, as I do a performance, each performance is going to be different because that character is not going to be identical in each show.  Each audience is different.  The lighting is different.  Everything is always changing. I can't think of myself being in one place looking at a character.  I'm changing at the same time I'm also looking at someone who is changing.  Somewhere along the way we meet, and it becomes a performance. It's a moment in time when you and that character come together, but it's a very fleeting moment.  It doesn't allow me to analyze it.  If you try to then you're stuck in a spot. I get questions like, 'What's it like to play that character?' It's not the same every night. I've been doing Macbeth for fifteen years as a solo actor and I just revised it. It's going to be a lot different than it was fifteen years ago. That's what I'll discover.  It has changed and that's what you want as an actor so that your work is not stagnant, stuck in one place. It's continuously changing as you change, as you grow.
BS:  You travel a lot doing your one man shows.  How did that on the road troubadour approach to performance come about?
CL:  I was in Dusseldorf when I started doing sonnets of Shakespeare, just hanging out with friends at pubs and places like that—just doing something for a poetry night. It was just something to play around with, and I would do poems and sonnets by Shakespeare. That's where I wrote Macbeth—in Germany.  I wrote it as a solo piece.  That's how it began. Macbeth was my start as a solo actor, then it became many other things after that.
BS:  How does that one man performance approach differ from the more traditional ensemble acting? Do you have to approach it differently?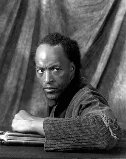 CL:  Yes and no. You're the only one on stage—the only one out there in front, so it's all up to you. There's no one else to rely on. You have to do it -in my case, to write it, to research it, and then find the job. So that's one side. But the acting is the same. You're still acting whether you're with a company or by yourself. It's like ensemble acting when you're the only character for one scene. It's like that, except now you're the only character for five acts. You've got to make it work and you don't know whether it's going to work until you get it in front of an audience.  There's no rehearsal and no director. There's nowhere to hide, but that's a joy for me as an actor. It's up to me.  And that audience is most likely seeing me for the very first time. Might be the very first solo performance they've ever seen. It's up to me to make it work. That's what I most enjoy about my work, those kind of challenges.
BS:  You've done performances based on lives of a number of historical figures—Pontius Pilate, Satchell Paige, Van Gogh, buffalo soldier George Jordan, and now Duke Ellington. What drives you to these various figures?
CL:  I have no idea.  They all came to me at different times.  Satchell Paige came to me when I was in a bookstore in Tennessee.  I just went in there to get a cup of coffee and read some books.  And there it was a brand new book by Larry Tye right by the front door. Right after a couple pages I thought I'd call up Larry Tye and see what this is all about. I never played baseball. I watched it. I heard of Satchell Paige but I had to get to know him.
BS:  So what did the author have to say about him?
CL:  He said I don't think there are many people who are doing a solo performance of him, but I think it's a very good idea.  I told him I'd read his book, and talk to some people and get back to him.
BS:  Would you say that the Satchell Paige piece is one of your more popular or successful pieces?
CL:  Macbeth is still pretty popular, and I've been doing it longer.  But for the last two years Satchell Paige has been my most popular piece.  I've done quite a few performances of Satchell Paige.
BS:  What do you think it's about him that people respond to?
CL:  He's for real.  He's from down home. Born in Mobile, Alabama.  And he never changed.  He became famous, made money; he didn't move back to Mobile. He lived in Kansas City, but he didn't change as a person. I admire him for that. He didn't change because he had money. He was somebody. He was Satchell Paige.  He was pretty much the same guy. You could see him on the street and he'd still shake your hand, say hello.  He had some swagger, but you've got to have some swagger to be a good player, and he was fun to be around. He's fun to do.
BS: What about your other characters?
CL: Pontius Pilate—everyone knows the story of Jesus Christ and the crucifixion.  I've heard it since I was a kid. I started off by looking at Judas Iscariot when I was at a monastery in Indiana, Saint Meinrad.  I was in the library late one night. I came across the name of Pontius Pilate over and over again. And then that became a piece.
I've always heard the phrase buffalo soldier, and the song by Bob Marley. I began to read about buffalo soldiers and I came across this medal of honor winner, George Jordan. I had a feeling I had to go see where he lived, and where he was buried, and where he was a soldier. I visited every place he went.  And it became a solo performance for me.
Again, it comes back to curiosity.  It's not that I purposely choose something—it comes along. I see it and that's how I respond to it.
Duke Ellington—I heard Duke Ellington's music. I didn't know much about him, but I wanted to know more. I began listening to his music. I began thinking of audiences that would enjoy his music. One audience I thought of was kids—elementary and middle school kids that were sensory impaired, kids with visual or hearing impairment. I thought they would like it too even though it hadn't been tried before.  So that's the new show. But again I've never been in front of an audience with a piece like this, so it's curiosity to see if it's going to work, and what I think is going to connect with them.
BS: I know you do a lot of research on these figures.  I'm curious, when you started doing your research on Van Gogh was there something you discovered about him that you hadn't previously known?
CL:  Ooh… it's in his work. You've got to look at his work.  That's the only way I can answer that question.  I haven't done Van Gogh for awhile but if you were to ask me to do a performance next week the first thing I would do is look at his art because that's where it is.
BS:  It's all there?
CL:  It's all there. I wouldn't look at the script.  I would just look at his art everyday for maybe a week then I have Van Gogh. That's where you find him.
BS:  Can you tell me a little bit more about your George Jordan sculpture project?

CL:  It's a two year project paying tribute to the service of George Jordan.  Jordan served in the U.S. army for 35 years.  He was born in Williamson county, Tennessee.  He served mostly in Nebraska at Fort Robinson.  I've been doing him as a solo performance for maybe 5 or 6 years. A part of doing the performance was a second idea of creating something else other than a performance that would honor his life, his service to his country. I think perhaps a year into Jordan I began to think about this project and it became a sculpture project—a broad life size sculpture of Jordan.  As I would do a performance I would talk to people about that.  And then in June 2010, I did a gravesite memorial for George Jordan at Fort McPherson in Maxwell, Nebraska.  At the time I was promoting that event I was talking about that project and getting ideas about that.  On the whole most people thought that sounded like a wonderful project to undertake, so that gave me more motivation to do something. So I have.  We should be looking at a website soon.  And this would be a nationwide campaign to build a bronze sculpture honoring Jordan that would be a permanent indoor installation at a veteran's hospital in Tennessee. The site hasn't been officially selected but that's where it would go.  It's a two year project so there's a lot that has to be done, but it will be done.  As the buffalo soldiers say, "We can and we will." (NOTE: For those interested in more information about buffalo soldier George Jordan and making a donation to the George Jordan Sculpture project, the website address is: www.georgejordansculpture.com)
BS:  Do you have a sculptor involved now?
CL:  I'm talking to a couple of sculptors, and these will be Native American sculptors who would be designing it.  That was one of the keys to me getting the sculpture done. It's going to be a partnership: Native Americans and buffalo soldiers who were essentially fighting each other.  We're looking for that as we put it together.
BS:  You got a few endorsements along the way.
CL:  Yes, I talked to everyone from President Obama to the Veteran's Administration to governors. I've covered all my political bases.  I still need a few high level donors. All the money raised will be spent for the project, so I think we can do it in a year. It's never been done before this particular way. Retired general Colin Powell did a similar project in Kansas City, and there's an outdoor monument to buffalo soldiers there.  I've talked to Colin Powell about that, but this is the first time for the veteran's administration to have an indoor life size bronze sculpture.  That's never been done before in a VA hospital in America.  This is new for veterans in that sense. But the sculpture's not just to honor Jordan.  It's to honor all of our veterans, all of our men and women who served in the military who are on active duty or retired.  It's for all veterans.
George Jordan became very ill when he was living in Crawford, Nebraska, and he went to a VA hospital there in Crawford and he was denied service.  He was denied treatment, and he died a few days later. That was in 1904. So that's the significance of having a sculpture indoors at a VA hospital because he was denied.  I'm sure it doesn't happen as much today but it used to happen to lots of people.  George Jordan had a medal of honor and he was denied.  So that's the significance of having it for all veterans.  When they return from battle they need care and the best our government can give them.  That's what this stands for.
BS: Rectifying the past in a sense?
CL: Yes. You could say that.
Brent Short lives outside Tampa and works at Saint Leo University as the Director of Library Services.  He's been a contributor to Sojourners, Radix, Mars Hill Review and Inklings. His poetry has appeared in Eads Bridge Literary Review, Windhover, Tar River Poetry and Sandhill Review, and still holds up "The Waste Land" and "Four Quartets" by T.S. Eliot as the towering achievements in modern poetry that the rest of us can only aspire to.