Tap. Tap. Tappity tappity tap. Tap TAP TAP TAP!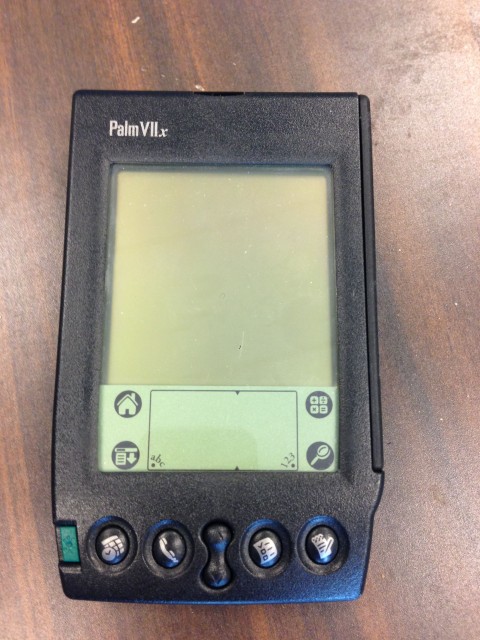 That, my friends, is the sound of productivity. That is the sound of a captain of industry hard at work. That is the sound of a mover. The sound of a shaker. The sound of a man doing BIG things. Checking his calendar. Checking his notebook. Checking his electronic rolodex for which big business leader to contact next.
Yes, contact. Communicate. With this device your associates aren't just static names in a list. They are available for immediate contact at the press of a button. This isn't just your run of the mill Palm Pilot. Oh no. This one has wireless built in.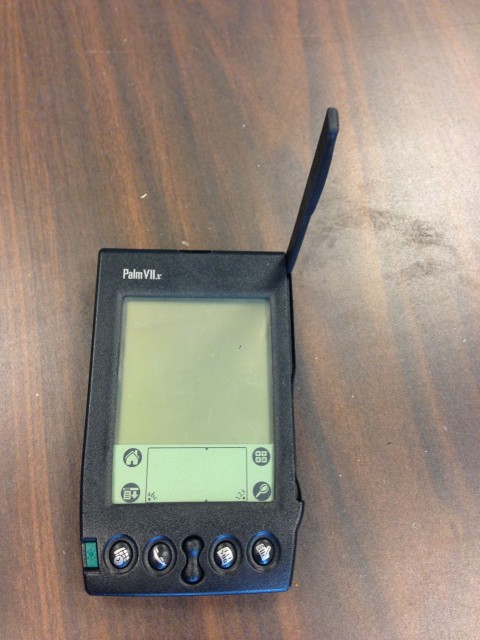 See that antenna? That's state of the art technology designed to bring you the fastest connection possible to the Mobitex network. At $14.95 per month, Mobitex isn't cheap, but then, can you really put a price on business productivity? With the Palm VIIx you'll not only be updating notes and contacts, but you'll be sending email as well. That's right. Electronic Mail . Your message will be sent through a dizzying array of circuits at mind blowing speeds to anyone else on the Palm.Net service.
This electronic mail can be easily produced with a series of gestures, called graffiti, using a stylus right on the screen of your Palm VIIx device. And, for your convenience, we will include a handy chart detailing exactly what gestures you must replicate on the screen in order to type. It can be easily affixed to the inside of any protective case.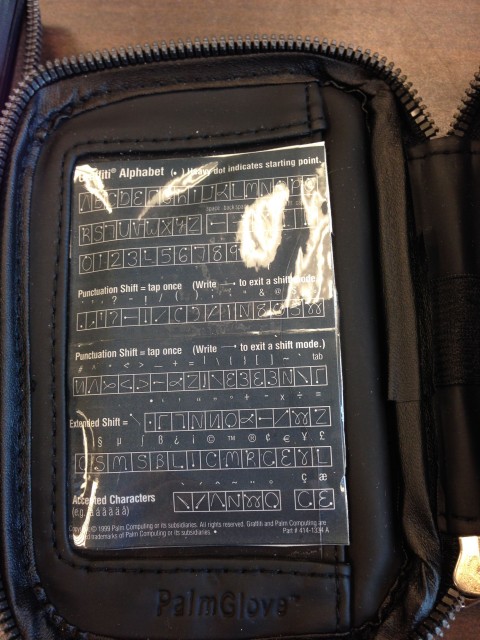 But electronic mail is not the only use of this wireless service. Now, a limited number of web pages can also be displayed on the 160×160 monochrome display. Imagine being able to show a client your Geocities page on a device that you hold in your own hand.
The future is here!
Don't delay. Order a Palm VIIx for everyone in your organization.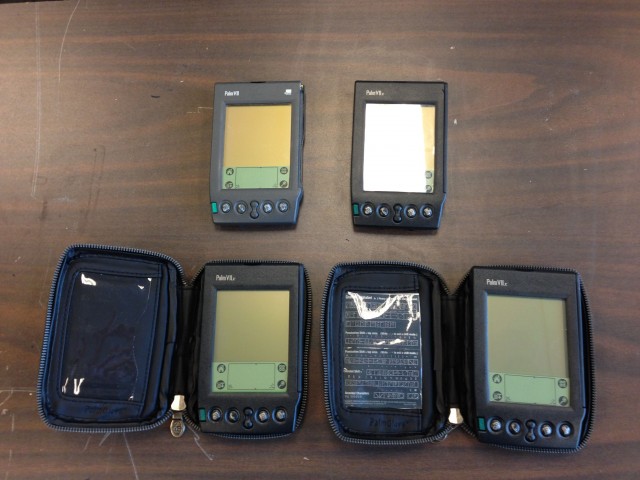 After outfitting our organization with Palm VIIx we found them incredibly useless. Configuration of email was impossible. The wireless antenna was easily broken and fell off two of the devices rather quickly rendering wireless communication impossible. They were, however, smaller than the Crosspad, and for that, our employees were thankful.
Tap. Tap. Tappity tappity tap. Tap TAP TAP TAP!
That was the sound of the stylus being used to play solitaire on a $600 pocket sized device. Which, we quickly discovered, was about all this personal digital assistant was good for.
Use Feedly to Subscribe to the Shea Magazine RSS Feed

Jay Hood has lived in Baltimore, Maryland for the past 25 years.  He likes to travel and is an avid photographer.  His photography has been featured in several obscure and unassuming locations, such as John Ball Zoological Gardens.  He does not eat vegetables and is learning to enjoy seafood.  He strives to keep his DVR no more than 40% full.  Comfort is paramount and he is not above a little slacking.