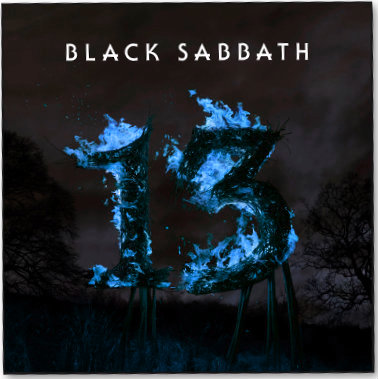 So by now everyone knows the back story on the making of this new record. First Sabbath disc with Ozzy in 35 years. First record with Ozzy on vocals that does not have Bill Ward on drums as well. But really all we need to know is if this is better than the last record Tony Iommi made with Tony Martin on vocals? Since all the recent material from Geezer and Iommi before this fell under the Heaven and Hell moniker. And all of those songs are pretty much untouchable (Ronnie James Dio RIP). Hope you got all that without a scorecard.
Tony Iommi is the undisputed king of the monster riffs. Geezer can still write cool lyrics, even after his Heaven and Hell time off. Brad Wilk (of Rage Against The Machine) ably keeps things moving on the traps. So the 800 pound gorilla in the room is – how does Ozzy sound? Pretty darn good – and all of that can't be glossed over with studio trickery. Rick Rubin is good – but not THAT good!
Although the band went with the more dirge-like "God Is Dead?" for the first single, it's the song 'Loner" where grooves start swinging. "Zeitgeist" is great for hitting…I mean relaxing with a lava lamp pulsating in the corner. (I wish I still had my lava lamp!). "Live Forever" features some nice playing from top to bottom and Ozzy sounds evil to boot. "Damaged Soul" reminds me of vintage Blue Cheer but then the band takes it down a whole different road. The record ends with "Dear Father," a long song that has a variety of different textures that serve the track well. That's it? It's over?
No way, since like me, you will do your homework and buy the deluxe version to get four more slices of Sabbath. If you don't then we have a problem. I'm not worried – I know you will do the right thing. Here is where the tunes start cooking right from the start. "Methademic" is one of the more punishing riffs Iommi has cranked out, and thankfully Ozzy keeps up while Geezer lays down a slithering bass line. Excellent. "Peace of Mind" will get everyone's head bopping. "Pariah" slips back into slower territory, which is OK. But "Naïveté In Black" ramps up the speed to close it all out.
I'm glad the band didn't try and make a bunch of "Paranoid" type tunes to satisfy the masses. You'll need to really dive into this record for a while, but it will click eventually. Is there something as catchy as "Digital Bitch" from the Ian Gillan era? Nope – but this is a solid record and just be glad we have new music from the originators of heavy metal.
**You should like Shea Magazine on Facebook HERE!

Sean Koepenick aka Earthdog grew up in the Washington, DC area. He lives, breathes and eats music, with a sweet tooth for punk rock. He loves his wife and 2 kids, Popeye's chicken and playing the bass guitar. In his spare time he likes to read books that no one would even think of reading for pleasure like Alexander Solzhenitsyn's August 1914 and William Shatner's Teklab. Other favorite authors include Charles Bukowksi, John Fante and George Pelecanos. Fun fact: once drove Joey Ramone to the train station after a radio interview in a crappy Chevy Cavalier affectionately referred to as "the Grannymobile." Now living in the Boston area, he is also a contributor to Razorcake magazine and currently plays bass guitar in Silver Screams: http://www.silverscreams.us/.