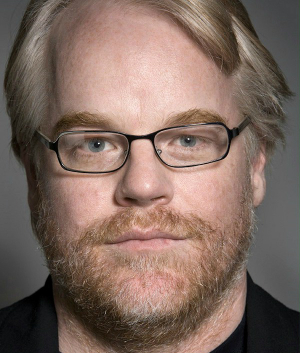 Sometimes I'm working on a film and someone will ask me if I'm having fun. And I'm tempted to tell them the truth: No, absolutely not. Having no fun here at all. You know what's going to be fun? When it's done, and I've done a fuckin' good job, and I know people are getting something out of that. I'll have a lot of fun then. A ton of it. – PHILIP SEYMOUR HOFFMAN
Philip Seymour Hoffman was found dead from an apparent heroin overdose in his West Village apartment in Manhattan early this morning. Hoffman, while not a conventional leading man in the mold of say a Tom Cruise or Leonardo DiCaprio, was an outstanding character actor who found his way into a number of starring roles, including his Oscar winning turn for Best Actor in the 2005 film Capote.
During his career, Philip Seymour Hoffman appeared in more than 60 films and television shows. A stocky, rumpled everyman, Hoffman achieved his greatest success as an actor playing real-life people, managing to convey an uncanny mixture of emotional vulnerability, seething rage, and humorous likability, often all at the same time. One of the most decorated and respected actors of his generation, he leaves behind an excellent body of work that will continue to find new admirers for generations to come.
My Top 5 List of the best of Phillip Seymour Hoffman – RIP.
5. CHARLIE WILSON'S WAR

In this 2007 film, Hoffman plays real life CIA agent Gust Avrakotos who teams with US Congressman Charlie Wilson to pull off Operation Cyclone, a covert arms program to aid Afghan freedom fighters in their war against the Soviet Union. Hoffman received an Academy Award nomination for Best Supporting Actor for his work.
4. CAPOTE

In 2005, Hoffman won the Best Actor Oscar for playing famed writer Truman Capote during the period in which he wrote his non-fiction masterpiece, In Cold Blood.
3. THE MASTER

In 2012, Hoffman starred alongside Joaquin Phoenix in The Master, a fictionalized account of the development of the Church of Scientology. In it, Hoffman plays Lancaster Dodd, a thinly veiled version of Scientology founder L. Ron Hubbard, as he becomes a modern-day Messiah.
2. LOVE LIZA

One of Hoffman's most heart wrenching performances was in 2002's Love Liza. In it, Hoffman plays a man so overwhelmed by grief after the suicide of his wife that he can barely function.
1. OWNING MAHOWNY

Hoffman himself was no stranger to addictive impulses, having entered rehab for drug and alcohol addiction when was 22 years old after graduating from NYU. For 24 years, Hoffman remained sober until a relapse in 2013 sent him to rehab for heroin use, which ultimately would kill him. Perhaps it was Hoffman's own keen understanding of the nature of addiction that propelled his stirring portrayal in this 2003 film, the story of a Canadian bank employee with a terrible secret – a voracious gambling habit that leads him to embezzle millions upon millions of dollars to fuel his wild Atlantic City binges.
**You should follow Shea Magazine on Twitter to see more of our curated content.**

Tony Shea is based in New York, having recently moved from Los Angeles after more than a decade on the sunny coast. His short films have won numerous awards and screened at major festivals around the world including Comic-Con. As a musician, he is the lead singer for Los Angeles rock n' roll band Candygram For Mongo (C4M) candygramformongo.com who has been a featured artist on Clear Channel Radio's Discover New Music Program and whose songs have been heard on Battlestar Gallactica (Syfy Channel) and Unhitched (Fox) among other shows and films.