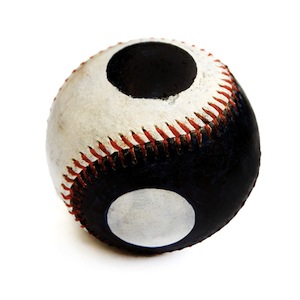 I mean I'd hit them before
but they were the cheap kind
where the kid in the baggy uniform
in right field
lets a grounder dribble through his legs,
throws his glove down
and chases it.
No, I hit this one everybody's head.
I watched them still running after it
as I rounded second.
By the time I hit third,
my teammates were jumping up and down
behind the chicken wire
on the bench.
Little League parents
were screaming and waving,
shouting instructions;
all I could hear was
the wind whistling through my helmet.
Five steps from the plate
I could see the pitcher standing there
with the ball
making damn sure
nobody was going to hit
a home run off him.
I slid, dust flew,
he held on, it wasn't close.
As that ball lifted out
over the outfielder's head,
with the lightness of solid contact
still in my hands,
I remember thinking
you never actually see
the bat hit the ball,
you have to guess at
where it's going to be.
Your eyes must be closed.
Brent Short lives outside Tampa and works at Saint Leo University as the Director of Library Services.  He's been a contributor to Sojourners, Radix, Mars Hill Review and Inklings. His poetry has appeared in Eads Bridge Literary Review, Windhover, Tar River Poetry and Sandhill Review, and still holds up "The Waste Land" and "Four Quartets" by T.S. Eliot as the towering achievements in modern poetry that the rest of us can only aspire to.