The film 42 took top honors at the box office this weekend and rightfully so. We also celebrate Jackie Robinson day, as Dan O'Day McClellan shares his love of baseball. TS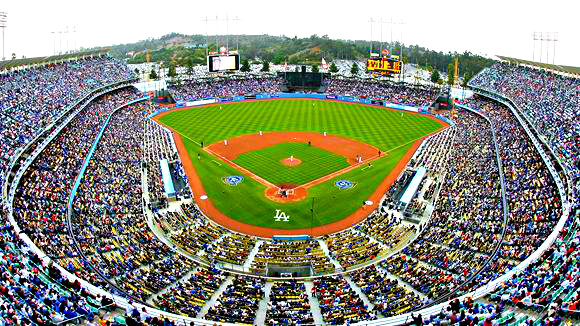 My favorite season of the year is back — baseball season. Flowers are blooming, the weather is getting warmer and baseball, sweet baseball is being played. Synonymous with America through the years, baseball is our national pastime, connecting us with our national present.
When I think of baseball, a list scrolls though my head: the history, the stats, the great players of the game over the last 130+ years. Jackie Robinson, Babe Ruth, Hank Aaron, Ty Cobb, Pete Rose, Rogers Hornsby, Willie Mays, Mickey Mantle, Tony Gwynn, Greg Maddux, Mike Schmidt along with all the other greats–and not so greats.
Since I was 5 years old, baseball has been in my life. I grew up listening to the great announcer, Harry Kalas, who called the Phillies games.
He died a couple of years ago, still in the announcing booth, waiting to call a game. I remember listening to Kalas while playing whiffle ball in the back yard, pretending to be Rod Carew, Robin Yount, and Thurman Munson — the players whose cards I had. I remember when Thurman Munson died in a plane crash – it was a private plane; he had been taking lessons to get a pilot's license, practicing landing and taking off, but landed short. I couldn't believe the suddenness of it. The Yankees had a four game set coming up with the Orioles. Who was supposed to catch?
As a youth, I was a pretty good ballplayer from the ages of nine through fifteen. I threw a shutout to help my team win the league championship when I was twelve. I remember throwing the last pitch, and the sound it made when it landed in the catcher's glove. Snap! One of my favorite memories.
I played and always started until freshman year in high school, but when I was fifteen, I stopped playing baseball, heretofore a nearly all consuming passion, around the same time I started smoking pot and noticing girls, and doing theatre and musicals. I decided I was going to be an artist, I guess, not an athlete. But the joy of baseball, the thrill of baseball never left me.
Like my father, I have always been good with numbers. Baseball is all about numbers. I have been reading every box score from every baseball game since I was 12. A box score is the DNA of a baseball game, everything you really need to know in a little diagram of numbers that tells how the game unfolded. There's something in the numbers that just fascinates me, a secret code made up of wins, hits, home runs, stolen bases, on base percentage, percentage against lefties, percentage against righties, strikeouts, walks, and errors, to name a few.
The only team sport without a clock, baseball is played for nine innings, however long that takes. A game may take an hour – the shortest game in baseball history occurred on September 28, 1919, when the New York Giants played the Philadelphia Phillies, defeating them in 51 minutes. A game may take two days like the game between the Milwaukee Brewers and the Chicago White Sox that finally ended after twenty five innings played over May 8th and May 9th, 1984.
A game can contain many runs and hits, or no runs or hits. There could be lots of errors made, or every play made. 9 innings, 27 outs – a perfect game (there's only ever been 23 of these.)
Baseball remains a right of the coming spring, staying with us through the hot days of summer and to the edge of winter. 162 games. Basketball and Hockey play 82 games a season. Football plays 16. Baseball is a marathon not a sprint, a marathon of accumulating numbers that lead to wins and losses and hopefully a spot in the playoffs.
Though the game has changed through the years (2 divisions have now become 6, and 18 teams have become 30, 154 games has become 162 games, the designated hitter was added and the average player now makes $500,000 a year, whereas in the old days players took second jobs in the off season to make ends meet) the game remains reliably the same. The pitcher and the batter face each other, standing 60 feet, 6 inches apart. The pitch might be fast, or curve, or slide, or knuckle. The pitch might be high, or outside, or right down the middle. The batter might strike out, ground out, fly out, check swing, bunt or launch a home run into the upper deck. There are squeeze plays, sacrifice flys, double plays, double steals, balks, wild pitches and hit batters. Each game is a chess match of strategy. Do you bring in a lefty pitcher to face the lefty hitter? Do you bunt to move the runner over, or hit and run? Should you pinch hit or pinch run? Give the steal sign? Play at double play depth?
Looking at the numbers, anticipating what will happen next, feeling the surge of emotion that happens when my hopes are dashed or validated is always a rush. Some people live and die with their team. Some have watched their team lose for years, like the Chicago Cubs who haven't won a championship since 1917. Other teams, it seems all they do is win, like the New York Yankees who have won 27 World Series Championships, more than any other team in the game.
I'm a lifelong Philadelphia Phillies fan. I was lucky enough to be at game 6 of the 1980 world series as a little kid to see them win their first championship in more than a hundred years. They won another championship when I was an adult, in 2008. Both of these years made me a bit happier than other years. Baseball. We won.
Ah the cheers of the crowd, the announcers calling the action, the managers making decisions, the best players, the one year wonders, the one month wonders. I will never get to be a major league baseball player, but for the next six months I can be a fan.
Baseball, baseball, baseball.

Pennsylvania native Dan O'Day McClellan is a seasoned actor, writer, comedian, voice over artist and producer. Dan is the founding member of Los Angeles improv comedy troupe, The Omelettes. Dan's ongoing film making/producing work with Pete Galaxie Productions includes the award-winning short film, The Silence of Bees, along with the short films, Just Out of Reach, Reality of the Situation and The Afikomen. Dan's 1st Novel, Lognotes of a Wino, is due out in fall of 2015.