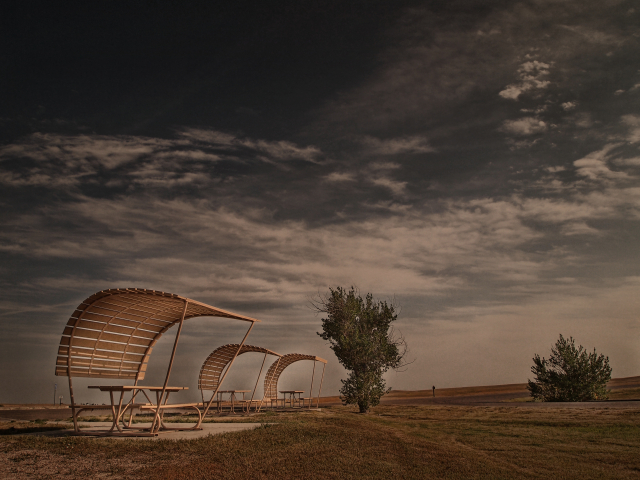 The Badlands in South Dakota can sneak right up on you. Travelling from the east, prairies stretch for miles on end. The occasional tree stands out against an otherwise flat and windswept landscape. Then comes the Badlands. Barren level ground gives way to an unexpected collection of buttes, spires and other outcrops. The stark monotony of the eastern part of the state gives way to an array of shapes and colors. These picnic tables stood on the edge of a butte in the middle of the park. Their structure serves as a compass for the endless wind and overbearing sun that sweeps the landscape.
Click the photo to view larger or check out more of our Photo of the Day features on the Shea Magazine Flickr Page

Jay Hood has lived in Baltimore, Maryland for the past 25 years.  He likes to travel and is an avid photographer.  His photography has been featured in several obscure and unassuming locations, such as John Ball Zoological Gardens.  He does not eat vegetables and is learning to enjoy seafood.  He strives to keep his DVR no more than 40% full.  Comfort is paramount and he is not above a little slacking.