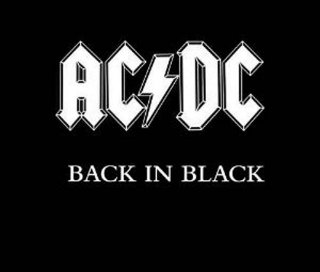 AC/DC's album Back in Black is now 33 years old – a nice responsible age when people are ready to settle down, have a few kids and get a family pet, maybe a nice collie or a chocolate lab. But Back in Black doesn't care about middle age comforts, remaining forever like a pair of teenagers sweating out it in the back seat of a hand me down car.
A white hot declaration of rock and roll glory with a title that says it all, Back in Black was released in 1980, and marked the beginning of the second phase for the band, after the death of original lead singer Bon Scott at the age of 33 (just like Jesus – coincidence?). Scott fronted the band for six albums, including such classics as Dirty Deeds Done Dirt Cheap, Let There Be Rock and Highway to Hell before asphyxiating on vomit after one of his legendary nights of power drinking. Since Scott was one of the very best frontmen in the history of rock and roll (maybe the best) finding a replacement who could replicate his power and presence was no easy task.
The remaining members of the band thought briefly about retiring but decided to soldier on, feeling that their fallen friend would want them to continue their rock and roll journey. It was decided that the next album would be a tribute to Scott's legacy. But who to recruit as a singer?
And then like a lightning bolt sent from the heavens, there was Brian Johnson. Johnson had already been vetted by Bon Scott, who was an admiring fan of Johnson's, having seen him perform in clubs, likening his style to that of Little Richard, a fierce, growing shout sing delivery. And so Johnson took the reins as the band's vocalist (and primary lyricist) coming out of the gate with an all time rock and roll classic that has gone on to sell some 50 million records, making it the second highest selling album by a band in history.
Produced by Mutt Lang, who also produced the band's Highway to Hell album, Back in Black features many of the band's heretofore trademarks, heavy spacious riffs, shouted gang choruses, overt sexual innuendo, and blazing guitar solos. The opening riff of the title track, played by guitar maestro Angus Young on his trademark "devil-horn" Gibson SG, is one of the most recognizable in music history – it's like Beethoven's 5th, except trashed on Jack Daniels, and roaring through a wall of Marshall stacks turned to 11.
Back in Black

Further containing the tracks, "Hell's Bells," "Shoot to Thrill," "What Do You Do for the Money Honey," "Given the Dog a Bone," "Let Me Put My Love into You," "You Shook Me All Night Long," "Have a Drink On Me," "Shake a Leg," and "Rock and Roll Ain't Noise Pollution," the album is a sledgehammer of pure rock that will be played in strip clubs for a thousand years.
You Shook Me All Night Long

**You should like Shea Magazine on Facebook HERE!

Tony Shea is based in New York, having recently moved from Los Angeles after more than a decade on the sunny coast. His short films have won numerous awards and screened at major festivals around the world including Comic-Con. As a musician, he is the lead singer for Los Angeles rock n' roll band Candygram For Mongo (C4M) candygramformongo.com who has been a featured artist on Clear Channel Radio's Discover New Music Program and whose songs have been heard on Battlestar Gallactica (Syfy Channel) and Unhitched (Fox) among other shows and films.