There are those that say art can not be judged against other art. And there are those that say art can only be judged by category (painters vs. painters, writers vs. writers and so on) and genre (westerns vs. westerns, comics vs comics and so on) And then there are those that say throw them in the ring.
Who is better? Cast your VOTE. There are no ties. Feel free to vote as many times as you like. Likewise feel free to leave any comments regarding your reasoning behind your vote in the COMMENTS (scroll to the bottom). Be as concise or in depth as you like. Every Friday we'll have a new installment of the interdisciplinary, multi-genre throw down that is Art vs. Art. We'll tabulate the results and weigh your arguments and reveal the definitive and absolute winner on Friday of the following week.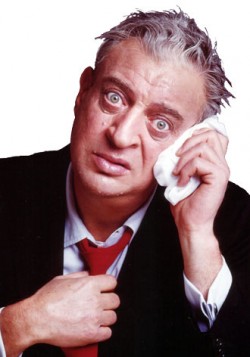 On the left, we have Rodney Dangerfield, a journeyman comic best known for his catchphrase "I don't get no respect," who was nearly 60 years old when he finally appeared in his first major movie, Caddyshack. Born Jacob Cohen in 1921, into a family of vaudevillians, Rodney Dangerfield fought for a long time in the showbiz trenches before becoming a household name in the 1980's, appearing in several films now regarded as comedy classics including the aforementioned Caddyshack, Easy Money, and Back to School. In addition to his film work, Rodney appeared on the Tonight Show 39 times during his career, won a Grammy award for his comedy Album No Respect, and wrote his autobiography It's Not Easy Bein' Me: A Lifetime of No Respect but Plenty of Sex and Drugs. By his own admission, he smoked marijuana every day of his life for sixty years and died at the relatively ripe old age of 82, enjoying the success he had struggled so long to achieve. His trademark outfit of white shirt, black suit and red tie is enshrined at the Smithsonian Institution in Washington, DC.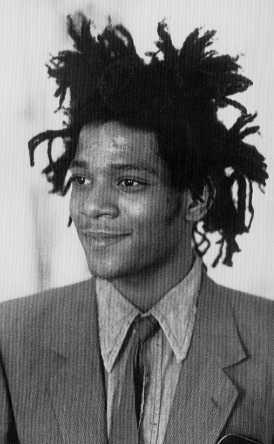 On the right, we have Jean Michel Basquiat, a brightly burning meteor of the late 70's and 80's New York art world, who died at the magic age of 27 from a heroin overdose. Dropping out of high school in the tenth grade, Basquiat was first a graffiti artist working under the moniker SAMO along with his friend AL Diaz. Later, he would become close friends with Andy Warhol who would help popularize his work and the two men would collaborate on a series of paintings between 1984-1986. Despite his early demise, Basquiat achieved a prodigious success in his lifetime. Fluid in many different forms of artistic expression, Basquiat was a member of the experimental music group Gray, the star of Glenn Obrien's film Downtown 81 and produced more than 2000 works of art is his short life. Artist/Director Julian Schnabel made the film Basquiat which depicts the life of the troubled painter. Today, the catalog of Basquiat's work is valued at $115 Million dollars.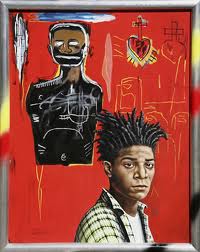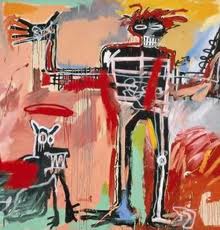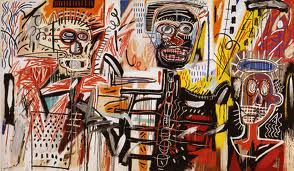 [poll id="2″]

Tony Shea is based in New York, having recently moved from Los Angeles after more than a decade on the sunny coast. His short films have won numerous awards and screened at major festivals around the world including Comic-Con. As a musician, he is the lead singer for Los Angeles rock n' roll band Candygram For Mongo (C4M) candygramformongo.com who has been a featured artist on Clear Channel Radio's Discover New Music Program and whose songs have been heard on Battlestar Gallactica (Syfy Channel) and Unhitched (Fox) among other shows and films.