There are those that say art can not be judged against other art. And there are those that say that art can only be judged by category, painters vs. painters, writers vs. writers and so on. And then there are those, like us, that say throw them in the ring. We wrote down a list of 124 works of art we felt we could make a case for as being truly great (including books, paintings, sculptures, films, albums/songs) and put them in a hat. We chose two at random. As we do every week, we ask you to choose.
Which is better? There are no ties.
Please make your best case for the winner in the COMMENTS section (scroll to the bottom). Be as concise or in depth as you like. Every Friday we'll have a new installment. We'll tabulate the results and reveal the definitive and absolute winner on Friday of the following week.
Click the arrow below to listen:

On the left, we have the bad boys of Sydney, Australia — AC/DC. Arguably the greatest rock band that ever lived. The band released their fifth studio album, Highway to Hell, in the summer of 1979. The title track stands as one of the most rocking songs in history powered by an instantly recognizable guitar riff from Angus Young, and the sandpaper voice of Bon Scott, who would die shortly thereafter. Highway to Hell is an anthem of pure party mayhem.
Livin' easy
Lovin' free
Season ticket on a one way ride
Askin' nothin'
Leave me be
Takin' everythin' in my stride
Don't need reason
Don't need rhyme
Ain't nothin' that I'd rather do
Goin' down
Party time
My friends are gonna be there too
I'm on the highway to hell
On the highway to hell
Highway to hell
I'm on the highway to hell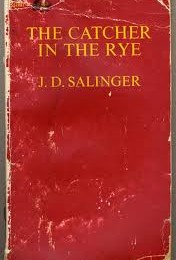 And on the right, we have one of the classics of 20th century literature, the ultimate novel of teenage angst, as seen through the eyes of Holden Caulfield nearing a nervous breakdown in a world ruled by the phonies. Written by professional loner J.D Salinger, the book wrestles with themes of conformity, alienation, and rebellion as the innocence of childhood is replaced with the cynical drag of adult life.
If you really want to hear about it, the first thing you'll probably want to know is where I was born, and what my lousy childhood was like, and how my parents were occupied and all before they had me, and all that David Copperfield kind of crap, but I don't feel like going into it, if you want to know the truth. In the first place, that stuff bores me, and in the second place, my parents would have about two hemorrhages apiece if I told anything pretty personal about them. They're quite touchy about anything like that, especially my father. They're nice and all — I'm not saying that — but they're also touchy as hell. Besides, I'm not going to tell you my whole goddam autobiography or anything. I'll just tell you about this madman stuff that happened to me around last Christmas just before I got pretty run-down and had to come out here and take it easy.

Tony Shea is based in New York, having recently moved from Los Angeles after more than a decade on the sunny coast. His short films have won numerous awards and screened at major festivals around the world including Comic-Con. As a musician, he is the lead singer for Los Angeles rock n' roll band Candygram For Mongo (C4M) candygramformongo.com who has been a featured artist on Clear Channel Radio's Discover New Music Program and whose songs have been heard on Battlestar Gallactica (Syfy Channel) and Unhitched (Fox) among other shows and films.