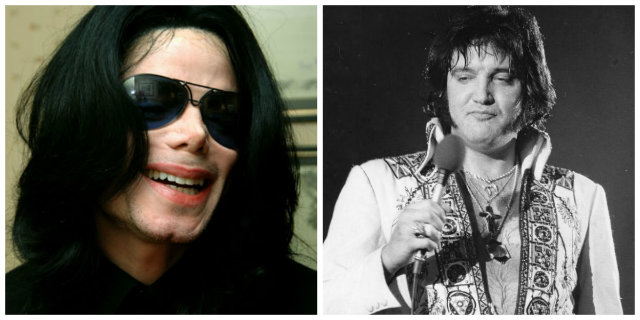 Michael Jackson has been in the news again lately as a consequence of his daughter's recent suicide attempt. Perhaps, it stands to reason that she would be troubled having endured a childhood behind a red veil, staring into the unusual face that she called father, after her "mother", Debbie "the human incubator" Rowe, gave her to Michael as a kind of tribute.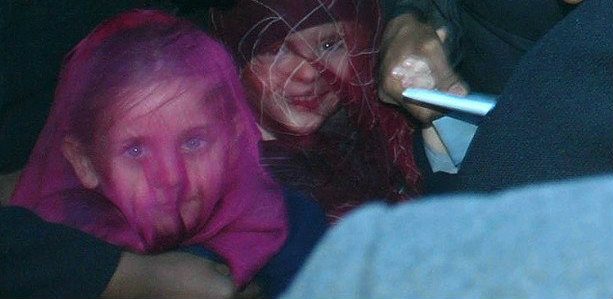 Of course, another child of a famous superstar, namely Lisa Marie Presley, Elvis's only daughter via his marriage to child bride Priscilla Presley, has had many struggles throughout her life as well, including drug abuse, arrests and lest we not forget, her brief marriage to Michael Jackson, seeking to craft a separate identity for herself from the King of Rock n' Roll with the King of Pop.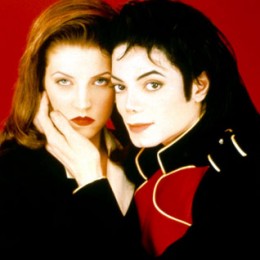 Without question, MJ and Elvis both have had an eternally lasting impact on the world of music and pop culture. It is likely that we shall never be free of them, that their ghosts shall haunt the rest of our lives, certainly their landmark chart topping tunes, but also the images of them gone far from the days of their glory, turned into sad caricatures of what they once were, undone by the toll of their extraordinary fame.
In Jackson's case, he embarked upon what might reasonably be described as a journey of self-mutilation, having his skin bleached (it certainly appears that this is what happened despite his denials and claims that he suffered from vitiligo) and his face re-worked so many times that he became a kind of monster, an androgynous robot with a plastic nose, and a cleft chin that resembled nothing so much as a small, white butt. Elvis became a kind of monster as well, a servant of his enormous appetites, a bloated, constipated, sweating, Vegas attraction in a rhinestone cape mumbling to a room full of white haired, old ladies – a far cry from the menacing force of nearly pure sexuality that shocked 50's America with the thrust of his pelvis.
Both men had some serious sexual peccadilloes for sure. Contradictory reports suggest that Elvis was either a total babe hound who racked up more one night stands than Hugh Hefner, or a deeply religious, late blooming momma's boy (he slept with his mother until he was in his early teens, perhaps owing to the family's extreme poverty, since they could not afford a second bed, or perhaps for other reasons) who preferred the platonic companionship of young girls with whom he enjoyed laying in bed, eating, and watching television. Jackson's sexuality remains even something more of a mystery. Allegations of pedophilia long surrounded him, owing to his peculiar love of children. Also homosexuality. But really it seems that Michael Jackson was a kind of asexual being, doomed to try and relive a childhood that he felt had been stolen from him, a grown man in Spiderman Underoos having sleepover parties with his ten year old friends.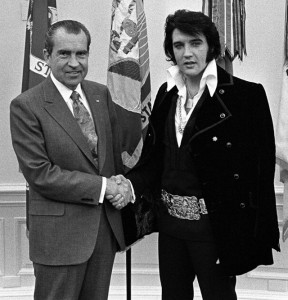 Both men were also massive drug addicts, perhaps most extraordinarily beyond their own knowledge, firm in the belief that they were following doctors' orders. Elvis especially hated druggies, and the hippie culture that he felt was destroying America, never suspecting that his hundred pill a day habit firmly aligned him as one, as he received his badge as an informal agent of the Bureau of Narcotics and Dangerous Drugs from then president Richard Nixon.
Both MJ and Elvis suffered ignoble deaths, markedly different in scope from the professional triumphs of their lives. Elvis died from cardiac arrest on the toilet, attempting to birth what the coroner would describe as something like an impacted brick of clay, as fourteen separate drugs coursed through his system including amphetamines, barbiturates, and narcotics. Michael, meanwhile, also died from cardiac arrest, off to dreamland forever while under the influence of the surgical anesthetic Propolfol, which he ingested as casually as you might take a sip of Nyquil for a cold.
Both men have entered the realm of legend now, impenetrable perhaps as legitimate human beings, with their own desires, hopes, and dreams. We will never know what either man really had to endure under the spotlight of worldwide attention. They were chosen by the fates to occupy realms that we mere mortals can simply not understand. And so they square off in this addition of Art Vs. Art.
The facts:
Born August 29, 1958 in Gary, Indiana. Died June 25, 2009 Los Angeles, California at the age of 50.
Rose to stardom at the age of 6, fronting the Jackson 5.
His solo album, Thriller, is the biggest selling album of all time.
Won 13 Grammy Awards, including the Lifetime Achievement Award.
Charted 13, Number 1 hits in the US.
Inducted into the Rock n' Roll Hall of Fame twice, once as a member of the Jackson 5 and once as a solo artist.
Sold 400 million albums worldwide.
Popularized the Moonwalk.
The facts:
Born January 8, 1935 in Tupelo, Mississippi. Died August 16, 1977 in Memphis, Tennessee at the age of 42.
Rose to stardom at the age of 21.
Starred in 31 movies including Viva Las Vegas, Love Me Tender, and GI Blues.
Won 3 Grammy Awards, including the Lifetime Achievement Award.
Inducted into the Rock n' Roll Hall of Fame, the Country Music Hall of Fame, the Gospel Music Hall of fame, and the Rockabilly Hall of Fame.
Charted 80, Top 40 songs, the most of any performer.
Sold 600 million records worldwide, the most of any solo artist.
Earned the nickname "Elvis the Pelvis" for his hip shaking dance style.
You decide.
[poll id="7″]
**You should like Shea Magazine on Facebook HERE!

Tony Shea is based in New York, having recently moved from Los Angeles after more than a decade on the sunny coast. His short films have won numerous awards and screened at major festivals around the world including Comic-Con. As a musician, he is the lead singer for Los Angeles rock n' roll band Candygram For Mongo (C4M) candygramformongo.com who has been a featured artist on Clear Channel Radio's Discover New Music Program and whose songs have been heard on Battlestar Gallactica (Syfy Channel) and Unhitched (Fox) among other shows and films.