In our continuing interdisciplinary showdown that we like to call Art vs. Art, we pit reggae pioneer, Bob Marley, against Simpson's creator, Matt Groening, both of whom were born in the month of February and share a predilection for psychedelics.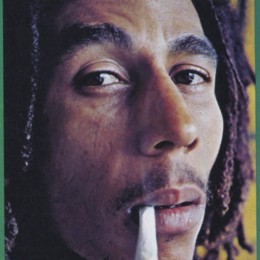 Born Nesta Robert Marley, Bob Marley is reggae's most famous practitioner and the first Third-World superstar. His hits include "Buffalo Soldier," "Redemption song,"  "Jamming," "I Shot the Sherif,"  later a cover hit by Eric Clapton, and "One Love" among many others. Exploring musical terrain that included ska, rock steady, and doo-wop, as well as the aforementioned reggae, Marley's songs advocated the equality of all people, spiritual mysticism, and political uprising for the oppressed.
Hailing from St. Ann's parish Jamaica, Bob Marley was a bi-racial son of a white English plantation overseer and afro-Jamaican mother. Regarding his mixed heritage, Marley said: "I don't have prejudice against meself. My father was a white and my mother was black. Them call me half-caste or whatever. Me don't deh pon nobody's side. Me don't deh pon the black man's side nor the white man's side. Me deh pon God's side, the one who create me and cause me to come from black and white."
Though raised in the Catholic tradition, Marley became an enthusiastic advocate of Rastafarianism – a religious sect that revered Emperor Haile Selassie I of Ethiopia (a.k.a. Ras Tafari) as  a living god, and believed that smoking marijuana was a sacrament that would lead to enlightenment. By reputation Bob Marley smoked a pound of marijuana per week.
Marley died at age of 36 from an unusual cancer that originated in his big toe. His final word's, spoken to his son Ziggy, later of Ziggy Marley and the Melody Makers, were "Money can't buy life."
More than thirty years since his death in 1981, Bob Marley remains a powerful force. He was inducted into the Rock and Roll Hall of Fame in 1994. In 1999, Time Magazine selected his album Exodus as the greatest album of the 20th century. His greatest hits album, Legend, released three years after his death, is reggae's all-time best selling album having sold more than 10 million copies, and his worldwide popularity remains undiminished.
Matt Groening, 58, is the creator of the television shows The Simpsons and Futurama.
Born and raised in Portland Oregon, Groening attended Evergreen State College in Olympia before moving to Los Angeles at the age of 23. Once there, he began writing his comic strip Life in Hell, which then came to the attention of James L. Brooks who encouraged Groening to contribute animated "bumpers" to the Tracey Ulman Show that was airing on the fledgling Fox network in 1987. After three seasons, The Simpsons was spun off into its own half-hour show.  And the rest they say is history.
The series brought acid trip surrealism into the living rooms of the mainstream. Its satirical, often scathing, parody of middle class American life became an instant hit, propelling Fox into the major network leagues and ushering in a new age of animated prime time shows including South Park, King of the Hill and Family Guy. The Simpsons many distinctive hallmarks include it's perpetually changing opening credit real,  and its distinctive cast of peripheral characters (consumptive children's television host Krusty the Clown, god-fearing Ned Flanders, and evil billionaire Montgomery Burns to name but a few of the colorful personalities that inhabit the fictional town of Springfield.) The humor of the show is a perfect blend of smart and stupid, of sly literary and cultural references coupled with overt sight gags.
As Groening has said, "Our solution on 'The Simpsons' is to do jokes that people who have an education, or some frame of reference, can get. And for the ones who don't, it doesn't matter, because we have Homer banging his head and saying, 'D'oh!'"
"D'oh!" of course has become so ubiquitous that it is now included in the Oxford English Dictionary, defined as "Expressing frustration at the realization that things have turned out badly or not as planned, or that one has just said or done something foolish." This high/low blend has certainly proven to be a smart choice for The Simpsons in 520 episodes spread over 24 seasons. In the process, it has become a world wide phenomenon that has earned over $4 billion dollars in revenue.
[poll id="4″]
If you liked this article you may also like Rodney Dangerfield vs Jean Michel Basquiat

Tony Shea is based in New York, having recently moved from Los Angeles after more than a decade on the sunny coast. His short films have won numerous awards and screened at major festivals around the world including Comic-Con. As a musician, he is the lead singer for Los Angeles rock n' roll band Candygram For Mongo (C4M) candygramformongo.com who has been a featured artist on Clear Channel Radio's Discover New Music Program and whose songs have been heard on Battlestar Gallactica (Syfy Channel) and Unhitched (Fox) among other shows and films.