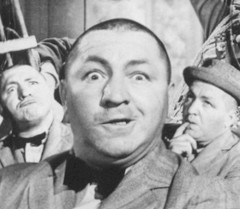 Are you a fan of the Three Stooges? There was always something forbidden about the Stooges when I was a kid. When I was 5, my friend Scott Watson tried to do one of those Moe smacks on the nose. He tapped me rather lightly, but my nose started to bleed a river. Now, my nose would do that any time I was at a high altitude or in the dry heat or with allergies, but this was excuse enough for my mom to forbid The Three Stooges in my household. I'd have to wait until I was a teenager to watch them.
Growing up in St. Louis, they would show Three Stooges film festivals at the Varsity Theater.  But as a teen, my parents wouldn't trust me to travel "all the way to U. City" by myself. And finally in my adult life, The Three Stooges were denied to me again. The third and final time, I was up for the role of Curly in the Farrelly Brothers' Three Stooges movie. This time, my parents had nothing to do with it.
I really enjoyed making this video with my friend Paul Wojciak. This video and an online letter writing campaign led to an audition for the Farrelly Brothers and two callbacks. I had worked with the Farrellys on the movie The Ringer. When I saw Pete Farrelly at the premiere of Jackass 3D, he told me that he had received hundreds of handwritten letters saying the nicest things about me and my video. Many of them were from Missouri, which is no surprise because that's my home state.  So a lot of people, including the Farrellys were very supportive.
In the end, the part went to Will Sasso. I've met Will a few times before and several of my friends worked with him on MAD TV.  I thought he did a great job in the role. I guess some things were never meant to be. I'm still pissed off that Toby Jones got to play Alfred Hitchcock.

Bill Chott is currently appearing in the family film Marshall's Miracle. He was in The Rum Diary with Johnny Depp and appeared regularly in the Disney hit show Wizards of Waverly Place. Orginally from St. Louis Missouri, He has a film/TV/voiceover career in Hollywood and teaches improv in Hollywood, Pasadena and around the world. He attended Central Methodist University and trained in Improvisation at The Second City. There he worked with such comedy powerhouses as Tina Fey, Steve Carell, and Stephen Colbert among many others. Bill starred on The Dana Carvey Show, does cartoon voices on PBS, Saturday Night Live and in film, he appeared in Galaxy Quest, Dude Where's My Car, and he was a lead role as Thomas, the Special Olympian who brings home the bronze in the Farrelly Bros. film The Ringer. His family-friendly humor is infused with a twisted dark side that shows you can play clean and still be very, very disturbed.