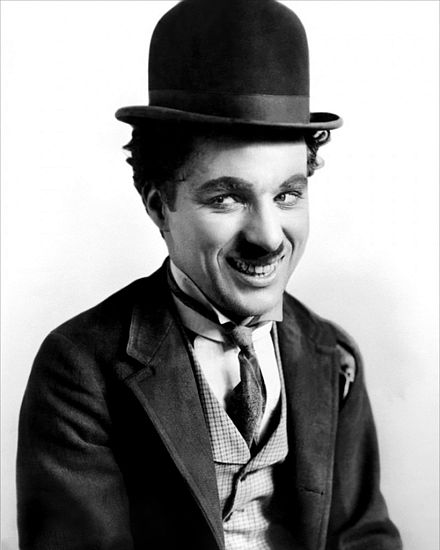 April 16 marks the birthday of the king of silent movies, Charlie Chaplin. Chaplin was born in England and emigrated to the US where he developed his signature character of the "Tramp," a sad clownish hobo figure that combined pathos with slapstick, launching Chaplin as a worldwide phenomenon.
Chaplin himself was a rags to riches story. Born into poverty in London in 1889, he was first sent to a workhouse and then to a home for destitute children. His father died at the age of 37 from cirrhosis of the liver. His mother went insane and was confined to a mental institution after contracting syphilis. Unenviable circumstances to say the least, but this personal sadness infused the character of the Tramp with an instantly relatable human dignity that celebrated life's joys and tragedies in an increasingly modern and industrialized world.
Like Orson Wells after him, Chaplin was a virtuoso who wrote, directed, scored and starred in his films. He directed 72 films in his lifetime, including 11 features, and starred in 86 productions before his death in 1977 at the age of 88.
His own personal life was a complicated affair, to use a phrase, filled with paternity lawsuits, multiple marriages to teenage girls, and scandal. Chaplin's art, however, transcended what he was as an individual.
Kid Auto Races Down in Venice
Chaplin Studios
A clip that goes behind the scenes as Chaplin builds his movie studio.
The Great Dictator
Chaplin refused to enter the world of talkies, staying silent, until his film the Great Dictator introduced the audience to the sound of his voice. He had something very important to say. The closing speech of the Great Dictator is classic manifesto of humanistic thought, a hope for mankind to rise above the madness of war, genocide, hatred, intolerance and fear.
The Lion's Cage
In the days before CGI, sometimes you had to climb in a cage with a real lion.
Modern Times
This highly influential film that depicts the dehumanization of men by machines can be seen reflected in a number of other films including: the Coen Brothers' Hudsucker Proxy, Terry Gilliam's Brazil and I love Lucy.
Table Ballet
The classic bit.
Chaplin
This biopic stars Robert Downey Jr. as Chaplin, a role for which he would be nominated for an Academy Award.
Oscars
Chaplin receives his honorary Oscar in 1972.

Tony Shea is based in New York, having recently moved from Los Angeles after more than a decade on the sunny coast. His short films have won numerous awards and screened at major festivals around the world including Comic-Con. As a musician, he is the lead singer for Los Angeles rock n' roll band Candygram For Mongo (C4M) candygramformongo.com who has been a featured artist on Clear Channel Radio's Discover New Music Program and whose songs have been heard on Battlestar Gallactica (Syfy Channel) and Unhitched (Fox) among other shows and films.