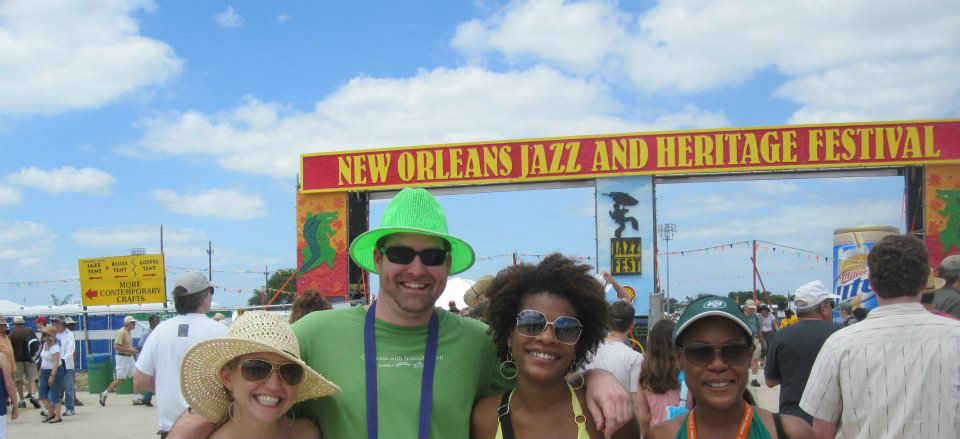 Just returning from my annual two weeks in New Orleans for Jazz Fest. Every year brings new wonder about this sexy, spooky, mysterious town. There is a history here that you feel the moment you enter New Orleans. A list of just five things is difficult, especially since every year is so different from the last and I've racked up…well let's just say I stopped counting once I had ten Jazzfests under my belt.
2ND LINE PARADES
You can be anywhere in New Orleans, at any time, and get caught up in a 2nd line parade. Believe it or not, this was my first year really participating, typically I can't stand parades, I find them so boring. However, there is something about the invitation to march with a bunch of strangers, often not even knowing why you're marching, you just want to be in on the celebration. This is so culturally unique to New Orleans and during Jazz Fest you can happen on a 2nd line making your way to the Fais Do Do stage.
FAIS DO DO STAGE
Dagnabit, I loves me some zydeco and I don't care who knows about it. Maybe it's the country girl in me, maybe it's because it's the only music where its vital to have a washboard and a respectable spoons player on stage, but zydeco music fills the air in New Orleans, and you can find the best of it at the Fais Do Do stage. There is a vibe at this stage that is unmatched. Fais Do Do, like the Gospel Tent, is a must-do at the fest and my crew always stops in for a few hours of it. This is not a spectator stage, nope, you gotta get involved. You can square dance with the more professional zydeco fans stage right, or just flail around up front sweating like a hostage like I do. When you hear a zydeco band play, and watch their fans dance with such heart and glee, it fills your heart with the same. Look into it. Seriously.
ROCK AND BOWL
Bowling and rocking? (oh, and cold, cold beers.) Hmmmmmm, where do I sign?? The only problem is that your bowling game gets distracted by the rocking music being played on the stage adjacent. Need I say more? Check out this clip of New Orleans native son bluesy rocker badass, Mr. Tab Benoit doing his thing at Rock n Bowl. EVERY CITY SHOULD HAVE A ROCK n BOWL.
FOOD (obvi)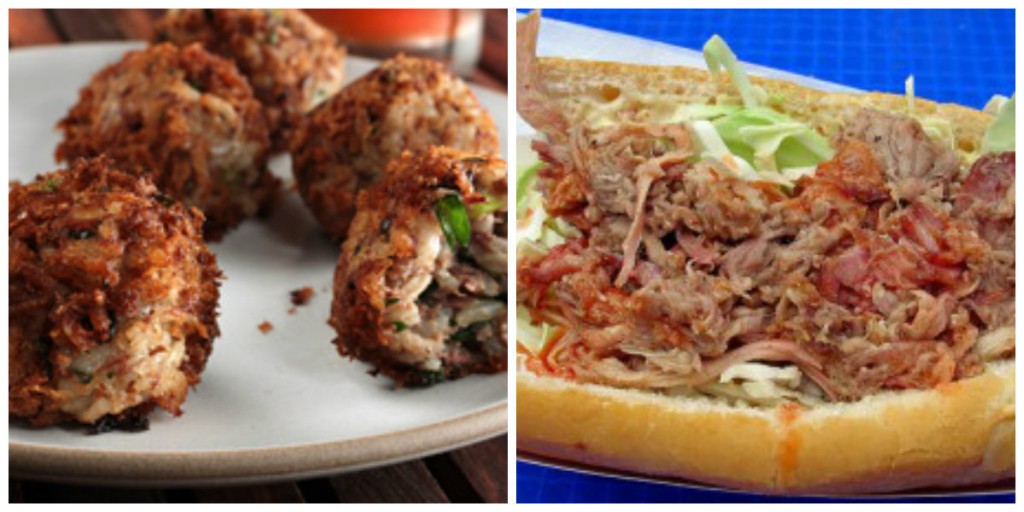 What's my favorite you ask? Cochon de Lait, New Orleans' delicious porky sandwich. My sis turned me on to it last year, and honestly I feel cheated. I could've spent the past 10+ years with this sandwich? Not cool. This year I discovered Boudin balls, which are basically crispy fried rice/stuffing balls of heaven. You dip'em in hot sauce, and like all things dipped in hot sauce, they are amazing! And like every year, I get my jambalaya at the 'fest, and to date, it is still the best jambalaya in New Orleans. We tried to hit up one of the best known fried chicken joints in Nola, Willie Mae's, but we got shut down before we even exited the cab. I was crushed. Next year I guess.
FRENCHMEN STREET

This is where I spend a majority of my night show time at Jazzfest. Between the Blue Nile, the occasional One Eyed Jack's or Maison, but mostly the Blue Nile hosts me for the full two weeks on Frenchman. This street is alive. Music spilling into the streets or being played on any street corner, pop up food stands, and a steady stream of cabs struggling to break through the chaos of foot traffic that has taken over Frenchman. I've logged some serious hours on this street, seen some things that even brain bleach can't erase. It is one of my favorite places in New Orleans. Get off Bourbon Street people and on to Frenchman!
Impromptu legit brass band on Frenchman:
ONE MORE REASON – NEW ORLEANS!
Sadly, Jazzfest is usually my only opportunity to spend time in New Orleans. If I had my way, I would spend 6 months of the year in this city, starting right after Mardi Gras, ending right after Jazzfest. I love this town because of it's culture, music, food, and people. But after all this city has endured, the spirit of music is alive and well here. The spirit is not downtrodden, rather upbeat and full of life. This is especially true during Jazzfest. Anything goes in this town, you can pretty much do whatever you want, which conveniently suits my "I can do anything I want" attitude towards life. Nola supports me wholeheartedly every year. I freakin LOVE Jazzfest!! As soon as I leave, the countdown to next year begins…
Lastly, one of the pillars of Jazzfest is DISCOVERY. Gary Clark, Jr. was one of my discoveries this year. I should clarify, I didn't really discover him at JF this year, but it was my first time finally getting to see him live. Here's some advice kids: GET ON IT. This guy rips blues guitar…somewhere between purely himself, Steve Ray Vaughan and Jimi Hendricks. I fully intend to add him to my list of must-see bands when they roll anywhere near the Bay area. Also, special shout out to the Black Crows for delivering a solid night show this year. It can be iffy, you just never know what you're gonna get. They brought it and I thank them for it.
One last shout out to one of my discovery bands this year. The California Honeydrops are local to my town of Oakland, CA. They stayed at our hotel so I had the opportunity to hang with some of them and see them open for Frequinox at the Blue Nile. Not only are these guys super nice, but they treated us to a fun night of bluesy, soulful Motown dance music. Oh and dance we did! I can't wait to show these guys some more love locally. Keep on rockin' y'all!!
The California Honeydrops