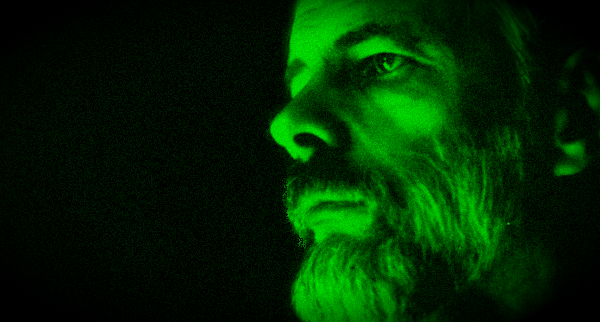 Philip K. Dick was one of the great visionary science fiction writers of the 20th century, publishing forty-four novels during his highly decorated and award-winning career. Dick was nominated five times for the Nebula Award, won the John W. Campbell Award for his novel Flow My Tears the Policeman Said, as well as a Hugo Award for his novel UBIK. Despite the critical reception however, mainstream success eluded him in his lifetime.
Dick died shortly after Blade Runner, directed by Ridley Scott and based on Dick's novel Do Androids Dream of Electric Sheep, had completed filming. Dick never saw the final product. He was convinced however that the film would be a huge financial success, wistfully perhaps, owing to his myriad financial difficulties with the IRS. Upon release the film was considered something of a bust, failing to rack up huge numbers at the domestic box office. However, the film quickly built a cult following and has since gone on to be regarded as one of the greatest films of all time.
And of course, Dick's novels continue to find legions of new admirers. All his books are currently in print and many, including the aforementioned Do Androids Dream… and VALIS, are routinely taught in college literature courses, since Dick's work revolves around themes of personal identity, the nature of reality, and the interplay inbetween them, as well mental illness, fractured consciousness and drug abuse – a subject Dick was no stranger to, having written most of his books while blazing on amphetamines, a fact that no doubt contributed to his early death at the age of 53.
For my money, these are the 5 Best Philip K. Dick Books.
5. Flow My Tears the Policeman Said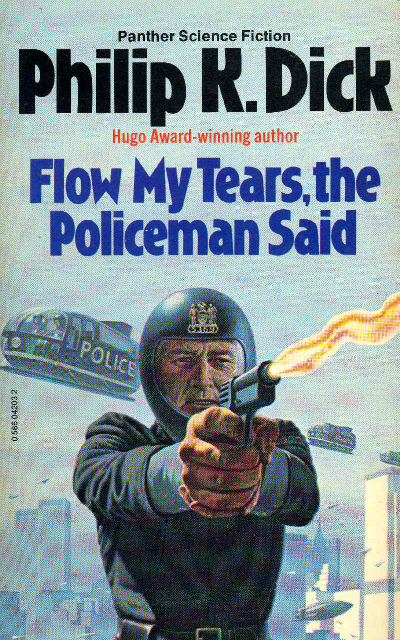 "He passed over to a universe in which he didn't exist. And we passed over with him because we're objects of his percept-system. And then when the drug wore off he passed back again. What actually locked him back here was nothing he took or didn't take but her death. So then of course his file came back to us from Data Central."
In a futuristic police stare where having an identity card is the mark of existence, popular television host Jason Taverner awakens to find that all traces of his identify have been erased.
4. Confessions of a Crap Artist
"I suppose that she was ambivalent about him, that on the one hand she thought of him as rough and masculine, which was vital to her–he qualified as a man sexually. What she wanted was, it seems to me, paradoxical; she wanted him to be a man, but at the same time to meet her own standards, and these standards, having been set for herself, were not a man's standards."
Initially, Dick wanted to be a writer of literature, but found himself enmeshed in the genre world of science fiction as a way to pay his bills. Confessions of a Crap Artist is Dick's only non-science fiction effort to be published in his lifetime. In it, the character Jack Isadore goes about his life in 1950's Seville, California, working as a tire re-treader, indulging in his hobby of looking at pictures of girls in art photography books and conducting an obsessive-compulsive, scientific analysis of the world around him, including his sister and brother-in-law's abusive marriage.
3. VALIS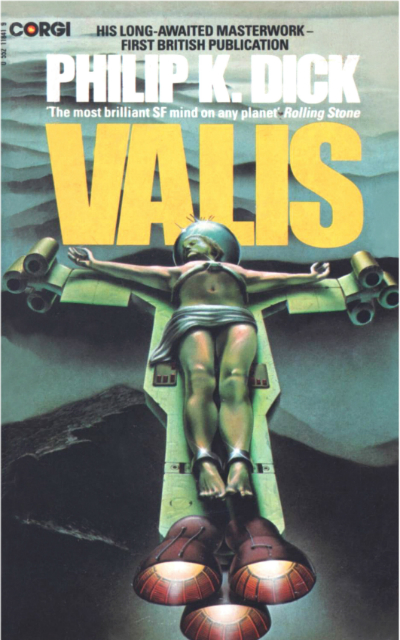 "Let it be said that one of the first symptoms of psychosis is that the person feels perhaps he is becoming psychotic. It is another Chinese finger-trap. You cannot think about it without becoming part of it. By thinking about madness, Horselover Fat slipped by degrees into madness. I wish I could have helped him."
Switching between his own perspective and the perspective of his alter ego, Horselover Fat, Dick examines his own personal and divine experience with what he calls the Vast Active Living Intelligence System.
2. Do Androids Dream of Electric Sheep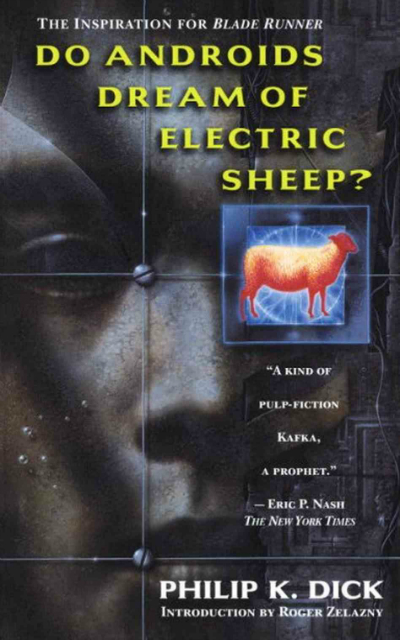 "He had an indistinct, glimpsed darkly impression: of something merciless that carried a printed list and a gun, that moved machine-like though the flat, bureaucratic job of killing. A thing without emotions, or even a face; a thing that if killed got replaced immediately by another resembling it. And so on, until everyone real and alive had been shot."
Probably Dick's most famous novel, owing to its association with the movie Blade Runner, the book is substantially different from the filmed version. In it, Rick Deckard is a bounty hunter tasked with killing sophisticated androids who are nearly indistinguishable from humans. The problem is that he may be an android himself.
1. A Scanner Darkly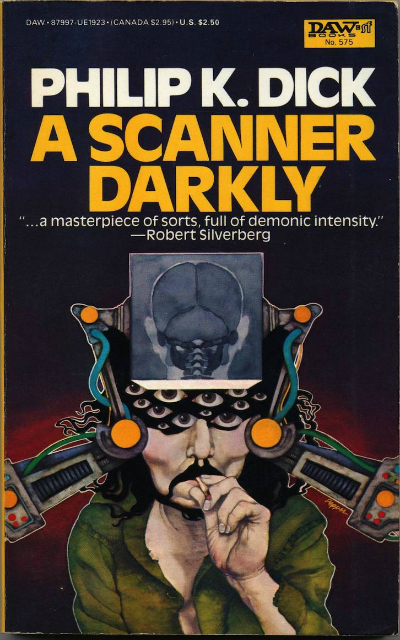 "What does a scanner see? he asked himself. I mean, really see? Into the head? Down into the heart? Does a passive infrared scanner like they used to use or a cube-type holo-scanner like they use these days, the latest thing, see into me – into us – clearly or darkly? I hope it does, he thought, see clearly, because I can't any longer these days see into myself. I see only murk. Murk outside; murk inside. I hope, for everyone's sake, the scanners do better. Because, he thought, if the scanner sees only darkly, the way I myself do, then we are cursed, cursed again and like we have been continually, and we'll wind up dead this way, knowing very little and getting that little fragment wrong too."
This was Dick's favorite of his own works, and what he felt was a true masterpiece. Using the innovative rotoscoping animation technique, Richard Linklater's film version from 2006 gives you a stunning portrait of Dick's depiction of a world where you don't know if what you're living is real or a dream, if you are the cop or the criminal.
**To follow Shea Magazine on Facebook go HERE!**
**To follow Shea Magazine on Twitter go HERE**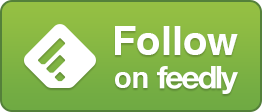 **If you liked this article you should share it!**

Tony Shea is based in New York, having recently moved from Los Angeles after more than a decade on the sunny coast. His short films have won numerous awards and screened at major festivals around the world including Comic-Con. As a musician, he is the lead singer for Los Angeles rock n' roll band Candygram For Mongo (C4M) candygramformongo.com who has been a featured artist on Clear Channel Radio's Discover New Music Program and whose songs have been heard on Battlestar Gallactica (Syfy Channel) and Unhitched (Fox) among other shows and films.