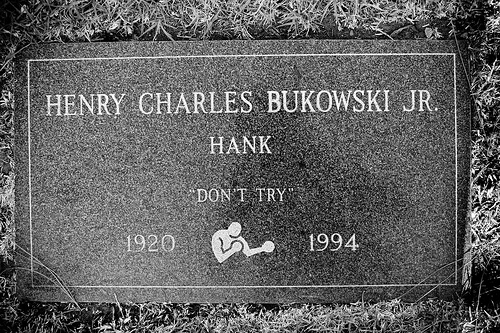 image via
I was 23
when Charles Bukowski died.
I was in New York City,
myself and Greg having taken the train
up
from
DC
the night before
in preparation for a double date
arranged for us
via long distance telephone.
Greg had a girl in the city.
She had been instructed
to bring a friend
and to arrive in front of the museum
tomorrow
where would meet them
and tomorrow had become today
after we had stormed from the station
at Madison Square Garden
into midnight and beyond
finally finding shelter
near sunrise
in a Bowery hotel
that charged $15 for a room
whose walls
were fashioned from plywood boards
that didn't go
all the way to the ceiling
topped with a net
of rusted chicken wire
so that the other animals
in their cages
could not rob or rape you.
The room's front door
was shut with a padlock
the combination provided to us
in lieu of a key
by the night clerk
in a fly-eaten sweater
buzzing behind the bulletproof glass
as he looked up
with his molester's eyes
and sickening smile.
We tried to sleep
ignoring the sounds
of the screams
and the fistfights
and the arguments
and the glass breaking
and the bodies crashing
before we walked back outside
ate eggs and bacon and more beer
walking
and walking
as the sun got hotter
and the Village
sandwich boards on the sidewalks
began to announce the death of Charles Bukowski
2 FOR 1 WELL
HALF PRICE BOILER MAKERS
And though death was all around us
hiding in the alleyways
ready to jump
from the buildings and the bridges
the world seemed like a bright red rose
as we met up with the girls
and what a time we had.
---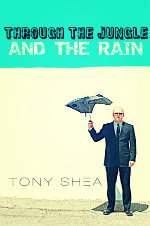 Barney DeRussey is a 35 year old, down on his luck, door to door salesman working the mean streets of Los Angeles. During the hottest week of the year, the pressures from his tyrannical boss and his impending wedding send him into a spiral of escalating criminality as he tries to keep his sanity and maybe finally succeed. To order the Kindle Edition for the low price of $5.99 click HERE.
**To see more of our curated content, you should like Shea Magazine on Facebook HERE!**


Tony Shea is based in New York, having recently moved from Los Angeles after more than a decade on the sunny coast. His short films have won numerous awards and screened at major festivals around the world including Comic-Con. As a musician, he is the lead singer for Los Angeles rock n' roll band Candygram For Mongo (C4M) candygramformongo.com who has been a featured artist on Clear Channel Radio's Discover New Music Program and whose songs have been heard on Battlestar Gallactica (Syfy Channel) and Unhitched (Fox) among other shows and films.