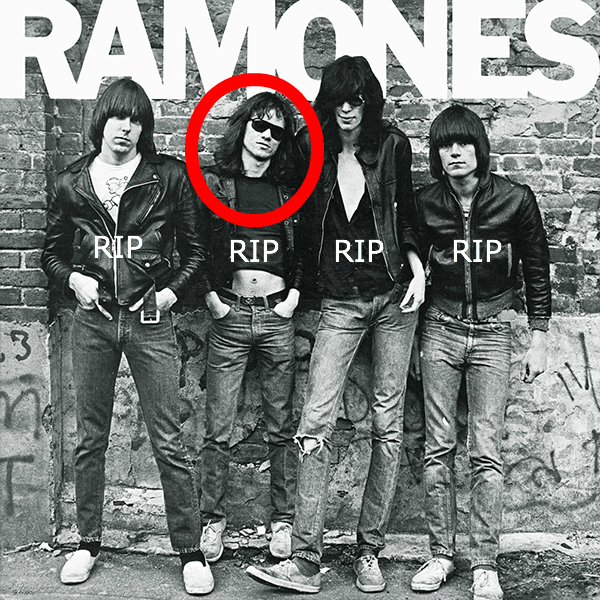 Tommy Ramone, the original drummer and last surviving original member of the Ramones died yesterday. He was 62 – ancient by dead Ramones standards. Joey, the frontman, was the first to go, dying at the tender age of 49. He was followed in quick succession by bassist Dee Dee , 50, and guitarist Johnny, 55. So the original four are all gone now. Marky, the second drummer, along with pivotal second phase bassist C.J., and third drummer Richie are all that remain of the legendary band (excluding Clem Burke  who was in the band for exactly two gigs). Through fourteen studio albums spread out over nearly twenty years, the Ramones blazed away, making rock and roll history .  Rolling Stone listed them in the 26th slot of their list of  the 100 Greatest Artists of All Time.  Commercial success eluded the Ramones but that didn't stop them from becoming one of the most important bands of all time, and influencing a legion of admirers along the way like Social Distortion, Pearl Jam, Metallica, Red Hot Chili Peppers, The Strokes, Rancid, Green Day, Nirvana and U2 among many many others. In honor of Tommy Ramone's passing, here's my list of the 20 best songs of the legendary Ramones.
20. MY MY KIND OF A GIRL
From the Ramones' 1983 album Subteranean Jungle, here's  beautiful piece of song craft – a simple three chord (as so many of the Ramones' song are) love song, featuring real life locations from the Ramones' hometown of New York, including 8th St. aka St. Mark's Place and the Peppermint Lounge which gave birth to the Twist.
19. SOMEBODY PUT SOMETHING IN MY DRINK
Written by third drummer Richie Ramone after he accidentally ingested LSD,  the song is one of the standouts from the 1986 album Animal Boy, featuring Joey Ramone in fine snarling form.
18. TOURING
During their multi-decade career the Ramones played 2263 shows. This is their love letter to life on the road from their 1992 latter-day masterpiece, Mondo Bizarro.
17. WE WANT THE AIRWAVES
From 1981's album Pleasant Dreams, a bold statement surf punk revolution that's part Ventures and part Karl Marx.
16. TIME BOMB
Another track from Subterranean Jungle, here Dee Dee steps up to the mike in this song that predicts an America filled with bored teenage time bombs ready to explode and kill their moms and dads – and brag about it later.
15. HE'S GONNA KILL THAT GIRL
This song is like the The Chordettes – but with switchblades.
14. SMASH YOU
Another gem by Ritchie Ramone, who along with C.J. was not inducted into the Rock and Roll Hall of Fame (the fact that C.J. didn't get in is an absolute crime considering his work on Mondo Bizarro and the more than 800 shows he played with the band during a seven year period, but Richie also has a strong case – so it goes)  here's a speedy little ode to wanting to punch somebody in the face from 1984's album Too Tough to Die.
13. TOMORROW SHE GOES AWAY
Another track from Mondo Bizarro. I suppose I could have just as easily chosen "Heidi is a Headcase," since the two songs are essentially inversions of each other, both hilariously fast and fun.
12. SWALLOW MY PRIDE
From the Ramones second record Leave Home, "Swallow My Pride" is power pop gem that would heavily influence bands like Green Day and Weezer.
11. POISON HEART
Dee Dee Ramone was a great songwriter plain and simple. Here's one of his finest efforts, a ballad with a brilliant chorus of loneliness and alienation  in a world where "everybody has a poison heart." Dee Dee had already left the Ramones to pursue a solo career as a rapper (it should be noted in fairness that the rap album he recorded under the name Dee Dee King is absolutely awful in every way) but gave the band the song after they agreed to bail him out of jail following one of his numerous drug arrests.
10. SURFIN SAFARI
This cover of the Beach Boys classic appears on the album of covers the Ramones recorded, Acid Eaters, and it's fucking awesome. I actually want this song played at my funeral so maybe it should be number one, but really the Ramones in this case were already working with an awesome song, so number ten feels right.
9. ROCK N' ROLL HIGHSCHOOL
Along with the Beatles, the Who, and Kiss, the Ramones are one of the only rock bands to ever have a movie built around them. In this case that movie was 1979's Rock n' Roll Highschool. Directed by Allan Arkush and starring teen dream queen P.J. Soles  of Stripes fame, the Ramones help a group of high school students overthrow the oppressive administration.
8. THE KKK TOOK MY BABY AWAY
As the story goes, Johnny Ramone was nicknamed the KKK because of his conservative political beliefs – he thanked George Bush during his acceptance speech into the Rock and Roll Hall of Fame. And of course, it was also true that Johnny's long time wife, Linda, was Joey's girlfriend first. Apparently, Joey never got over that. And so was born the song " The KKK Took My Baby Away," from 1981's Pleasant Dreams.
7. TEENAGE LOBOTOMY
An example of the Ramones' singular smart/stupid brand of songwriter excellence. Teenagers are stupid – and they know it. This song is on the Ramones third, and arguably best, record Rocket to Russia, which was  released in 1977.
6. BAD BRAIN
Legendary DC hardcore band Bad Brains nicked their name from the title of this song from the 1978 album, Road to Ruin.
5. WE'RE A HAPPY FAMILY
Another gem from Rocket to Russia, here the Ramones explore family dynamics – "I'm friends with the President/I'm friends with the Pope/ We're all making fortunes/ Selling daddy's dope."
4. SHEENA IS A PUNK ROCKER
You can see what I think Rocket to Russia is such a strong album – here's  the highly danceable and super fun story of Sheena who had to break away to New York to become a punk rocker. And the rest is history.
3.  PINHEAD
The Ramones were obsessed with the 1932 film Freaks, from which they essentially stole their catchphrase, Gabba Gabba We Accept You, Gabba Gabba We Accept You One of Us. Creating an environment of inclusion, all freaks were welcome. And this song absolutely rips!
2. HAVANNA AFFAIR
The Ramones typically have a reputation from writing some dumb lyrics. But upon closer inspection you'll see an absurdist sense of humor at work, as in this classic take down of the Cuban missile crisis and a humble banana farmer who now finds himself working for the CIA, from the album that started it all , 1976's Ramones.
1. BLITZKREIG BOP
Probably an expected choice in the number one slot, but absolutely deserving. From that seminal first record again, here's a timeless teenage anthem that blazes from post to post, a song that is as fun for me now as it was the first time I heard it. Hey Ho Let's Go!
**You should follow Shea Magazine on Twitter HERE!**

Tony Shea is based in New York, having recently moved from Los Angeles after more than a decade on the sunny coast. His short films have won numerous awards and screened at major festivals around the world including Comic-Con. As a musician, he is the lead singer for Los Angeles rock n' roll band Candygram For Mongo (C4M) candygramformongo.com who has been a featured artist on Clear Channel Radio's Discover New Music Program and whose songs have been heard on Battlestar Gallactica (Syfy Channel) and Unhitched (Fox) among other shows and films.